By exhibiting at RSNA, you've established your company as a leader in the medical imaging field. Gear up for success with these practical tips and resources.

Our staff is here to help. If you have any questions, please contact our Exhibition Services team.
Exhibitor resources
Checklists, interactive guides and short videos to help position your company for sales success at RSNA.
RSNA 2021 exhibitor webinars
Participating in RSNA 2021 doesn't have to be overwhelming. Watch our exhibitor webinars to get tips and tools from RSNA staff and industry experts.
Each webinar is initially presented live with Q&A—don't miss the opportunity to get your questions answered in real time! Can't attend live? All webinars are recorded for on-demand viewing and will be available on this page after the event is over, allowing you to watch as your schedule allows.
If you have questions regarding these webinars or exhibiting at RSNA, please contact our Exhibition Services team.
All webinars are listed in Central Time (CT).

On-demand webinar library
RSNA 2022 Exhibitor Space Selection
RSNA encourages all exhibitors to attend this webinar to review the process we'll use to conduct exhibit space selection for RSNA 2022.

This webinar will highlight the following:
Exhibitor priority point system
Space selection process
Important dates and payment schedule
How to reserve hotel rooms for RSNA 2022
RSNA 2022 Exhibitor Space Selection
Speakers: RSNA Exhibition Services
How to Promote Your RSNA 2021 Exhibit
How to Promote Your RSNA 2021 Exhibit: Tools and Strategies for Event Marketing and Media Relations

The habits of conference attendees and the media continue to evolve. With higher workloads and less resources, event audiences are strapped for time— making pre-show marketing crucial. In this webinar, Virtual Press Office/Cision PR Newswire will provide tips for creating quality event content (for both in-person and virtual audiences) and information about the tools available to help increase brand awareness, booth traffic and earned media.

Attendees will learn how to:
Participate in the official RSNA online press office to ensure 24/7 visibility of your brand
Create quality content to promote your RSNA exhibit
Utilize news release distribution to increase brand awareness, booth traffic and earned media
How to Promote Your RSNA 2021 Exhibit
Speakers: Caterina (Trina) Lui and Erienne Muldoon; Cision PR Newswire

Hybrid Exhibiting 101
Hybrid Exhibiting 101: Quick Tips to Thrive as an Exhibitor at RSNA 2021
After more than a year of nearly constant change, our industry isn't quite finished adapting yet. This year RSNA will be different again—but in an even better way! To help you thrive in this new environment, we're bringing back one of our favorite trade show trainers, Robyn, at Exhibitors WINH LLC, to share her best tips for exhibiting at hybrid trade shows, like RSNA 2021.
Because this format is just starting to grow in popularity, you may not be fully familiar with what works at hybrid events yet (and that's okay!). This Q&A style webinar will be the perfect time for you to get expert advice and specific answers to any questions that are top of mind right now.
Attendees are welcome to ask question live or submit them during the registration process so they can be addressed during the webinar.
After this session, you will be able to:

Explain the hybrid meeting format and identify the major differences (and similarities) you can expect during RSNA 2021
List the key action steps that can help you thrive in this format, along with special, show-specific opportunities you won't want to miss—whether you're planning to participate in-person, online or both
Answer important questions about hybrid exhibiting strategies
Hybrid Exhibiting 101
Speaker:
Robyn Davis, Exhibitors WINH
Password Required:
Please email
sgendel@rsna.org
to obtain a password to view this webinar.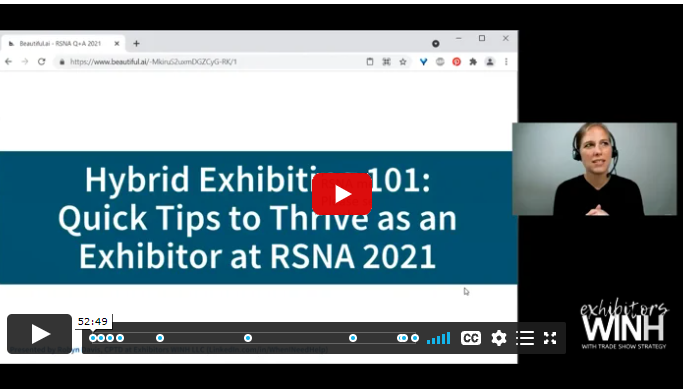 RSNA Lead Retrieval & Attendee List Information
This webinar provides important lead retrieval product information to help RSNA exhibitors decide which solution works best for them.

Convention Data Services (CDS) is the official registration and lead retrieval provider for RSNA 2021. CDS offers a variety of powerful lead retrieval solutions under their XPress Leads brand and is the only source for the official RSNA 2021 attendee list.

During this webinar, CDS will review the online attendee list request system and will demonstrate how to filter the list by various criteria so exhibitors can deliver messaging to their target audiences.

This webinar will be recorded and made available on our website for sharing with other members of your team. Live participants will have an opportunity to ask questions of the RSNA Exhibition Services and CDS teams.

RSNA Lead Retrieval & Attendee List Information
Speaker: Nicole Hutchison (CDS)


Return to Live
Return to Live! How to Make Sure You Get Enough of the Right Radiology Professionals to Your RSNA Exhibit

As trade shows reopen in the wake of the pandemic, you don't want to miss this brand new, timely, relevant and critically important webinar with America's leading trade show productivity expert, Jefferson Davis.

Jefferson will take you inside his power principle of Selective Attraction, walk you through you an easy-to-apply mathematical formula to determine exactly how many attendees you need to attract to succeed and will answer the question, "What, specifically, can I do between now and show time to make sure I attract enough of the right attendees?"

Jefferson will also discuss how you can "win RSNA 2021" before the doors open by getting your company in the minds and on the agendas of the right radiology professionals.

No matter what your level of exhibiting experience is, this is a webinar you cannot afford to miss.

Session includes an electronic, custom participant workbook.

Return to Live!
Speaker: Jefferson Davis, Competitive Edge


First Time RSNA Exhibitors: Orientation
Register now to participate in an interactive, educational webinar to learn more about the RSNA 2021 exhibiting process, how to get the most out of your experience and how to reduce stress from the unknowns.
You will learn more about the following:
RSNA Exhibitor Portal
Exhibitor checklist
Pre-show planning of your booth design
Move-in/move-out schedules
Shipping and material handling
Cost saving tips
Labor union rules
Deadlines for ordering Freeman services
Access to Freeman online ordering
Onsite tips
Concierge Elite
This webinar will be recorded and made available on our website for sharing with other members of your team. Live participants will have an opportunity to ask questions of the RSNA Exhibition Services and Freeman teams.
First Time RSNA Exhibitors – Orientation
Speakers: Sherry Gendel, RSNA; Cindy Sharkey, Freeman
Redefining the State of Health Care Media
Although states have reopened and vaccines have been rolled out, the global health crisis of the past year and a half continues to impact daily life. What may have worked for pitching health care media at the beginning of the year may not work today, given the constant changing landscape. However, there are best practices you can keep top of mind when reaching out to reporters.
Join us for a conversation with Cision, as they discuss what journalists need from their PR partners while covering the health care industry.
Discussion topics:
How the conversation around COVID-19 continues to evolve
Data points from Cision's State of the Media report, to help you and your target strategy
The intersection of health care and technology
Digital Persuasion: Increase RSNA ROI Using a Social Media Strategy
Learn how you can use social media to drive more qualified booth traffic, schedule demos and activate massive brand awareness with new prospects and existing buyers from the woman behind Hitachi Healthcare's award-winning social media strategy.
Erin Gargan is a #1 Amazon bestselling author, speaker and social media expert. She is the CEO of Socialite Agency, a social media firm specializing in live event social strategy. She has worked with brands like VISA, Target, Siemens, Disney and others to evolve their sales and marketing efforts for the digital age.

In this highly interactive event, brought to you by RSNA and Freeman, Erin shares highlights from Hitachi's social strategy before, during and especially after RSNA on social media to improve relationships and revenue. She also shares examples from other industries of how brands are using social to get more out of their event investments. At the end of the webinar, Erin answers questions from exhibitors like you.

Be sure to watch this webinar to learn best practices for improving your social selling and social marketing approaches.




Digital Persuasion: Ignite Your Social Influence
Erin Gargan King of Socialite Agency
Social media content is a key tool for driving conversations and establishing long lasting customer relationships. But getting the most of your social content is not just a matter of how you tell your story, but who tells it.

Social media expert, Erin Gargan King will equip and empower you—and your team—to leverage social media influence and influencers to attract attention and sell smarter in today's social media marketplace.

You will learn:
Why social influence has shifted and what you can do about it
How to differentiate your content on even the loudest social platforms
How to find effective social ambassadors and measure influencer marketing success
Predictions on the future of social marketing and how you can prepare for it
This webinar is sponsored by Freeman.
Working with the Media
VPO/Cision PR Newswire
You probably have an event marketing strategy, but do you know how earned media fits in? Earned media is one of the most overlooked opportunities at RSNA, despite being one of the best launchpads for your brand's story.
Join Virtual Press Office and Cision PR Newswire for a crash course in earned media—what it is, why it's important and how to leverage your participation at RSNA to get it.
In this webinar, you'll learn:
Earned media fundamentals
How to execute an earned media strategy
Tips for pitching journalists for the show and beyond