Research Sheds New Light on Running Patterns and Osteoarthritis
An RSNA Resident Grant funds study to look at biomechanics in running and osteoarthritis development.
BY MELISSA SILVERBERG 
June 29, 2018
Although forefoot runners have significantly lower load rates than rearfoot runners, there is no significant difference between the two in morphologic knee joint abnormalities or cartilage thickness and T2 relaxation time measurements, according to new research funded by a RSNA Research Resident Grant.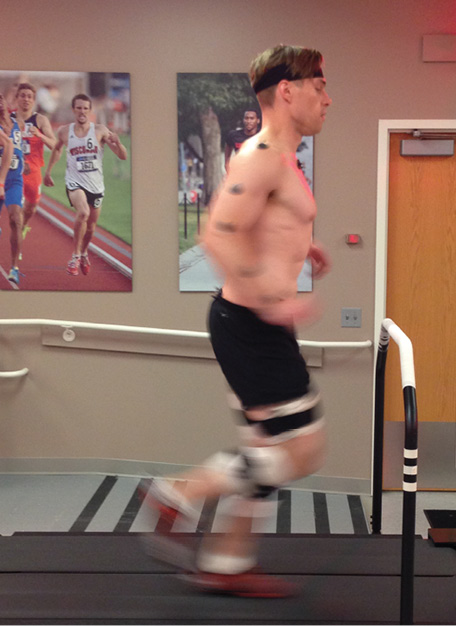 The relationship between physical activity and osteoarthritis onset is unclear and complex, which is one reason Peter C. Thurlow, MD, a radiology fellow at the University of Wisconsin (UW), wanted to investigate the association between foot strike patterns in runners and the presence of early degeneration through both biomechanics and MRI. Osteoarthritis is the most common chronic condition of the joints that affects more than 30 million adults in the U.S. alone.
And as an avid runner, Dr. Thurlow was interested in bringing together his personal and professional passions as part of his research project, "Evaluating the Effect of Foot Strike Patterns on MRI of the Knee."
Recruiting from running clubs and local gyms, the study brought together 16 forefoot strike runners, 24 rearfoot strike runners and 20 asymptomatic non-runners between 25 and 40 years of age with no knee pain or stiffness, no history of prior knee trauma or surgery and no inflammatory or infectious joint disorders.
Each runner first underwent a 3T MR examination of the knee using a 3-D fast spin-echo sequence to detect morphologic joint abnormalities and measure cartilage thickness and a T2 mapping sequence to evaluate cartilage composition and microstructure. Each runner also underwent biomechanical gait analysis at the Biomechanical Gait Analysis Laboratory at the UW Research Park Clinic.
"The timeframe of how cartilage responds to force is still not well understood. This was a very challenging project," Dr. Thurlow said.

Findings Surprise Researchers
The study confirmed previous research demonstrating the biomechanical benefits of forefoot strike running, such as lower ground force and lower loading rates, on the knee.
"However, our MRI results showed no benefits of fore-foot running," Dr. Thurlow said. "There was no significant difference in morphologic knee joint abnormalities on MRI including cartilage lesions, meniscus tears, and bone marrow edema lesions, and no significant difference in cartilage thickness measurements between forefoot runners and rearfoot runners."
In fact, forefoot runners had significantly higher cartilage T2 relaxation time on the medial tibial plateau compared to rearfoot runners, suggesting a greater degree of early cartilage degeneration.
Researchers are still analyzing their data to understand the reason behind that finding.
"You would expect that if you put less force on your lower extremity, it would reduce acute and chronic injury from joint generation," said Richard Kijowski, MD, a professor of musculoskeletal imaging at the UW School of Medicine and Public Health, who supervised Dr. Thurlow's project. "That was not the case though."
---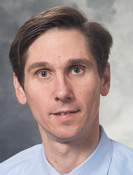 ---
The results were particularly surprising because of the popular movement toward barefoot or forefoot running, which has recently been promoted as a safer, more natural way to run.

Researchers said that while the results did not validate their hypothesis, the wealth of data generated by the study opens the door to further work that combines imaging and biomechanics.

"The idea that we can overlap biomechanics and advanced imaging to try to improve outcomes for athletes and the general population in hopes of limiting the development of osteoarthritis is very exciting," Dr. Thurlow said. "That's the big target on everyone's mind."

Dr. Thurlow is grateful for the RSNA grant that funded the research that helped put him on his current career path.

"The RSNA grant is what started me on the path to musculoskeletal imaging," Dr. Thurlow said. "It brought me where I am today and I am looking forward to what we can do next."

For more information about R&E Foundation grants, go to RSNA.org/Foundation.
Grants in Action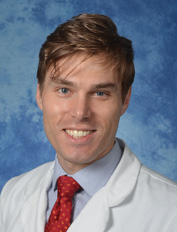 Name:
Peter C. Thurlow, MD

Grant Received:
2014 RSNA Research Resident Grant

Study:
"Evaluating the Effect of Foot Strike Biomechanisms on MR Imaging of the Knee Using a Novel Multi-component T2 Mapping Sequence."
Career Impact:
"The RSNA Resident Research Grant was very beneficial to my future career. The opportunity to gain experience in performing a major scientific research project provided many advantages when applying for jobs as an academic musculoskeletal radiologist. Learning these skills during residency and fellowship offered a great advantage in my career as an independent researcher in the field of radiology."

Clinical Implication:
"Our research project is the first study to compare both biomechanical parameters and MRI parameters between fore-foot runners and rear-foot runners. A better understanding of the acute and long-term changes that occur within the knee joint in response to physical activity is essential in advancing our understanding of the pathogenesis of osteoarthritis and developing approaches to prevention and treatment."