Your Donations in Action: Philip G. Colucci, MD
Developing An Atlas for Ultra-High Resolution Magnetic Resonance Neurography
---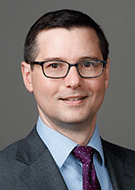 ---
Commercially available neurography atlases are useful in depicting relative relationships of anatomic structures but may be suboptimal for MR neurography interpretation.
They provide conventional image quality not optimized for peripheral nerves and/or focus on classic pathologic appearances rather than radiologic interpretation.
In his 2020 Siemens Healthineers/RSNA Research Fellow grant project, Philip G. Colucci, MD, assistant attending radiologist in the Department of Radiology and Imaging, and assistant professor of radiology at Weill Cornell Medicine in New York, and colleagues developed an interactive ultra-high resolution, in vivo MR neurography atlas of the brachial plexus and upper extremity.
The atlas includes voxel sizes up to 30-fold smaller than currently achieved with conventional MR neurography. The higher spatial resolution and the use of intravenous (IV) ferumoxytol for vascular suppression allow for direct visualization of small nerves and fascicular bundles not previously routinely distinguishable on clinical MR neurography examinations.
According to Dr. Colucci, because imaging abnormalities are often subtle, an ultra-high-resolution MR neurography atlas is an essential resource for establishing the "normal" appearance of the brachial plexus and upper extremity peripheral nerves.
"This atlas is used routinely at our institution for resident/fellow teaching purposes. It may help improve diagnostic confidence and decrease the learning curve for practicing radiologists not yet experienced with MR neurography," Dr. Colucci said.
Dr. Colucci noted that the experience he gained while working on this project both directly and indirectly launched his career as an academic radiologist. He recently presented his team's approach to imaging the brachial plexus at a national meeting, and has been involved in ongoing research with the use of ferumoxytol for vascular suppression and other methods for imaging peripheral nerves.
"I believe the R&E Foundation grant has conferred validation of my role as a 'researcher' in a way that has led to my involvement in several unrelated research projects as well as being invited to be a reviewer for various peer-reviewed orthopedic and radiology journals. I am also increasingly receiving referrals for peripheral nerve imaging from providers outside of our institution," Dr. Colucci said.
Learn more about R&E Funding Opportunities.
Read our previous Your Donations in Action article.