RSNA Member Spotlight: Ugumba Mussa Kwikima, MD, MMed, MSc
Learn more about a fellow RSNA member
---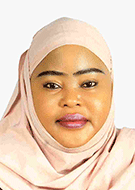 ---
Ugumba Mussa Kwikima, MD, MMed, MSc, is a neuroradiologist at Lugalo General Military Hospital and an attending neuroradiologist Muhimbili National Hospital, both in Tanzania. Dr. Kwikima also serves as an honorary lecturer at Muhimbili University of Health and Allied Sciences (MUHAS).
Dr. Kwikima completed her radiology residency at MUHAS, followed by a fellowship in neuroradiology, supported by RSNA as part of its Global Learning Center in Dar es Salaam, Tanzania.
A dedicated educator and enthusiastic learner, Dr. Kwikima's areas of interests encompass brain tumor (glioma) imaging, neurodegenerative diseases, demyelinating diseases and pediatric neuroradiology. She actively participates in collaborative multidisciplinary events focused on brain tumors, driven by a commitment to enhancing the diagnostic imaging and management of brain tumors in Sub Saharan Africa.
In December 2022, Dr. Kwikima became a member of the Society of Neuro-oncology in Sub Saharan Africa (SNOSSA) and was selected as a participant in the 2023 African Brain Tumor (Glioma) Segmentation Challenge program, Sprint AI Training for African Medical Imaging Knowledge Translation (SPARK). As part of this program, she underwent training and developed AI models for glioma segmentation.
Dr. Kwikima presented a paper—later slated for publishing—at the international conference on Medical Image Computing and Computer Assisted Intervention (MICCAI 2023) in Vancouver, Canada.
What or who sparked your interest in radiology?
During my undergraduate training, I developed a strong affinity for anatomy. It was during my fifth year, specifically during my rotation in the surgical department, that I found general surgery to be particularly intriguing. I decided to specialize in general surgery for my future career.
Following my graduation and completion of my internship, I secured a position as a resident medical officer in the surgical department at The Aga Khan Hospital in Dar es Salaam, Tanzania. During my time there, I had the opportunity to closely collaborate with the radiology department. The work of two esteemed radiologists at that time, Pilly Ally, MD, and Jaffer Dharsee, MD, left a profound impression on me. Witnessing their ability to utilize radiology knowledge to make impactful diagnostic discoveries that greatly influenced patient management was truly inspiring.
Motivated by these experiences, I made the pivotal decision to transition from general surgery to radiology. This transition was supported and endorsed by my mentor and reference at the time, Yassin M. Mgonda, MD, MMED, MSc.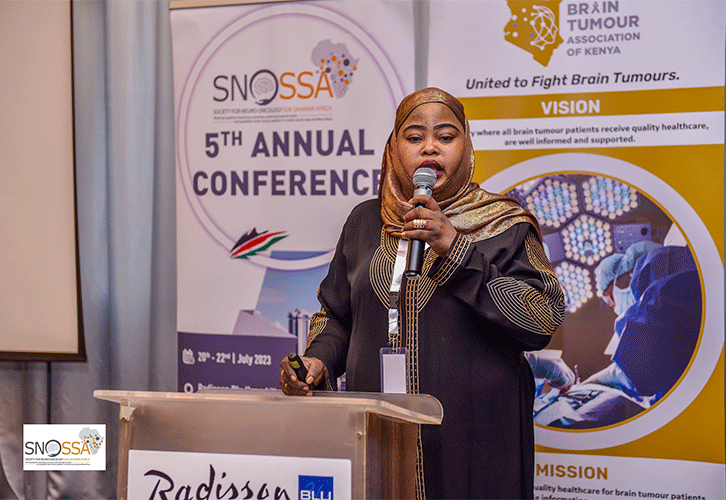 What was the best professional accomplishment in your career?
Participating as the pioneer of the neuroradiology fellowship program in Tanzania, supported by RSNA in collaboration with MUHAS as a Global Learning Center, was an incredible experience. Additionally, receiving the RSNA Derek Harwood Nash Scholarship for an observational period at Emory University Hospital in Atlanta, brought great excitement.
During this observership, I had the opportunity to share my career aspirations with Frank Minja, MD, my teacher and mentor, and the GLC program director. He facilitated a connection with neurosurgical oncologist Edjah Nduom, MD, who provided invaluable guidance. Subsequently, I had the privilege of meeting Dr. Nduom again at the SNOSSA annual conference in Nairobi, Kenya. This connection led to a collaborative effort within SNOSSA to develop recommended guidelines for brain tumor imaging, aligning with one of my significant career goals even before completing my fellowship.
What has been the biggest challenge you have faced in building your career?
Navigating a nation where the radiology profession is still evolving presents unique challenges. The scarcity of radiologists compounds this situation. Furthermore, the introduction of subspecialties like neuroradiology appears to be a formidable undertaking. In the majority of institutions, including my current employment as a neuroradiologist, there is a prevailing requirement to engage in general radiology practice due to the absence of adequate facilities to support neuroradiology procedures. Regrettably, institutions are not yet prepared to facilitate transfers to environments that are better equipped for specialized practices like neuroradiology.
What RSNA resources do you use/have you used to assist you with your professional development and in your daily practice?
A resource from RSNA that I rely on extensively is RadioGraphics, serving as the central hub for my references and article reviews whenever I encounter complex cases requiring detailed reporting. Additionally, it plays a pivotal role in the creation of my PowerPoint presentations for continuing medical education (CME) sessions. Furthermore, the camaraderie and the feeling of being part of the radiology community are invaluable offerings that RSNA provides. In terms of tangible resources, I find immense value in the RSNA Case CollectionTM and the materials available through the online learning center. These resources are truly exceptional!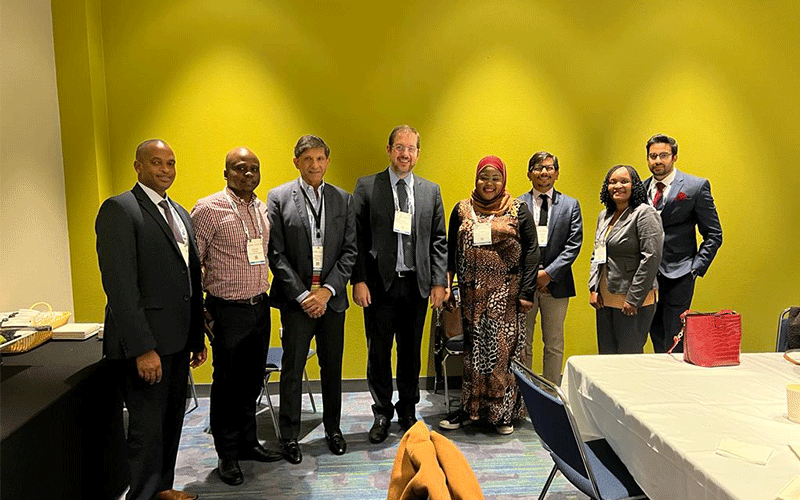 How did you first become involved in the RSNA Global Learning Center (GLC) at MUHAS?
In early 2019, an announcement was made within the Tanzanian radiologists official WhatsApp group regarding MUHAS's selection as an RSNA GLC. At that time, the interventional radiology (IR) subspecialty program was in progress with its first cohort, but IR was not my area of interest. I was elated by this wonderful news, as I hoped that the neuroradiology subspecialty program would soon follow suit. Knowing that it would be supported by the esteemed RSNA, I believed that this program would uphold international standards and produce graduates of outstanding competence in neuroradiology.
In March 2020, while I was receiving medical treatment in New Delhi, India, I took the initiative to contact Zuhura Nkrumbih, MD, who was then the head of the radiology department at MUHAS, to inquire about the commencement of the neuroradiology program. I eagerly awaited the opportunity to submit my application for enrollment. I was thrilled when she informed me that the program had been posted on MUHAS's application portal.
Despite being abroad, I promptly applied for neuroradiology and secured admission. I was firm in my determination to fulfill this long-held dream, regardless of the challenges. Remarkably, I was the sole candidate admitted pursuing neuroradiology at MUHAS for the academic year 2020/2022. This fact did not diminish my enthusiasm for learning neuroradiology; instead, it fueled my determination even further.
Later, I discovered that another candidate had been admitted to neuroradiology as a late applicant. It was through this circumstance that Mwajabu Saleh, MMed, and I embarked on our journey together. I found in her a kindred spirit who shared the same level of enthusiasm and unwavering determination. Throughout the duration of our neuroradiology education, we provided each other with ample cooperation and support, united as pioneers of the program.
What impact has your experience at the GLC had on your career?
The RSNA GLC program has had a profound impact on my career. In the early stages of our training, we were fortunate to have the guidance of two distinguished RSNA faculties, namely Dr. Minja and Bruno Policeni, MD, MBA. Their expertise was complemented by the invaluable support of Mechris Mango, MD, who served as the on-ground coordinator.
As our program progressed, RSNA's involvement expanded to include a total of ten RSNA neuroradiology faculty members. It was indeed a blessing to be trained by these world-renowned experts who demonstrated unwavering dedication and commitment to teaching us despite their busy schedules.
This connection to these giants in the field opened doors to establish further connections with other esteemed neuroradiologists and neuroradiology societies, such as ASNR, ASHNR and ASPNR, enhancing my professional network and contributing significantly to my career development.
Being an RSNA GLC fellow and subsequently graduating from the program significantly expanded my networking opportunities in the field. This enhanced network facilitated my involvement in various projects and multidisciplinary collaborations. Without the support of RSNA for MUHAS's neuroradiology program as a GLC, these endeavors could have been challenging.
Looking ahead, my vision is to maintain and deepen collaborations with my esteemed teachers and mentors from the RSNA neuroradiology faculty, further enhancing my expertise in clinical research and other essential aspects of the field.
When you're not working, how do you like to spend your free time?
I take pleasure in watching educational YouTube videos focused on neuroradiology. Additionally, I like watching movies, documentaries, and spending quality time with family. I am also quite enthusiastic about traveling and immersing myself in the exploration of diverse cultures, norms and behaviors of different communities.
For More Information
Connect with Dr. Kwikima on X @ukwikima.
Keep up to date on RSNA member achievements, moves and news by visiting RSNA.org/News/Announcements/Member-Updates.