Your Donations in Action: Thi My Linh Tran, BS
Assisting Radiologists in Predicting Outcomes of Acute Ischemic Stroke Based on CT Angiography
---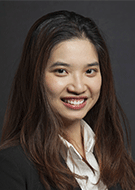 ---
Mechanical thrombectomy is the standard intervention for acute ischemic stroke with large vessel occlusion (LVO). However, variations in time delays and human expertise in LVO detection and treatment can lead to morbidity and poor outcomes.
A standardized, time-sensitive system could help aid interventional radiologists in predicting the outcome of endovascular therapy identifying patients most likely to benefit from perfusion.
For her 2020 RSNA Research Medical Student Grant project, "Prediction of Outcomes of Acute Ischemic Stroke Based on CT Angiography (CTA) and Digital Subtraction Angiography (DSA) before Mechanical Thrombectomy Using Machine Learning," Thi My Linh Tran, BS, a fourth-year medical student at the Warren Alpert Medical School of Brown University in Providence, RI, and colleagues developed a deep learning pipeline that detects LVO and uses CTA imaging to predict functional outcomes and improve patient management.
The team obtained 8,650 LVO-protocoled studies that served as the data pool, and data were annotated into two classes: 1,023 LVOs and 7,629 normal.
They applied a commercial algorithm to detect LVOs and used a 3D convolutional neural network (CNN) to predict outcomes in 323 patients using CTA volumes and embedded pretreatment variables as inputs. The algorithm achieved a test AUC of .83 with sensitivity of 89% and specificity of 66%.
The researchers then integrated the model with hospital IT infrastructure where CTA was collected in real-time and processed by the model.
"The 3D CNNS based on CTA were effective in selecting LVO and predicting LVO mechanical thrombectomy short-term prognosis," Tran said. "The end-to-end platform allowed users to receive immediate prognosis prediction and facilitated workflow."
The 2020 RSNA Research Medical Student Grant helped Tran in several ways. "The grant allowed me to fund GPU for deep learning analysis and provided living expenses for my time in Providence. It also allowed me to travel to conferences where I presented my research," Tran said.
For More Information
Learn more about R&E Funding Opportunities.
Read our previous Your Donations in Action article.