Your Donations in Action: Tina Huang
Evaluating Cost-Effectiveness of PCI for Small Cell Lung Cancer
---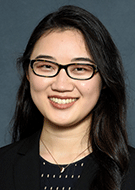 ---
Whether or not prophylactic cranial irradiation (PCI) for extensive-stage small cell lung cancer (ES-SCLC) improves outcomes is controversial.
Although surveillance and PCI are both used in clinical practice, no cost-effectiveness analysis comparing the two approaches in ES-SCLC has been published.
In her 2020 RSNA Research Medical Student Grant, "Cost-effectiveness of Surveillance Versus Prophylactic Cranial Irradiation for Extensive-stage Small Cell Lung Cancer," Tina Huang, a fourth-year medical student at the David Geffen School of Medicine, University of California, Los Angeles (UCLA), explored this comparison.
Huang and colleagues developed a Markov model to simulate the five-year outcomes of one million hypothetical patients with ES-SCLC undergoing either active surveillance or PCI. Incremental cost-effectiveness ratios were determined using utilities and probabilities from the literature and costs from Medicare fee schedules.
To model preference-sensitive care, the team performed two-way sensitivity analyses, varying utilities of progression-free survival with surveillance (PFS-S) versus progression-free survival with PCI (PFS-PCI) and treated intracranial disease with surveillance (TID-S) versus treated intracranial disease with PCI (TID-PCI).
They found that surveillance was the dominant strategy over PCI for patients with ES-SCLC. The cost-effectiveness of surveillance versus PCI was particularly sensitive to the use of TID-S.
"In this study, PCI was not clinically effective or cost effective outside of a very select group of patients," Huang said. "The results of this study should be considered in the ongoing debate regarding PCI for ESCLC."
Huang noted that her R&E Foundation grant had enormous impact on her professional development.
"The work that RSNA supported helped me discover an interest in health economics and the wider conversation about the affordability and accessibility of oncology treatments, which led to a fellowship studying for a master's in international health policy at the London School of Economics and now is the foundation for my future research interests," she said.
For More Information
Learn more about R&E Funding Opportunities.
Read our previous Your Donations in Action article.