Machine Learning in Radiation Oncology Clinical Trials and Clinical Practice
RSNA 2022 Plenary Session
---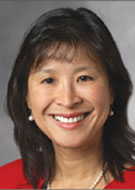 ---
Quynh-Thu Le, MD, is the Katharine Dexter McCormick & Stanley McCormick Memorial Professor and chair of the Department of Radiation Oncology at Stanford School of Medicine in California, and co-director of the Radiation Biology Program of the Stanford Cancer Center.
Her clinical focus is on radiation management of head and neck cancer (HNC) and the application of novel therapies in HNC. She is a co-chair of the NRG Oncology Group, which conducts large phase II-III trials to test new treatments in different cancer types. Dr. Le's research focuses on approaches to regenerate salivary glands after radiation damage, identification of biomarkers of prognosis in HNC, and development of novel targeted strategies to modulate hypoxia-regulated protein in solid tumors.
In addition to publishing hundreds of peer-reviewed articles, Dr. Le is an editorial board member for Seminars in Radiation Oncology. She has also served as a senior editor for Practical Radiation Oncology, as an editor for the Journal of Clinical Oncology and as senior editor for International Journal of Radiation Oncology. She provides peer review for numerous scholarly journals in her area of expertise.
Dr. Le serves organized radiation oncology in several roles, including as a member of the American Society of Clinical Oncology, the American Society of Radiation Oncology, the American Association for Cancer Research and the National Cancer Institute. She is a member and past president of the American Radium Society (ARS). She is currently chair of the Radiation Oncology Therapy Group board of directors.
Well recognized for her professional achievements, Dr. Le holds four patents and was awarded the ARS gold medal and the American Association of Woman Radiologist Early Career Professional Development Award. She is a fellow of the American College of Radiology.
After earning her medical degree at the University of California, San Francisco (UCSF), Dr. Le completed an internship in transitional medicine at Highland General Hospital, Oakland, CA followed by a residency in radiation oncology at UCSF.
For her plenary lecture, Dr. Le will be joined by a panel of experts to share perspectives on using machine learning for risk stratification in radiation oncology and optimizing radiation therapy workflows. Also presenting will be Ruijiang Li, PhD, associate professor of radiation oncology and radiation physics at Stanford University School of Medicine; Felix Feng, MD, vice chair for translational research in the Department of Radiation oncology and a professor of radiation oncology, urology and medicine at UCSF; and Michael Gensheimer, MD, clinical associate professor of radiation oncology at Stanford University School of Medicine.
"Machine learning has proven to be immensely effective at analyzing longitudinal and time-series datasets for predictive analytics," Dr. Le says.