'Forbes' Story Highlights Benefit of 'RadiologyInfo.org' in Patient Education
Increased access to radiology reports drives need for patient resources to help evaluate imaging results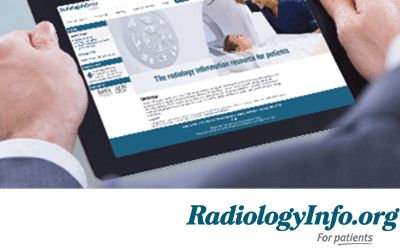 A recent story in Forbes recommended RadiologyInfo.org to help patients better understand their radiology reports.
Author Paul Hsieh, MD, a musculoskeletal radiologist in Denver, CO, addressed the impact of the 21st Century Cures Act on patient access to medical data. Under the new law, patients often have immediate access to imaging test reports through their health information portals and may learn the results before the ordering doctor has read them.
Dr. Hsieh noted that imaging reports are typically written with medical terminology intended for physicians, "Although patients can always 'Google' unfamiliar terms, it can still be difficult to understand whether a particular finding mentioned in a radiology report indicates something serious vs. 'no big deal'," he wrote.
To help with this issue, Dr. Hsieh recommended RadiologyInfo.org, the public information resource sponsored by RSNA and the American College of Radiology (ACR).
The site is developed by health care professionals in collaboration with patients. It provides patients, families and health care providers with valuable information about the role of medical imaging, image-guided therapy and radiation therapy in health care.
Dr. Hsieh highlighted the website's patient-friendly pages "How to Read Your Radiology Report" and "Which test, procedure or treatment is best for me?" as well as the "Diseases and Conditions" page with links to specific medical issues and information about related radiology tests including their role in diagnosis and treatment.
For More Information
Read the Forbes story, "You Have The Right To Your Radiology Test Results: What You Need To Know."
Visit RadiologyInfo.org.
Read a previous RSNA News story about patient access to imaging reports: