Your Donations in Action: Grace Blitzer, MD
Transplanting Mesenchymal Stromal Cells to Treat Radiation-induced Xerostomia
---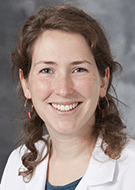 ---
Xerostomia is a debilitating side effect of head and neck radiation in up to 40% of patients. It affects patients' ability to speak, swallow and eat. Current treatment options for radiation-induced xerostomia are generally supportive in nature, with no effective curative options.
An emerging treatment option is the use of mesenchymal stromal cells (MSCs). These autologous cells have properties that allow them to promote salivary gland recovery in vivo via their production of morphogens.
In her 2019 RSNA Research Resident Grant, Grace Blitzer, MD, now assistant professor at the University of Wisconsin, Madison, and colleagues sought to determine whether the regenerative properties of MSCs would enable them to function as a safe, effective and long-lasting therapeutic agent in post-radiation xerostomia.
Prior to moving forward with a phase I clinical trial, the team first needed to obtain the necessary preliminary data to support a Food and Drug Administration Center for Biologics Evaluation and Research Investigational New Drug (FDA IND) application.
They completed the pilot studies examining the MSCs from patients who underwent radiation for head and neck cancer and had xerostomia. They confirmed that marrow-derived MSCs from these patients was capable of in vitro expansion and that the MSCs produced an appropriate array of salivary morphogens to promote salivary gland restoration.
With this preliminary data, the researchers applied for and obtained FDA IND approval and are currently conducting their first-in-human phase I clinical trial. "We are hopeful that MSCs will be a curative therapy for xerostomia, improving the quality of life of our head and neck patients," Dr. Blitzer said.
The R&E Foundation grant enabled Dr. Blitzer to complete pilot studies, obtain FDA IND approval and begin a phase I clinical trial. "I was able to obtain an ASCO Young Investigator Award to help fund the phase I clinical trial, in part due to my prior RSNA grant and the work I was able to complete with the R&E Foundation funding," Dr. Blitzer said. "Thanks to the RSNA grant, I am building the foundation for my career as a translational researcher, leading clinical trials in cellular therapy."
For More Information
Learn more about R&E Funding opportunities.
Read last month's Your Donations in Action article.