RSNA 2021 Honorary Member
---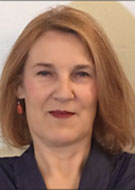 ---
Recognized across the globe for her pioneering applications of functional MRI in genitourinary and head and neck radiology, Harriet C. Thoeny, MD, chairs the radiology departments at the Cantonal Hospitals of Fribourg in Switzerland.
"Dr. Thoeny is an internationally recognized leader in research and education," said RSNA President Mary C. Mahoney, MD. "Her mentorship and global collaborations are truly remarkable."
Dr. Thoeny, originally from Liechtenstein, a small principality between Switzerland and Austria, earned her medical degree at the University of Bern and completed residencies at various Swiss hospitals. During her clinical fellowship in head and neck and genitourinary radiology at the University Hospitals of Leuven (Gasthuisberg) in Belgium, she discovered her fascination with research. She and her colleagues — one an ambitious computer scientist — explored the use of diffusion-weighted MR imaging for applications beyond the brain.
For the last two decades, Dr. Thoeny has led grant-funded research projects that explored diffusion-weighted functional MR in novel applications, many of which are now standard in clinical practice. She has investigated the detection of lymph node metastases in normal-sized nodes in prostate and bladder cancers, MR imaging biomarkers for chronic kidney disease, monitoring of radiation therapy for head and neck tumors, and the evaluation of kidney function by multi-modal MR imaging in renal transplantation.
Dr. Thoeny is an adjunct professor of urology at the University of Bern and a full professor of radiology at the University of Fribourg, the only bilingual university in Switzerland. Her love of teaching, languages and diverse cultures is evident in her mentorship, her myriad international partnerships and her fluency — she speaks German, English, French, Italian, and some Spanish, Portugese and Arabic.
A renowned consultant and enthusiastic collaborator, Dr. Thoeny has contributed to the development of international guidelines, including serving on the European Society of Urogenital Radiology (ESUR)/American College of Radiology PI-RADS steering committee. She served as president of ESUR from 2016 to 2018, introducing the European Diploma in Urogenital Radiology.
Dr. Thoeny has served RSNA in several capacities, including as associate editor of Radiology, and a member of the International Advisory Committee, Margulis Award Committee and Genitourinary Radiology scientific subcommittee. Since 2017, she has served as vice chair and chair of the RSNA Regional Committee for Europe, providing direction on how RSNA can best meet the needs of members in the region.
Internationally recognized for her leadership in research and education, Dr. Thoeny has been named an honorary member of the Spanish Society of Abdominal Radiology and the French Society of Radiology, and an honorary fellow of the Asian Society of Abdominal Radiology.