---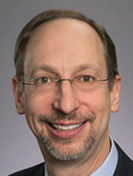 ---
Jonathan S. Lewin, MD, has helped to revolutionize interventional and intraoperative MR imaging, and he is a renowned leader in academic medicine strategy and integrated health care delivery.
"Jonathan Lewin is a pioneering scientist and a highly respected leader in radiology," RSNA President Mary C. Mahoney, MD, said. "His contributions to our field and to academic medicine are truly impressive."
Dr. Lewin serves as executive vice president for health affairs at Emory University, executive director of the Woodruff Health Sciences Center, and CEO and chair of the board of directors at Emory Healthcare in Atlanta. He also holds professorships in radiology and imaging sciences and in biomedical engineering at the Emory School of Medicine and is a professor of health policy and management in the Rollins School of Public Health at Emory.
Dr. Lewin completed his medical degree from Yale University in 1985, earning the Norma Bailey Berniker Prize. He completed an internship in pediatrics and a residency in diagnostic radiology before traveling to Germany for a fellowship in MR research, then returning to the U.S. to pursue a neuroradiology fellowship at the Cleveland Clinic and additional training in head and neck radiology at the Pittsburgh Eye and Ear Hospital.
Dr. Lewin's extensive studies were indeed promising. He went on to conduct investigations of novel MR imaging and interventional methods, in areas from cancer detection and treatment to functional brain imaging, while the techniques were in their infancy. His Yale thesis, "The Combined Use of Tc-99m-Phosphate and Ga-67-Citrate Imaging in the Diagnosis of Acute Osteomyelitis in Children," was published in Radiology a year after his graduation.
A lifelong scholar and educator, Dr. Lewin has held professor appointments in radiology, oncology, neurological surgery and biomedical engineering at Case Western Reserve University in Cleveland, and in oncology, biomedical engineering, and neurosurgery at Johns Hopkins University School of Medicine in Baltimore.
Dr. Lewin holds 28 U.S. patents and seven international patents, and he has served as principal investigator or co-investigator on numerous NIH-funded and other major grant projects. Over the past two decades, Dr. Lewin has lent his expertise to quality improvement initiatives, advances in radiology informatics and health care transformation.
A recognized leader in organized radiology, Dr. Lewin is a past president of the American Roentgen Ray Society (ARRS), the Association of University Radiologists (AUR), the Society of Chairs of Academic Radiology Departments and the Academy for Radiology & Biomedical Imaging Research.
National associations and his home state of Georgia hold Dr. Lewin in high regard, naming him one of Modern Healthcare's 50 Most Influential Physicians of 2017, Georgia Trend's 100 Most Influential Georgians for multiple years, and one of the Atlanta Business Chronicle's Most Admired CEOs for 2020. He received RSNA's Honored Educator Award in 2012, the Radiology Research Alliance Innovation and Leadership Award from the AUR in 2017, gold medals from the AUR and ARRS in 2019, the Leadership Luminary Award of the Radiology Leadership Institute of the American College of Radiology in 2017 and was elected a Fellow of the National Academy of Inventors in 2019.