---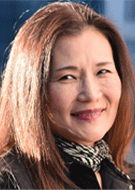 ---
A prolific leader, collaborator, and advocate for vulnerable patients, Yoshimi Anzai, MD, MPH, is a tenured professor of radiology, director of value and safety for integrated enterprise radiology, and serves as co-director of Women in Health, Medicine, & Science at the University of Utah (U of U) in Salt Lake City.
"Yoshimi Anzai is an inspirational leader," said RSNA President Mary C. Mahoney, MD. "She is a staunch advocate for women, a recognized researcher, leader in quality, safety and value, and yet still finds a way to generously give her time as a mentor to her trainees."
Dr. Anzai is a neuroradiologist specializing in head and neck cancer, neurodegenerative disease and traumatic brain injury, with expertise in health services and health economy research. She is also an adjunct professor of population health sciences and neurosurgery, serves on U of U's academic senate and is a member of the school of medicine's promotion committee.
Dr. Anzai applies her unique expertise to measuring health system costs, promoting price transparency and helping maximize health care access for patients in underserved populations. As chair of RSNA's Committee on Diversity, Equity and Inclusion (CDEI), she advocates for gender equality, promoting mentorship and allyship to embrace women as leaders in medicine. In addition, she serves on the executive committee of U of U's Gender-Based Violence Consortium, collaborating with broad disciplines of researchers, social workers and policymakers to mitigate the negative impact of gender-based violence.
Dr. Anzai earned her medical degree in 1986 from Chiba University in Chiba, Japan, completing residencies in radiology and otolaryngology. Then, she moved to California for a research fellowship at the University of California, Los Angeles (UCLA), where she led the clinical trials of superparamagnetic iron oxide MR contrast agents. Subsequently, she repeated her diagnostic radiology residency and a neuroradiology fellowship at the University of Michigan.
In 2000, Dr. Anzai moved to the University of Washington (UW), Seattle, where she obtained a master's degree in public health in 2005. She served as the fellowship program director and then the section chief of neuroradiology at the UW. She joined the U of U in 2015 as associate chief quality officer.
Dr. Anzai is an elected member of the Association of American Medical Colleges (AAMC)'s Diagnostic Safety Committee, driving the national standard for diagnostic information communications. In 2017 and 2018, AAMC presented her with a Value Innovation Award to implement cost analytic tools for value-driven outcomes and online interactive price transparency.
Dr. Anzai has served as president of the American Society of Head and Neck Radiology, the Association of University Radiologists, and the American Association for Women in Radiology (AAWR). In 2019, she received AAWR's Marie Sklodowska-Curie Award.
A three-time recipient of RSNA's Honored Educator Award, Dr. Anzai devotes her time and talent to mentoring trainees. In 2019 her radiology residents at UW presented her with the Best Mentor Award.
Dr. Anzai is vice chair of the RSNA R&E Foundation Radiology Research Faculty Grant Study Section and a member of the RSNA Research Development Committee. Dr. Anzai has over 160 peer-reviewed publications and 33 review articles.