Member Spotlight: Mehmet Emin Adin, MD
Learn more about a fellow RSNA member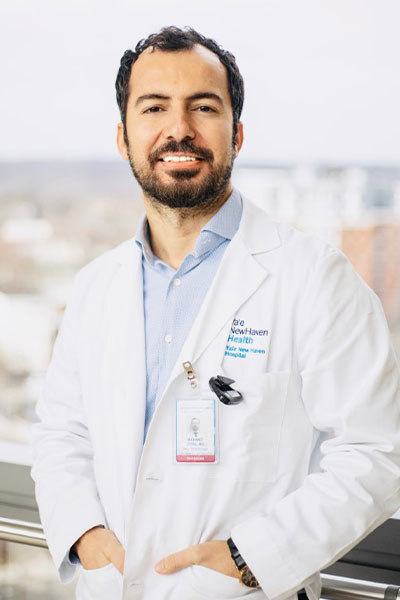 Mehmet Emin Adin, MD, is a recent graduate of the Yale University Diagnostic Neuroradiology Fellowship program. He is a faculty member of the Yale University Radiology and Biomedical Imaging Department in the section of Emergency Radiology.
Dr. Adin received his medical degree from Istanbul University, Istanbul School of Medicine, where he also completed his internship. He was a participant in the 2014 RSNA Introduction to Research for International Young Academics (IRIYA) and he was awarded RSNA's Roentgen Resident/Fellow Research Award in 2021.
Dr. Adin's areas of interest include gadolinium deposition, skull base imaging, cancer imaging during COVID-19, mRNA vaccine related lymphadenopathy and epilepsy imaging. He is the author of several research articles, review papers, book chapters and educational case reports.
1. What or who sparked your interest in radiology?
I liked the idea of defining the problem right on the spot, just by visual examination. But I did not have much interaction with radiology until after my graduation from medical school.
Evidently, my academic interest started back in middle school while helping my brother translate articles from English for his dissertation. It was fun and it sparked my interest in science.
Immediately after I graduated medical school in Istanbul, I went into medical practice as a general practitioner as part of a government program, during which I also got to work in an ER setting. After this short practice, I realized radiology was at the heart of clinical care and radiologists were making some of the biggest impacts in patient care by defining their problems and directing clinical management one way or another — kind of a secret hero behind the doors.
I think everyone can relate to the joyous feeling of discovering something new, whether small or big. This is the exact feeling radiologists experience almost daily. Many studies are like mysterious puzzles and you try to solve the case. This is exciting and the output is fulfilling.
Moreover, I thought radiology was closely integrated with technological advancement, innovation and patient intervention. These were convincing enough for me to pursue a career in radiology.
Since then, I was fortunate to work with exceptional mentors like Drs. Aygun, Yousem and Tekes of Johns Hopkins and Drs. Pucar, Zucconi and Bronen of Yale, to name a few. I owe them a lot and I'm trying to give back what have I learned from them.
I believe that quality academic output is like a water fountain that society can constantly benefit from, particularly open access educational materials that can directly contribute to clinical care across the globe. Not only for radiologists, but for other practitioners who do not necessarily have access to radiologists.
2. What has been the best professional accomplishment in your career?
As clinical practitioners, I think our best professional accomplishments lie in our everyday clinical practice — by impacting people's lives whom, for the most part, we don't even get to see.
Academically, I think an important milestone was in 2013-2014, when my colleagues and I studied hyperintense dentate nuclei and described gadolinium deposition. After this, RSNA invited me to participate in the IRIYA program, where I met colleagues and inspiring mentors from all around the world and made real friendships. This experience widened my perspective and helped pave the way to my academic goals.
3. What do you think is the biggest challenge facing radiology in the coming years?
I think some of the biggest challenges of radiology lie in emerging opportunities.
Advanced technologies and informatics continue to reshape our daily practice. Artificial intelligence created huge interest with innumerable outputs, which will include an increase in clinical study volumes. Soon, we will need to adapt to this new ecosystem in our practice.
The demand for imaging is ever increasing. It's becoming faster and more detailed with increasing data obtained for many studies. In this regard, "opportunistic" imaging is an area that I want to focus on, along with my ongoing projects. We obtain a huge amount of data, for example in a trauma CT scan, which can be utilized for other purposes that can directly benefit patients outside the initial indication.
I also think we need to globalize the training and practice standards for radiology. With its online and outreach programs, RSNA stands at the center of these efforts.
4. What RSNA resources do you use/have you used to assist you with your professional development and in your daily practice?
I became a member of RSNA and benefited from educational materials early in my residency, with my favorite still being RadioGraphics. I think all residents and medical students around the world should do the same.
Like most of my colleagues, I benefit from the online resources RSNA has to offer – almost daily — both clinically and academically.
I'm also very happy that I have recently started reviewing teaching cases for Radiology, which helps me further my knowledge and allows me to give back. I encourage radiology trainees to take part in RSNA committees and activities. This can help contribute to their professional development and help our profession grow further.
5. When you're not working, how do you like to spend your free time?
I enjoy photography and writing poetic stories. I have been doing photography for a long time and I think it provides a unique perspective of observation. It is fair to say I have a work/life balance swinging between images. This is also a good excuse for me to explore and put my visual observations into words.
Some of my works can be seen on my Twitter and Instagram accounts (@emin_adin). I also like baking and spending time in nature.
For More Information
Read a previous Member Spotlight: Sherry S. Wang, MBBS, FRANZCR