Your Donations in Action: Mark A. Sellmyer, MD, PhD
Imaging Gene and Cell Therapies and Bacterial Infections Using PET Radiotracers
---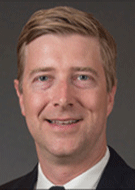 ---
As gene and cell therapy becomes routine in clinical practice, there is an imperative for improved methods to image genetically engineered cells, including immune cells used for cell-based therapy and adoptive immunotherapy. To date, there is no single agent that provides a facile and repeatable imaging tool for long term tracking of engineered cells that is routinely used for drug discovery or clinically. Given the genetic manipulation inherent to gene therapy, a genetic imaging handle/reporter protein is a logical solution and positron emission tomography (PET) can provide the desired sensitivity and spatial resolution.
In his 2016 Philips Healthcare/RSNA Research Resident Grant project, "Multifunctional PET Radiotracers for Quantitative Reporter Gene and Bacterial Imaging," Mark A. Sellmyer MD, PhD, University of Pennsylvania, and his colleagues were interested in tackling two clinical challenges through the development of new PET radiotracers.
His team has been studying the "living drug" revolution, which entails using viral vectors for gene and cell therapies, including investigating how to use small molecule tools to monitor and control such gene and cell therapies. His RSNA grant laid the groundwork for a tool set that allows monitoring chimeric antigen receptors (CAR) T cells in rodents (Sellmyer et al Molecular Therapy 2020). In a parallel effort, the similar PET radiotracers can also be used to image live bacteria in human patients. These radiotracers are based on the synthetic antibiotic trimethoprim and showed specific uptake in animal models of bacterial infection (Sellmyer et al PNAS 2017). The team is currently testing these probes in human patients with active infections.
"I greatly appreciate the RSNA Foundation resident research award, which was a real launch point my academic career. We anticipate that our studies are going to be important steps towards clinical imaging of infectious disease, a field which has been rapidly growing in recent years," Dr. Sellmyer said. "The RSNA award was extremely important for generating the preliminary data that was part of my successful application for the NIH Director's Early Independence Award (DP5) entitled 'Next Generation Tools for Imaging Bacterial Infection.'"
For More Information
Dr. Sellmyer discusses his 2016 Philips Healthcare/RSNA Research Grants project, "Multifunctional PET Radiotracers for Quantitative Reporter Gene and Bacterial Imaging."