RSNA International Trends Meeting Addresses COVID-19 Crisis
Radiologists across the globe author Radiology white paper on COVID-19 experiences
BY JENNIFER ALLYN
January 19, 2021
---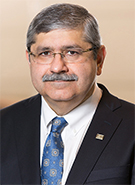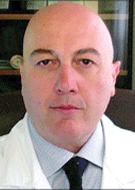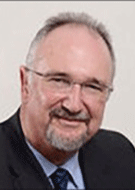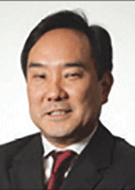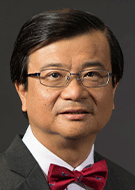 ---
At this year's RSNA International Trends meeting, Umar Mahmood, MD, PhD, RSNA Board liaison for international affairs, led a timely discussion on COVID-19, its global impact on radiology and the geographic differences in radiology's response to the virus.
Focusing on radiologic issues that affect the global community, the International Trends meeting is held each year during the RSNA annual meeting.
Dr. Mahmood and other session presenters comprised an international team of authors who worked with RSNA to publish the Radiology white paper, "RSNA International Trends: A Global Perspective on the COVID-19 Pandemic and Radiology in Late 2020," in December.
"The challenges faced by the global radiology community during the first and consequent waves of COVID-19 were familiar, yet each country or region adapted their response based on their patient population's unique needs," said Dr. Mahmood, associate chair for imaging sciences in the Department of Radiology at Massachusetts General Hospital and professor of radiology at Harvard Medical School, Boston.
Emanuele Neri, MD, associate professor of radiology, University of Pisa, Italy, and a member of RSNA's Radiology Informatics Committee, spoke about Italy's creation of several dedicated COVID-19 hospitals with dedicated radiology units, which reduced the risk of contamination among non-COVID-19 patients and allowed for the prompt availability of imaging for all patients.
Richard Pitcher, MBChB, FCRad Diag (SA), PhD, head of the Division of Radiodiagnosis, Stellenbosch University, Cape Town, South Africa, discussed the challenges of managing COVID-19 at the same time as caring for patients with HIV and tuberculosis (TB).
During the lockdown, the university, which is the site of an RSNA Global Learning Center, saw a dramatic decrease in elective outpatient imaging. According to modeling data, these service disruptions could result in high numbers of TB and HIV deaths over the next five years, creating a future health crisis in the country.
Cesar Higa Nomura, MD, director of radiology, Hospital Sírio-Libanês, University of São Paulo, Brazil, discussed the use of artificial intelligence (AI) to overcome disparities within the country's hospital system. The academic community, the government and industry partners developed a COVID-19 chest CT AI workflow program that was open and free to hospitals. More than 50 hospitals in the country are using the platform which has been accessed more than 33,000 times.
Judy Yee, MD, chair of radiology at Montefiore Medical Center, professor of radiology at Albert Einstein College of Medicine, New York City, and a member of RSNA's Committee on Diversity, Equity and Inclusion, shared the opportunities for radiology arising from the COVID-19 pandemic. Examples include workflow innovations that have led to efficiencies such as faster CT and MRI protocols, the incorporation of AI for image analysis and predictive analytics and more digital interfaces and telehealth.
Bien Soo Tan, MBBS, senior consultant vascular and interventional radiology, Singapore General Hospital, discussed how physicians applied the lessons they learned from the 2003 SARS outbreak to infrastructure and workflow and therefore were able to scale up very quickly to handle COVID-19. The hospital even transformed an adjacent parking garage into overflow for emergency COVID-19 care, a plan that was developed as the parking garage was being built.
Radiology White Paper Offers Global Perspective on COVID-19
Dr. Tan, who served on the RSNA COVID-19 Task Force that developed the guidance document, "Best Practices for Radiology Departments During COVID19," was lead author on the Radiology white paper that details experiences from radiology experts around the world.
The paper focuses on the diversity across countries in the use of imaging early in the pandemic as a first line diagnostic confirmation; rapid changes in radiology workflows as the need for acute care overwhelmed many health care systems and infection control became paramount; and the adoption of technological innovations that accelerated with COVID-19 related constraints.
The Radiology authors offer insights that provide a guidepost to help address management challenges as cases continue to rise in many parts of the world and suggest modifications in workflow that are likely to continue after the pandemic.
"It was noted during our meeting that crises can accelerate innovation. There are many changes in radiology that the pandemic accelerated that are optimized for the challenges we are facing now and there are those that will be optimized for after COVID," Dr. Mahmood said. "In the midst of this crisis and immediately following it, there is an opportunity for radiology to renew, lead and transform health care."
For More Information
Access the Radiology white paper, "RSNA International Trends: A Global Perspective on the COVID-19 Pandemic and Radiology in Late 2020."
Visit RSNA.org/COVID-19 for RSNA's latest scientific research, webinars, podcasts and guidance documents related to COVID-19.