Guillermo Elizondo-Riojas, MD, PhD
RSNA 2020 Honorary Member
---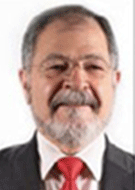 ---
Guillermo Elizondo-Riojas, MD, PhD, is a leading pioneer and researcher in the development and use of contrast materials in MRI. As a renowned educator and speaker, he has helped grow and expand RSNA's educational programs into Latin America.
Dr. Elizondo-Riojas received his medical degree from the University of Nuevo Leon (UANL), Monterrey, Mexico, where he also completed an internship and his radiology residency. During his final year in medical school he began using the first MRI machine in Latin America to study depression, Duchenne disease, liver abscesses and other common pathologies. Other research projects included the first patient injection of superparamagnetic iron oxide (SPIO) particles as specific contrast agent for the detection of liver metastases.
Dr. Elizondo-Riojas completed a fellowship at the University of California at Los Angeles (UCLA) in 1984 and a postdoctoral research fellowship at Massachusetts General Hospital and Harvard Medical School in 1990. He returned to UANL as an assistant professor and also completed a doctorate in science with specialty in morphology.
Dr. Elizondo-Riojas is past president of the Mexican Board of Radiology and of his state society, the Sociedad Regiomontana de Radiología. He is currently a member of the editorial board of Diagnostic Imaging Latin America and Revista Mexicana de Radiología.
Dr. Elizondo-Riojas has published more than 150 articles with over 5,000 citations. He achieved many significant "firsts" in his research, including the first description of liver cirrhosis appearance on MRI with SPIO, the first human trial on an intravascular device for the creation of an arteriovenous fistula for hemodialysis and the first human trial on absorbable inferior vena cava filters.
Recognized by the Government of Mexico through its Teacher Improvement Program for the past 15 years, Dr. Elizondo-Riojas is currently teaching and researching radiologic applications of artificial intelligence, biomarkers in oncological imaging clinical applications of 3D printing.
Dr. Elizondo-Riojas has attended every RSNA annual meeting since 1982. As an enthusiastic and highly engaged RSNA member, he serves on the RSNA Committee for International Radiology Education (CIRE) and as chair of the CIRE Derek Harwood-Nash International Fellowship Subcommittee. He is a member of 33 medical and 10 professional societies, including RSNA, American College of Radiology, Association of University Radiologists and European Society of Radiology.
An esteemed educator, Dr. Elizondo-Riojas was a course director of RSNA's first regional course held in Cancun, Mexico, in 2016. This course, "Emergency Radiology: Interactive Course with Cases," was designed to meet the needs of radiologists in the region. The inaugural course led to the development of RSNA's Spotlight Courses, which are tailored to meet specific needs of radiologists in locations around the world.