RSNA 2020 Honorary Member
---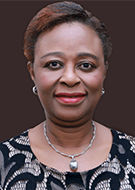 ---
A distinguished leader, researcher and educator who is internationally known for her work in advancing medical imaging in Africa, Omolola Atalabi, MBBS, is one of only a few pediatric radiologists practicing in Africa.
Dr. Atalabi received her medical degree in 1989 and a master's degree in business administration in 2004, both from the University of Ibadan, Nigeria. She joined the University of Ibadan College of Medicine as a Lecturer 1 in 2000 and ascended to professor of radiology in 2016. In 2019, Dr. Atalabi was appointed as the first head of the newly created Special Duties Unit of the University College Hospital, Ibadan, by the hospital's chief medical director, Professor Jesse Otegbayo, to enhance service delivery in the hospital. She is now the head and chair of the joint department of radiology of University of Ibadan College of Medicine and the University College Hospital.
Acclaimed for her passion for pediatrics and her advocacy for the imaging needs of African children, Dr. Atalabi is past president of the African Society of Pediatric Imaging, the World Federation of Pediatric Radiology, and a past president of the Society of Pediatric Imaging in Nigeria and of its Foundation. She is the immediate past president of the Association of Radiologists in Nigeria and past chairman of the Nigerian Medical Association Oyo state branch. She has also been an active member of the American Association for Women in Radiology, the Medical Women Association of Nigeria and the Pediatric Oncology Society of Nigeria. She was a member of the council and past secretary of faculty of radiology of the West African College of Surgeons and an active examiner in radiology of the National post graduate medical College of Nigeria and West African College of Surgeons.
Dr. Atalabi chaired the RSNA Regional Committee for Middle East/Africa and served on the RSNA International Advisory Committee from 2014 to 2018. She has also served on the RSNA Committee on International Radiology Education since 2015 and currently chairs the Global Learning Centers subcommittee.
Among her many professional accomplishments, Dr. Atalabi was awarded the RSNA Derek Harwood-Nash International Fellowship in 2007, which she completed at Boston Children's Hospital, and the 2010 Hitachi Systems/RSNA Research Seed Grant. She has authored or co-authored 70 publications and three book chapters.
Dr. Atalabi is an honorary member of the Society of Pediatric Radiology (SPR) and a recipient of SPR's Heidi Patriquin International Fellowship. In 2020, Dr. Atalabi was honored for her distinguished achievements with the 60th Anniversary Alumni Award from the Fiwasaye Girl's grammar School in Akure, where she attended high school five decades earlier.