Your Donations in Action: Shanmukha Srinivas, MS
Using 4D Flow MRI to Evaluate Hemodynamic Changes Following Stereotactic Radiosurgery
---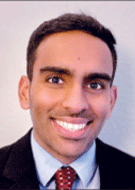 ---
Arteriovenous malformations (AVMs) are congenital maladaptive direct anastomoses between arteries and veins. In the brain, this bypass of the capillary system manifests in a nidus and can lead to debilitating or lethal hemorrhage if left untreated. Treatment risk, particularly surgical, is often assessed based on nidus size, eloquence of adjacent brain and venous drainage according to the Spetzler-Martin grading system. Current treatment recommendations for AVMs include stereotactic radiosurgery, surgical resection or embolization. 4D Flow MRI is a novel technology allowing capture of structural and hemodynamic markers of change after treatment for AVMs.
2018 RSNA Research Medical Student Grant recipient, Shanmukha Srinivas, MS, University of California, San Diego School of Medicine, investigated the "Quantification of Hemodynamics of Cerebral Arteriovenous Malformations After Sterotactic Radiosurgery Using 4D Flow MRI."
In the study, Srinivas and his team used 4D flow MRI to quantify early hemodynamic changes in AVMs treated with stereotactic radiosurgery. In the preliminary cohort, it demonstrated normalization of flow and pulsatility index within the AVM primary feeding artery as well as reduction in flow within the draining vein. Of note, these hemodynamic changes occurred prior to visible structural changes within vessels of the AVM.
"Through our study, we hope to demonstrate the clinical utility of 4D flow to assess hemodynamic remodeling of AVMs after treatment," Srinivas said. "Understanding the natural trajectory of this disease will be invaluable for treatment planning and monitoring AVMs at risk for rupture."
Watch Shanmukha provide more detail about his study and how the R&E Foundation grant assisted him with his research: