Fast, Efficient Emergency Radiology Care Doesn't Have to Sacrifice Quality
Study analyzes 24/7 staffing in the emergency department
BY MELISSA SILVERBERG
February 17, 2020
---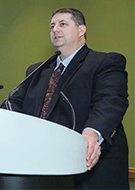 ---
Improving radiology efficiency in the emergency department (ED) need not come at the expense of quality, according to Scott Steenburg, MD.
"There are many things each of us as leaders can do to set radiologists up for success," said Dr. Steenburg, an emergency and trauma radiologist at Indiana University School of Medicine and Indiana University Health, during an RSNA 2019 session. "But you have to design the whole process with both efficiency and quality in mind."
When it comes to efficiency, Dr. Steenburg said one component is understanding workflow and workload, and how to optimize both in parallel with one another. He said leaders should use data to understand historically how busy their ED is at particular times of day and to learn about the capacity of their staff. These data points can ensure that a department isn't understaffed during its busiest hours or overstaffed during a slow time.
"You want to create a schedule that will not burn radiologists out," Dr. Steenburg said, "but will still maintain steady turnaround times and not allow the work to get out of hand."
One study presented in the session analyzed the effect of implementing 24/7 staffing at a Level I trauma center in Canada. Francesco Macri, MD, PhD, of the Department of Emergency and Trauma Radiology at Vancouver General Hospital, and colleagues conducted a retrospective chart analysis on all patients over 18 years old with scans performed in the emergency department a year before the 24/7 staffing was implemented, and a year after.
The Canadian Triage and Acuity Score (CTAS) was recorded for each patient, with categories ranging from most to least acute: resuscitation, emergent, urgent, less urgent and non-urgent. Researchers calculated the time between imaging request and end of imaging and between end of imaging and the final report.
The study found that for urgent patients, the time between image request and end of the imaging exam dropped by 87 minutes once 24/7 staffing was implemented. The time between end of imaging and final report dropped in all categories by at least four hours.
Learn more about creative staffing, defining goals and maintaining superior radiologic patient care in the emergency department in a video interview with Dr. Steenburg at RSNA 2019: