Planning is Key to Handling Mass Casualty Incidents
Researchers recommend running hazard vulnerability analysis
BY MIKE BASSETT
February 14, 2020
---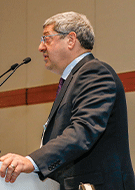 ---
Whether they are natural or man-made, disasters happen, and radiology departments must be able to provide key services under particular scenarios. Therefore, according to Ronald M. Bilow, MD, an emergency radiology director at UTHealth McGovern Medical School in Houston, TX, radiology departments should consider developing a viable disaster preparedness and response plan they can implement for mass casualty incidents (MCIs).
In research presented at RSNA 2019, Dr. Bilow noted that some radiology departments, particularly those in Level 1 trauma centers, operate under the assumption that they can handle patient surges from MCIs by performing their work normally, but faster.
"Using standard operating procedures is just not a good idea," Dr. Bilow said, adding that radiology departments should take a proactive approach to preparing for MCIs.
The definition of an MCI — an incident that overloads the response system — is a warning to radiology departments of what they could face in certain situations.
For example, Dr. Bilow pointed to the horrific 2016 Bastille Day truck attack in Nice, France, which resulted in 86 deaths and injured another 458 people. Many of the patients who were taken to a local hospital underwent CT exams, resulting in datasets that grew so large and so quickly that the PACS network ground to a halt.
While no one can plan for every possible scenario, Dr. Bilow recommended running a hazard vulnerability analysis in order to evaluate the likelihood and impact of potential threats and identify risks in the hospital's vicinity. For example, a hospital in San Francisco should focus on the risk of an earthquake and, depending on its magnitude, the potential for infrastructure damage and casualties.
Proactively planning for an MCI, Bilow explained, involves asking and answering a number of questions regarding how a radiology department's workflow will be managed during an MCI. For example: How should staff be mobilized when a mass casualty event occurs? How should equipment be utilized? How will reports be structured and delivered? Can CT protocols be changed to save time?
It is also important that radiology departments coordinate planning with the entire hospital.
Dr. Bilow's department realized it had a potential problem when it was discovered that a hospital plan for an MCI called for patients triaged as "walking wounded" to undergo imaging via a portable X-ray unit rather than be sent to the emergency room.
"But when I talked to our PACS analyst I found out that images can't be sent from that portable unit to the PACS," Dr. Bilow said. "And that basically meant you would need a radiologist on site, which was something the hospital didn't plan for."
Radiology departments also need to consider how they will handle the post-disaster or recovery period, Dr. Bilow pointed out. "You need to have some kind of a plan in place to return to normal operations — you don't just stop and start working normally again."
Finally, he stressed that there needs to be a mechanism in place to analyze a department's performance in the aftermath of a mass casualty event — what worked and what didn't?
This review should include everyone involved, and then staff should conduct drills to practice the plan. "This is not business as usual," Dr. Bilow emphasized. "Radiology departments have to anticipate scenarios, plan ahead, and know their capabilities and limitations."