New MIPS Requirements Highlight Need for Proactive Planning
Achieving quality, value goals is key to reducing long-term costs
BY LYNN ANTONOPOULOS
February 04, 2020
---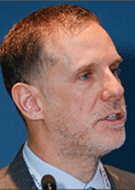 ---
Radiology practices that focus on the broad goal of using data to effectively drive high-value care will find success in the ever-changing landscape of Medicare payer performance programs.
In the world of merit-based performance plans, radiologists may have no idea if their organizations are in a shared savings program, according to Gregory Nicola, MD, finance chair and board member for Hackensack Meridian Health Partners and member of the executive leadership at Hackensack Radiology Group. It is important for radiologists to educate themselves and seek leadership positions so they can fight for payments that are theirs, he said.
"We have to be really proactive in making sure we're striving toward quality and value goals to reduce long-term costs," said Dr. Nicola during a recent RSNA 2019 session covering health care payment reforms, the impact of the new legislation on radiologists, and suggestions for preparing for implementation of upcoming legislative changes.
Federal legislation enacted in 2015 through the Medicare Access and CHIP Reauthorization Act (MACRA) sought to boost the quality and value of health care by linking physician payment to those metrics rather than through traditional fee-for-service models.
Implemented in 2017 within MACRA, the Quality Payment Program (QPP) was designed to compensate physicians according to performance in quality and value categories.
Dr. Nicola said physicians are paid via two broad models in QPP: Merit-Based Incentive Payment System (MIPS), a program that is essentially a fee-for-service program with limited component of income at risk and advanced Alternative Payment Models (APM), which carry a somewhat more significant financial risk in the value measurement.
According to Dr. Nicola, within QPPs, there are numerous clinician types and numerous pathways to participate. "In MIPS, the most common clinician type is the MIPS Eligible Clinician. These clinicians can report into the value-based measurement process as individuals, a group or part of a virtual group."
He said everyone participating in MIPS receives a final score of 0-100 that is awarded based on measures of quality, improvement activities, promoting interoperability and cost with additional incentives for those who exceed performance thresholds.
"We have to be really proactive in making sure we're striving toward quality and value goals to reduce longterm costs."
GREGORY NICOLA, MD
Learn more about MIPS and graduated performance thresholds during a video interview with Dr. Nicola at RSNA 2019: