Your Donations in Action: Chloe G. Cross, BSc
Researcher Studies Non-invasive Technique to Provide Therapeutic Treatment for Spinal Cord Injury
---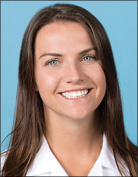 ---
Spinal cord injury (SCI) affects thousands of people and currently therapeutic options are limited. Most potential therapeutics for SCI require invasive or semiinvasive delivery. The use of MR-guided focused ultrasound (MRgFUS) to open the bloodspinal cord barrier (BSCB) and deliver therapeutics shows promise to facilitate recovery from SCI.
In her 2018 RSNA Research Medical Student Grant, "Quantification of Blood Spinal Cord Barrier Opening After Application of Magnetic Resonance Guided Focused Ultrasound," Chloe G. Cross, BSc, a medical student at the University of Utah School of Medicine, investigated quantification methods to assess the permeability of blood-spinal cord barrier opening after MRgFUS treatment.
Rats underwent T8-T10 laminectomy and extradural compression of the spinal cord. T1w MR images were obtained both pre- and post-MRgFUS BSCB opening. The spinal cords were segmented manually or semi-automatically from the T1w images using the Spinal Cord Toolbox. An additional non-injured rat group underwent MRgFUS and was administered Evans blue postMRgFUS in order to confirm that BSCB opening was occurring. Spinal cords were excised, absorbance was measured by spectrophotometry and correlated to its corresponding image intensity. The implemented semi-automatic segmentation procedure improved data analysis efficiency, demonstrating that quantitative methods are sensitive for detection of BSCB opening induced by MRgFUS in the presented SCI animal model.
"The goal of the research is to show that segmentation and quantification algorithms can be translatable to clinical trials for noninvasive drug delivery in patients with spinal cord injury," Cross said.