Design Thinking Takes a Human-Centered Approach to Problem-Solving
Action-oriented approach tolerates risk, with the goal of improving human experiences.
By Jennifer Allyn
May 17, 2019
---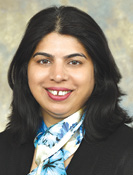 ---
Design thinking, a creative and innovative process that puts people at the center of problem solving, is a tool being readily used to encourage radiologists to focus on the patient experience from beginning to end.
"Humanizing the imaging process involves a lot of people and a lot of touch points," said Achala Vagal, MD, vice chair of research and associate professor of radiology at the University of Cincinnati Medical Center. "Design thinking can help identify challenges and create solutions that result in a better experience for patients and staff."
Dr. Vagal presented the human-centered design approach during RSNA 2018's Fast Five session and will cover it again in an educational course at RSNA 2019.
Design thinking is a human-centered, problem-solving approach that at its core uses empathy to tackle complex problems. Instead of traditional problem solving, where a problem is identified and then various solutions are applied until one works, design thinking gathers multidisciplinary teams and asks them to understand the problem from the point of view of those who are most affected. The team typically also includes the people who are affected by the problem, who, in many cases, are patients and their families and caregivers.
This process of defining a problem can take upwards of several weeks or months. It can involve detailed observations of a process, surveys, interviews and focus groups with patients, caregivers or other health care delivery specialists, all designed to help better understand the pain points facing patients.
"As radiology shifts from volume to value, the value is all about the patient experience," said Mary C. Mahoney, MD, the Benjamin Felson Endowed Chair and Professor of Radiology at the University of Cincinnati College of Medicine in Cincinnati, Ohio, and RSNA Board Chair. "Radiologists need to think about the discussions their patients are having in the car on the way to and following an imaging appointment. Is the patient confused about why they need this test and do they know what will happen next? Also, did they feel valued during every step of the process, from the scheduling to the interactions in the exam room? These are questions that design thinking can answer when tackling a specific problem."
"In design thinking, we learn by doing and understand that failure is an opportunity to learn," said Reed Omary, MD, the Carol D. & Henry P. Pendergrass Professor and chair of the Department of Radiology and Radiological Sciences and director, Medical Innovators Development Program, at Vanderbilt University Medical Center & School of Medicine, Nashville, TN. "Design thinking encourages us to try ideas, weed out the ones that don't work and improve upon the ones with potential."
Learn about the projects that the University of Cincinnati and Vanderbilt University addressed with design thinking in the June print issue of RSNA News. Check your mailbox now.
Watch Dr. Vagal's RSNA 2018 Fast 5 presentation on design thinking.
Watch Dr. Omary's presentation, Designing for the Patient Experience.