Outstanding Educator Award
Recipients of the Outstanding Educator Award are pioneers in their specialty and have made significant contributions to radiologic education over the last 15 years. Our board of directors carefully selects one radiologist each year that they believe best exemplifies this ideal and long-term commitment to the field.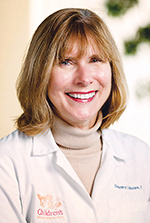 2017 recipient: Dorothy Bulas, MD
Dr. Bulas started her career after graduating from Lehigh University and the Woman's Medical College of Pennsylvania in Philadelphia. She completed a pediatric residency at New York Hospital and a radiology residency at Albert Einstein College of Medicine.
Throughout her career, Dr. Bulas has focused her attention on education and international outreach. She's a founding member of the World Federation of Pediatric Imaging (WFPI) and was secretary of the WFPI Education Committee. Dr. Bulas also served as president of the Society for Pediatric Radiology (SPR) and helped organize the combined European Society of Paediatric Radiology/SPR 2011 International Pediatric Radiology meeting in London.
Dr. Bulas served on the American College of Radiology (ACR) Pediatric Radiology Practice Guidelines Committee and as section chair for the Certification of Qualification in Pediatrics at the American Board of Radiology. She's also chaired the Accreditation Council for the Graduate Medical Education (ACGME) Milestones Committee for the Pediatric Radiology Fellowship Program; served as faculty for numerous RSNA annual meetings; and delivered over 120 national and international lectures.
Currently, Dr. Bulas is a professor of pediatrics and radiology at the George Washington University School of Medicine and Health Sciences. She also serves as vice chief of academic affairs, program director of pediatric radiology, and section head of ultrasound and fetal imaging at the Children's National Health System in Washington, DC. She is also chair of the ACR Foundation's International Outreach Committee.
Dr. Bulas is an accomplished member of the RSNA Public Information Committee and the Public Information Advisors Network. She's an advocate for safety in pediatric radiology and is a fellow at the American Institute of Ultrasound in Medicine, the American College of Radiology, Society of Radiologists in Ultrasound and American Association of Pediatrics.
2017 Dorothy Bulas, MD
2016 Kristen K. DeStigter, MD
2015 Kay H. Vydareny, MD
2014 Paula J. Woodward, MD
2013 Bruce G. Haffty, MD
2012 Marilyn J. Goske, MD
2011 James G. Smirniotopoulos, MD
2010 Kitt Shaffer, MD, PhD
2010 Gillian Lieberman, MBBCh
2009 Elliot K. Fishman, MD
2008 Richard Gunderman, MD, PhD
2007 Robert A. Novelline, MD
2006 Donald L. Resnick, MD
2005 Jannette Collins, MD, MEd
2004 Henry l. Goldberg, MD
2003 Murray Dalinka, MD
2002 Barbara N. Weissman, MD
2001 Barry B. Golderg, MD
2000 Anne G. Osborn, MD