RSNA 2020
Annual Meeting
106th Scientific Assembly and Annual Meeting
November 29 – December 5, 2020
Exhibition and sponsorship opportunities at RSNA 2020
As a vital participant in the world's largest medical imaging conference, RSNA wants to help your company achieve its goals. Make the most of your experience at RSNA 2020—live November 29 to December 5 and available on-demand through April 30, 2021—and take advantage of a variety of engagement opportunities that will allow you to connect with attendees through virtual exhibits, featured demonstrations, educational presentations, daily Industry Hour, sponsorships and more.
Why exhibit
Plan your exhibit
Exhibit packages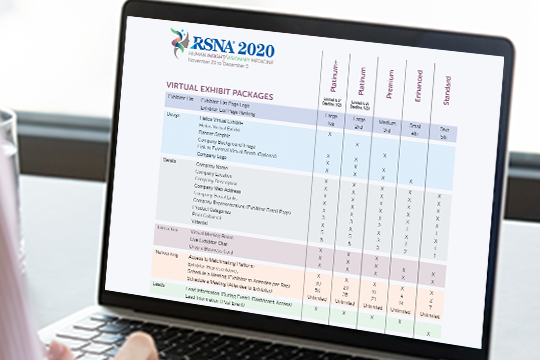 Boost your company's exposure to purchasers, capture new leads, highlight new products and solutions, and interact with attendees in real-time through one-on-one meetings, matchmaking and live chat. Virtual exhibits will be available for attendees to explore until April 30, 2021. Learn more about our package offerings and find out how you can select the best participation opportunities to meet your goals.
View packages
Sponsorship opportunities
Gain more exposure before, during and after the meeting with our sponsorship opportunities. Showcase your latest innovations, position your company as a thought leader in the field and gain a competitive edge through virtual product demonstrations, theater presentations, digital banners, e-blasts and more. Check out our suite of promotional opportunities below and find out how to get your message to the right audience.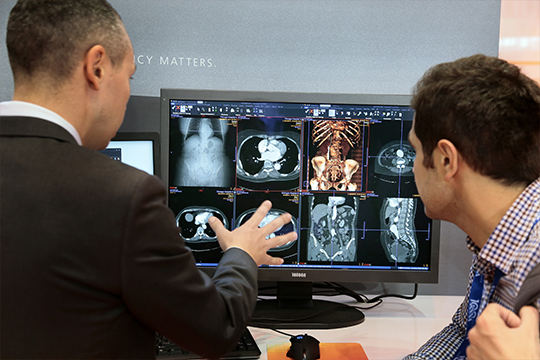 Get ready for RSNA 2020 and easily access the essential resources you need for a successful, all-virtual meeting. Find important deadlines, exhibitor best practices, promotional tools and additional materials.
Planning your exhibit
Contact us
Whether you're interested in exhibiting, or already have an exhibit, our staff can help answer all your questions.