Radiology in public focus
Press releases were sent to the medical news media for the following articles appearing in a recent issue of Radiology.
Smoking Impedes Embolization Treatment in Lungs
Smoking reduces the chances of a successful procedure to treat blood vessel abnormalities in the lungs, according to a study in Radiology.
For the study, researchers sought to see how smoking might affect post-embolization pulmonary arteriovenous malformations (PAVM) persistence rates. Authors studied 103 patients with hereditary hemorrhagic telangictasia (HHT) who underwent embolization for a total of 373 PAVMs. The patients were classified into smoking or non-smoking groups.
Smokers faced a higher rate of PAVM persistence following treatment than those who had never smoked. Patients reporting active tobacco use at the time of PAVM embolization had a five-year persistence rate of 26.3% compared with 13.5% in inactive smokers.
"Smoking cessation is very important if these patients want to help themselves and avoid further procedures," said study senior author Sanjay Misra, MD, an interventional radiologist at the Mayo Clinic Department of Radiology in Rochester, MN. "We should urge current smokers to stop smoking before treatment."
Artificial Intelligence Improves Heart Attack Risk Assessment
When used with a common heart scan, machine learning (ML) does better than conventional risk models at predicting heart attacks and other cardiac events, according to a study in Radiology.
For the study, researchers compared a ML approach with coronary artery disease reporting and data system (CAD-RADS) and other vessel scoring systems in 6,892 patients. They followed the patients for an average of nine years after coronary CT angiography (CCTA). There were 380 deaths from all causes, including 70 from coronary artery disease. In addition, 43 patients reported heart attacks.
Compared to CAD-RADS and other scores, the ML approach better discriminated which patients would have a cardiac event from those who would not. When deciding whether to start statins, the ML score ensured that 93% of patients with events would receive the drug, compared with only 69% if CAD-RADS were used.
"The risk estimate that you get from doing the machine learning version of the model is more accurate than the risk estimate you're going to get if you rely on CAD-RADS," said study lead author Kevin M. Johnson, MD, associate professor of radiology and biomedical imaging at the Yale School of Medicine in New Haven, CT. "Both methods perform better than just using the Framingham risk estimate. This shows the value of looking at the coronary arteries to better estimate people's risk."
For Your Information
Access the full Radiology study and results, "Scoring of Coronary Artery Disease Characteristics on Coronary CT Angiograms by Using Machine Learning."
Nuclear Stress Test Helps Identify Heart Attack Risk in People with Diabetes
Abnormal results on a nuclear stress test are associated with a significantly increased risk of cardiac-related deaths, especially among people with diabetes, according to a multi-center study in Radiology: Cardiothoracic Imaging.
In the largest study of its kind to date, investigators at four centers collected clinical data on stress tests for both diabetic and non-diabetic patients and then followed them to track the occurrence of adverse events like heart attacks. The study group consisted of 7,061 participants, including 1,966 people with diabetes.
The data showed that among diabetic patients an abnormal PET MPI was associated with increased risk of cardiac death in all important clinical subgroups based on age, gender, obesity, or those with prior revascularization procedures like angioplasty. Using the data, the researchers were able to more accurately assess the cardiac risk for a significant proportion of diabetic patients.
"The data from the stress test among diabetic patients actually allowed us to better risk-stratify people in greater than 39% of the cases," said study lead author Hicham Skali, MD, MSc, from Brigham and Women's Hospital and Harvard Medical School in Boston. "Patients with diabetes remain at a significantly higher risk of cardiac death compared to patients without diabetes, and the data from a stress test helps us further stratify those at greatest risk."
RadiologyInfo.org to Host Breast Cancer Awareness Tweet Chat
RadiologyInfo.org – the RSNA-ACR patient information website – invites you to join the RadInfo Tweet Chat Oct. 17 at 1 p.m. CT (2 p.m. EST, 11 a.m. PT) with guest radiologist Stamatia Destounis, MD, for a discussion on breast cancer screening and important information for patients. Dr. Destounis is a radiologist at Elizabeth Wende Breast Care and clinical professor of Imaging Sciences, University of Rochester School of Medicine and Dentistry in New York and a member of the RSNA Public Information Committee. Follow the RadiologyInfo.org Twitter account at @RadiologyInfo_ and the tweet chat hashtag at #RadInfoChat.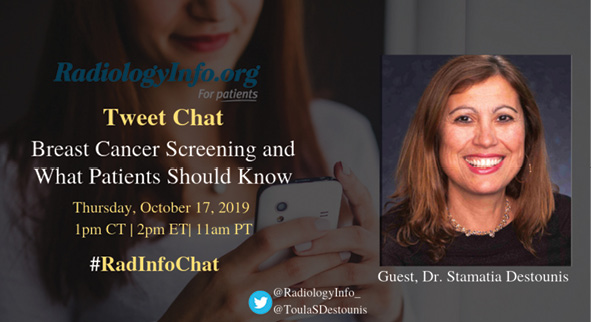 October Public Information Outreach Activities Focus on Breast Cancer Awareness
In recognition of National Breast Cancer Awareness Month in October, RSNA is distributing public service announcements (PSAs) to inform patients about the risk factors, available screening methods and treatment options for the disease.
Media Coverage of RSNA
In June, 776 RSNA-related news stories were tracked in the media. These stories had nearly 529 million audience impressions.
Coverage included U.S. News & World Report, WBBM-AM (Chicago), HealthDay, WebMD, Drugs.com, The Arizona Republic, Houston Chronicle, San Francisco Chronicle, Radiology Business Journal, Pittsburgh Post-Gazette, Health Imaging News and Auntminnie.com.