Radiology in public focus
Press releases were sent to the medical news media for the following articles appearing in a recent issue of Radiology.
Minimally Invasive Autopsy Improves Postmortem Diagnoses
Minimally invasive autopsy with CT and MRI performs as well as conventional autopsy in detecting cause of death and has the advantage of yielding more diagnoses, according to a study in Radiology.
Despite the importance of conventional autopsies, rates have been rapidly declining for a variety of reasons, including reluctance of next-of-kin due to the invasiveness of the procedure. In the face of this trend, non-invasive or minimally invasive alternative autopsy methods have emerged as potentially valuable options. Postmortem CT and MRI enable visualization of the entire body, and image-guided tissue biopsies can be obtained for further examination.
Senior author J. Wolter Oosterhuis, MD, PhD, from the Department of Pathology at Erasmus University Medical Center in Rotterdam, the Netherlands, and colleagues recently compared the performance of minimally invasive autopsy to that of conventional autopsy in 99 deceased humans. The minimally invasive autopsy procedure combined post-mortem MRI, CT and CT-guided biopsies of the main organs and pathological lesions.
The researchers found agreement between minimally invasive autopsy and conventional autopsy for cause of death in 92 percent of the cases. There was agreement with the consensus cause of death in 96 of 99 of the cases of minimally invasive autopsy, compared with 94 of 99 for conventional autopsy.
The total number of diagnoses established by minimally invasive autopsy was higher than that of regular autopsy. The deceased patients had a total of 288 major diagnoses related to the consensus cause of death and minimally invasive autopsy diagnosed 259 of those, or 90 percent, compared with 78 percent for conventional autopsy.
"It's very important to note that conventional autopsy cannot be redone, and items that were overlooked or misinterpreted cannot be corrected," Dr. Oosterhuis said. "Minimally invasive autopsy, on the other hand, provides a permanent record of the entire body that can be revisited, and reanalyzed by pathologists, radiologists, clinicians and next-of-kin."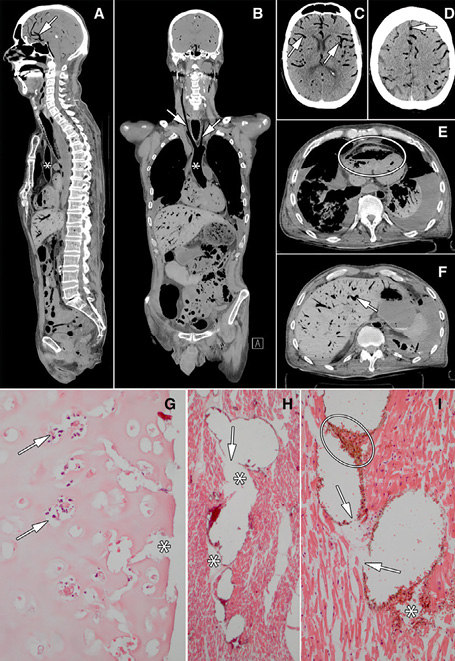 Images in 60-year old man who underwent bilateral lung transplant 2 months before death. Conventional autopsy identified a possible myocardial infarction and thrombo-emboli as cause of death, whereas cause of death at minimally invasive autopsy was massive air embolus. The reference standard committee concluded that minimally invasive autopsy correctly identified the cause of death. Images show aorta (* in A and B), carotid arteries (arrows in B), visceral blood vessels (cerebral blood vessels: arrows in A, C, D; liver blood vessel: arrow in F), and right ventricle (oval in E). G, Photomicrograph of luminal side of trachea shows disappearance of mucosa and submucosa; tracheal cartilage is necrotic with empty lacunae, nuclear debris (arrows), and clefts (*). H, I, Photomicrographs of myocardium show blood vessels inflated by air that pushes erythrocytes to the walls and causes rupture of vessels (arrows), allowing air (*) and erythrocytes (oval in I) to escape into interstitial space, thereby tearing the tissue.
Web Extras
Access the study, "Conventional Autopsy versus Minimally Invasive Autopsy with Postmortem MRI, CT, and CT-guided Biopsy: Comparison of Diagnostic Performance," at RSNA.org/Radiology.

CT Technique Expands Possibilities of Imaging Ancient Remains
Researchers in Sweden using computed tomography (CT) have successfully imaged the soft tissue of an ancient Egyptian mummy's hand down to a microscopic level, according to a study published in Radiology.
Non-destructive imaging of human and animal mummies with X-rays and CT has been a boon to the fields of archaeology and paleopathology.
"For studying bone and other hard, dense materials, absorption contrast works well, but for soft tissues the absorption contrast is too low to provide detailed information," said Jenny Romell, MSc, from KTH Royal Institute of Technology/Albanova University Center in Stockholm, Sweden. "This is why we instead propose propagation-based phase-contrast imaging."
Propagation-based imaging enhances the contrast of X-ray images by detecting both the absorption and phase shift that occurs as X-rays pass through a sample. Capturing both absorption and phase shift provides higher contrast for soft tissues.
Romell and colleagues evaluated phase-contrast CT by imaging a mummified human right hand from ancient Egypt. They scanned the entire hand and then performed a detailed scan of the tip of the middle finger.
The estimated resolution of the final images was between 6 and 9 micrometers. Researchers were able to see the remains of adipose cells, blood vessels and nerves, and were even able to detect blood vessels in the nail bed and distinguish the different layers of the skin.
"We hope that phase-contrast CT will find its way to the medical researchers and archaeologists who have long struggled to retrieve information from soft tissues, and that a widespread use of the phase-contrast method will lead to new discoveries in the field of paleopathology," Romell said.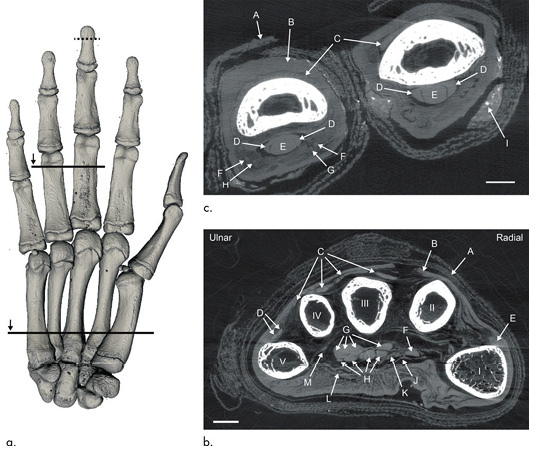 Images show CT of mummified hand. (a) Palmar view of volume rendering depicts bones. (b) Axial view of hand. Arrows indicate linen (A), skin (B), tendons of extensor digitorum communis (C), tendons of extensor digiti minimi (D), tendons of extensor pollicis longus (E), tendons of flexor pollicis longus (F), tendons of flexor digitorum profundus (G), tendons of flexor digitorum superficialis (H), distal portion of carpal ligament (J), median nerve (K), ulnar nerve and/or superficial branch of ulnar artery (L), and possibly deep branch of ulnar artery (M). Scale bar represents 5 mm. (c) Axial section through proximal phalanges of third and fourth fingers. Arrows indicate linen (A), skin (B), tendons of extensor digitorum (C), tendons of flexor digitorum superficialis (D), tendons of flexor digitorum profundus (E), proper palmar digital arteries (F), proper palmar digital nerves of median nerve (G) and of ulnar nerve (H), and residues from embalming process (I).
Web Extras
Access the study, "Soft-Tissue Imaging in a Human Mummy: Propagation-based Phase-contrast CT," at RSNA.org/Radiology.
Thermal Ablation Effectively Treats Early-Stage Lung Cancer
Thermal ablation offers comparable two- and five-year survival rates to stereotactic radiation therapy (SRT) in patients with early stage non–small cell lung cancer (NSCLC), according to a new Radiology study comparing the two modalities.
Surgery is the treatment of choice for early-stage NSCLC, which accounts for approximately 85 percent of all cases of lung cancer, but older patients and those with other conditions may not be ideal candidates due to a higher risk of complications.
SRT is a viable option, but the radiation sometimes harms healthy tissue and carries a risk of short-term and long-term toxicities. Image-guided thermal ablation offers an effective local, regional treatment alternative to SRT, according to researchers.
"Thermal ablation is most often a one-time treatment, unlike SRT, which requires multiple visits," said study senior author Hyun S. "Kevin" Kim, MD, from Yale Cancer Center and Yale School of Medicine in New Haven, CT. "In addition, ablation delivers highly accurate and precise localized treatment only to cancer cells, minimizing the effects to surrounding tissue and keeping the toxicity low."
Dr. Kim, head of the Interventional Oncology Program at Yale, led a multidisciplinary team of thoracic oncology investigators who studied almost 29,000 patients from the 2004–2013 National Cancer Database, including more than 1,100 who had undergone thermal ablation. Researchers compared outcomes over several years.
Both treatment methods delivered comparable survival rates. The two-year survival rate in the thermal ablation group was slightly more than 65 percent, compared with 64.5 percent for the SRT group. At five years, survival rates were just below 25 percent for the thermal ablation group and slightly more than 6 percent for the SRT group.
"This is a real value to our patients, especially as tissue sampling becomes more and more important in personalized, precision cancer treatments," Dr. Kim said.
Web Extras
Access the study, "Survival Rates after Thermal Ablation versus Stereotactic Radiation Therapy for Stage 1 Non–Small Cell Lung Cancer: A National Cancer Database Study," at RSNA.org/Radiology.
Media Coverage of RSNA
In September, 1,801 RSNA-related news stories were tracked in the media. These stories had an estimated audience reach of nearly 1.3 billion.
Coverage included Yahoo! Finance, SFGate.com, COSMOS, Houston Chronicle, WebMD, The Arizona Republic, Pittsburgh Post-Gazette, Milwaukee Journal Sentinel, MedPage Today, Auntminnie.com, ScienceDaily, Radiology Business Journal, Health Imaging News, Drugs.com and Applied Radiology.

New on RadiologyInfo.org
Visit RadiologyInfo.org, the public information website produced by RSNA and ACR, to read patient-friendly summaries of ACR Appropriateness Criteria. Produced by the Journal of the American College of Radiology (JACR), the summaries are written to be easily understood by those with little or no medical experience or training. The summaries are based on input from an expert panel of providers from different medical specialties and intended to empower patients to more fully participate in their care. The award-winning website was visited a record 2 million times in October 2018.