Key decision-makers visit our exhibit halls ready to see the latest medical imaging products and services available to enhance patient care and streamline operations. This is your opportunity to engage with your audience, establish your position as an industry leader and reach your top prospects.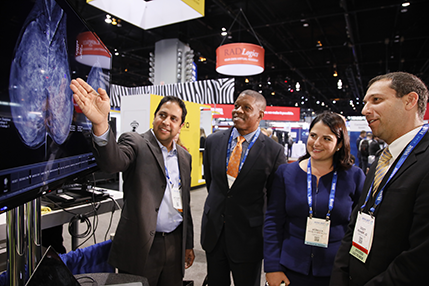 Envision your space at RSNA 2020
Start the conversation now — we'll help you bring your vision to life. The application deadline is October 30.
Apply now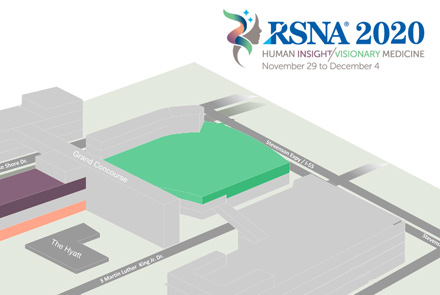 Explore our floor plan
450,000 square feet of floor space gives you a tremendous amount of exhibiting options, no matter your booth or budget.
View now
Booth types
In addition to showcases and pavilions, our expansive floor plan offers multiple standard exhibiting options designed to fit your needs.
Exhibitor showcases
Looking for even more options? Explore these exhibiting opportunities featuring designated space in the exhibit hall and various package options:
Special interest areas
Strategically targeted areas let you bring your message directly to a highly select and engaged audience.
Radiation Safety
Dedicated to the latest advances in radiation safety, this area lets you showcase your related products and services. Exhibitors can interact with attendees -- doctors, influencers, radiologists, clinicians, scientists -- looking to build a culture of radiation safety in this one-stop destination.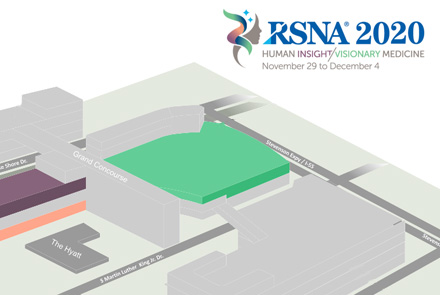 Recruiters Row
RSNA is the gathering place for the top minds – and talent – in the radiology field. Recruiters Row is the perfect place for organizations like yours to meet them.
Other exhibit areas
Country pavilion
A country pavilion is coordinated by a government organizer or agent which brings together a group of companies on the exhibition floor. The following are required to be considered for participation:
Letter of request from organizer/agent detailing requirements for their pavilion.

Pavilion size must be a minimum of 400 square feet.
Each individual company participating is required to occupy a minimum of 100 square feet.

A signed application/contract from organizer/agent indicating the requested pavilion size along with an appropriate deposit.
Each participating company is also required to submit an individual signed application/contract agreeing to abide by the RSNA rules and regulations.
Once the pavilion is assigned a hall and floor location, the organizer/agent will then need to furnish a detailed floor plan/layout for review and approval.
Educators Row
This special area in the South Building, Hall A, is designated for publishers and educational institutions. Inline and island booths can select Publishers Row at the time of application.
Pricing and regulations
The following prices are for RSNA 2020 traditional and special interest exhibit space. For showcase pricing, please visit the exhibitor showcases page.
Exhibit space: $36.50 square foot
Premium inline: $39.50 square foot
Corner: $550 each (if applicable)
Second-level: $18.25 square foot
Contiguous aisle: $18.25 square foot
Download and review our exhibitor rules and regulations (PDF) for additional details.