Welcome to the official RSNA 2018 hotel reservations page. RSNA is your dedicated travel partner before, during and after the meeting.
Top reasons to reserve with us
Discounted rates: Reserve your hotel with us and get discounted rates at nearly 100 hotels. We can save you up to 34%* compared to online travel sites. *Savings based on rate comparison from online travel sites as of Feb. 26, 2018.
Exceptional customer service: Enjoy peace of mind knowing we will resolve hotel disputes and assist with your questions or concerns.
Free transportation: We provide you with free Metra train tickets and free bus service between your official RSNA hotel and McCormick Place.
Flexible travel dates: Arrive early or stay after the annual meeting. We'll accommodate your travel plans.
Easily update your reservation: We work with you to make sure your reservation is right.
Support RSNA: Allow us to negotiate your best deal and help increase our buying power.
Great news! A limited number of hotels will accept reservations at RSNA rates until November 19, 2018. Use our hotel search tool to help plan your stay.
Already reserved? View or change your hotel reservation.
Technical requirements: Our secure hotel reservations partner website is best viewed on the Internet Explorer 11+ browser or the latest versions of Chrome, Firefox, Safari, Opera or Microsoft Edge.
Hotel policies
Please note the following policies to help your reservation process proceed smoothly:
Name changes and/or swapping of room reservations is not allowed.
Prior to November 7, contact Experient for hotel changes or cancellations.
Hotel changes or cancellations after November 7 are subject to penalty.
Between November 7 and November 12 reservation information will be transferred to the hotels.
Beginning November 13, contact the hotel directly for housing changes or cancellations.
Early departure will result in a penalty.
Bedding type requested is not guaranteed until check in at your hotel.
Trusted travel partners
When you reserve your hotel through RSNA, your reservation is secure. Experient is the only RSNA 2018 certified hotel partner. ESA Voyages and ACE Marketing are the official international travel agencies offering travel packages to the annual meeting. RSNA authorizes no other travel companies. Don't risk sharing your credit card or personal information with unauthorized hotel solicitors or fraudulent websites. Contact RSNA hotel services at housing@rsna.org for additional information.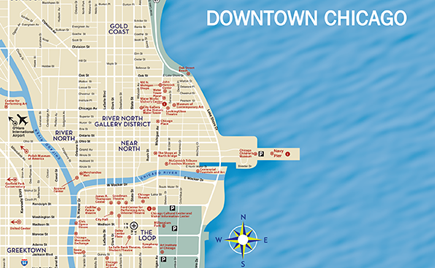 Hotel map
We have partnered with nearly 100 hotels in downtown Chicago to bring you the best rates. Explore the map to find a hotel that best suits your needs.
See Chicago hotels (PDF)
FAQs
How do I make a hotel reservation?
You can reserve a hotel room by selecting one of the log in options: RSNA member, AAPM member, or non-member.
RSNA offers a variety of hotel accommodations at discounted rates. Reserve your room early, as the selection of hotel rooms may become limited closer to the meeting.
Who are RSNA's official hotel partners?
Experient is the only certified hotel reservation partner. For more information, email housing@rsna.org.
ESA Voyages is our official international travel partner for groups providing a variety of international travel packages including airfare and hotel. For more information, contact esa@esavoyages.fr.
ACE Marketing is our official travel partner for groups coming from China and Taiwan providing travel and hotel packages. For more information, contact stephaniezhu@acemarketing.com.cn.
Am I able to receive my hotel reward points when I make my reservation through RSNA's official hotel partners?
You can earn rewards points with your preferred hotel chain when reserving in the official hotel block. Simply enter your reward or frequent guest number when making your reservation through our online system.
When is the deadline to make a hotel reservation?
Nov. 7, 2018
Is there a hotel deposit when reserving a hotel room?
You will need to make a deposit amount equal to the first night stay, including tax, to confirm your hotel reservation. The credit card used must be valid through December 2018 and will be charged by the hotel approximately two weeks before the annual meeting. If the credit card is declined, the hotel may cancel your reservation. You may also send a check or money order for the hotel deposit. For more information, please email rsna@experient-inc.com.
What is the reservation cancellation policy?
If you made your reservation through RSNA, you may cancel it without charge through Oct. 26, 2018, by emailing Experient at rsna@experient-inc.com. If you don't comply, you'll forfeit your deposit equal to the first night's room and tax. Early departures will result in the loss of the first night's room and tax.
How do I modify my hotel reservation?
Before Nov. 7, 2018: Change your reservation online or by contacting rsna@experient-inc.com. Name changes and/or swapping of room reservations is not allowed.
Between Nov. 8 and 12: Reservations and deposits will be transferred from Experient to the hotels. Reservations cannot be changed during this period.
After Nov. 12: Contact the hotel directly for date changes and room cancellations. Room availability is not guaranteed, and rates are at the hotel's discretion.
If you cancel your reservation directly with the hotel, write down the date and time of your call and the name of the person with whom you spoke. Be sure to get a cancellation number.
Failure to check in at the hotel on your scheduled arrival day will result in forfeiture of your reservation and hotel deposit. The hotel will accommodate you on a space available basis.
What is the hotel tax rate?
Rates do not include a 17.4% Chicago hotel tax rate (subject to change).
What if I want to come early or stay after the meeting?
We encourage our attendees to take advantage of all the city of Chicago has to offer! Exclusive discounted hotel rates are available for multi-night reservations before, during and after the meeting so you can make the most of your visit. Discover things to see and do in the city at
ChooseChicago.com/RSNA
.
Are my special requests guaranteed when I make a reservation?
All special requests are at the discretion of the hotel. When making your reservation, please provide any special requests you have in the comment section. Requests cannot be guaranteed until check-in, unless specifically described in your room type.