RSNA 2020
Annual Meeting
106th Scientific Assembly and Annual Meeting
November 29 – December 5, 2020
Executives and purchasers
Why attend
Join us for RSNA 2020! Explore cutting-edge products and solutions that will enhance patient care and streamline operations at your institution. RSNA's all-virtual format allows you to easily find new opportunities and connect one-on-one with key industry contacts showcasing the latest tech from a wide variety of subspecialties and special interest areas.

Need help planning your week? Browse through our list of exhibitors, find out when virtual networking opportunities become available for scheduling and check out the featured and corporate programming to get details on daily Lunch & Learns, sessions on COVID-19 and other hot topics, featured demonstrations, theater presentations and more.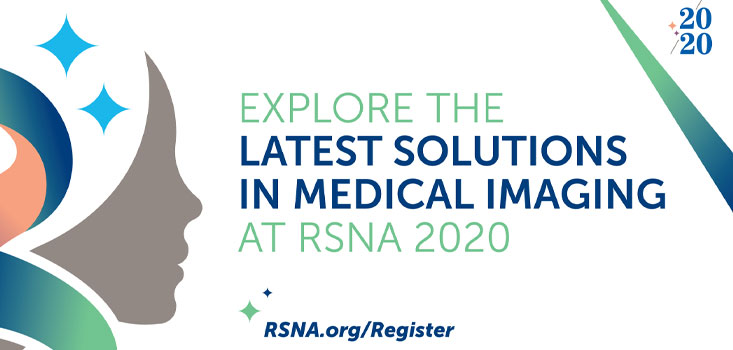 Latest technological advancements
Easily find new opportunities and connect one-on-one with key industry partners showcasing the latest tech at RSNA 2020. Listen to past meeting attendees to learn why the RSNA exhibition is a must see.
Watch video
Engage at RSNA
Discover the latest research and innovations
Enjoy dedicated time to discover the latest research and innovations during daily industry presentations.
Explore the newest products and solutions
View product demonstrations, visit the Innovation Theater and explore the virtual technical exhibits.
Connect and exchange ideas with industry
Participate in networking, schedule one-on-one meetings and live chat with industry partners.
Join us live, the week of November 29–December 5, as we bring together the biggest medical imaging community in the world. Connect with companies who are leading the charge in the industry in real-time.
Healthcare facility and IT management
Premium

Standard

$650
$450
Investors/venture capitalists
Premium

Standard

$650
$450
Register