Next-Generation Imaging Key to Fighting Advanced Prostate Cancer
Study shows more advanced and accurate imaging improves diagnosis and disease detection
Melissa Silverberg
November 15, 2019
---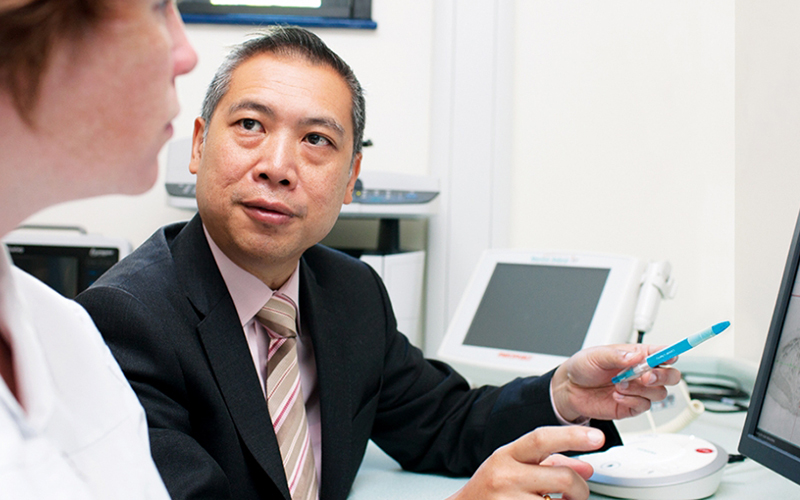 ---
Prostate cancer will affect one out of every nine men in their lifetimes, making it one of the most commonly diagnosed — and one of the leading causes of cancer death among men — cancers. But next-generation imaging modalities continue to make advances in defining the presence and extent of the disease, helping physicians deliver better care.
In a review article in
Radiology
, "
Imaging Diagnosis and Follow-up of Advanced Prostate Cancer: Clinical Perspectives and State of the Art
," researchers analyze whole-body MRI, molecular imaging with combined PET and CT, and combined PET and MRI using various radiopharmaceuticals.
"We wanted to look at what are the imaging technologies that can help physicians to refine their understanding of the disease," said Dow-Mu Koh, MD, a study author. "We are always trying to improve patient outcomes."
Prostate cancer often spreads to the bones, lymph nodes, liver, lungs and — rarely — the brain. Up to 62% of patients with newly diagnosed metastatic prostate cancer have metastatic disease confined to the skeletal system. But both CT and bone scanning have limitations in detecting disease and treatment success, which contributes to poor patient outcomes, according to the
Radiology
study.
Through more accurate local staging, earlier detection of metastatic disease, and assessment of treatment response, next-generation imaging may improve the assessment of advanced stage prostate cancer and patient survival.
Imaging Improves Sensitivity, Specificity, Accuracy
In terms of assessing advanced prostate cancer, researchers determined that PET/CT is significantly superior to CT alone in terms of specificity and sensitivity.
In one meta-analysis of 609 patients, the sensitivity and specificity of radiolabeled choline derivatives C11 and 18F choline PET/CT for pelvic lymph node metastases were 62% and 92%, respectively. Using CT, diagnostic sensitivity in detecting nodal masses is approximately 40% in patients with prostate cancer, according to the review.
Researchers determined that whole-body diffusion-weighted (DW) MRI and molecular imaging will play increasing roles in defining the presence and extent of metastatic disease. Whole-body DW MRI, which does not require contrast, can be used to assess tumor response without the 'flare' phenomenon, which can occur post-treatment and mislead early response assessment.
Whole-body DW MRI can also depict complications, such as malignant spinal cord compression, fractures, or genitourinary tract obstructions.
In terms of detecting bone metastases, whole-body MRI has proven to be more sensitive than bone scanning and choline PET/CT on a per-patient basis, although choline PET/CT showed higher specificity in one study, Dr. Koh said.
"Our review finds that the next-generation imaging tools are clearly much more sensitive, specific and accurate in demonstrating advanced disease in bones and soft tissue," Dr. Koh said.
Disease Assessment: Moving Beyond Traditional Methods
Beyond diagnosis and disease detection, more advanced and accurate imaging can be especially useful for physicians in understanding how well treatment is working in patients with advanced disease.
Measurement of the patient's Prostate Specific Antigen (PSA) level alone is not enough to monitor treatment response. Because of disease molecular heterogeneity, radiologic progression can occur without an increase in PSA level, underscoring the importance of imaging in assessing treatment benefit for patients with metastatic prostate cancer.
"Physicians need to be confident that their plan is working," Dr. Koh said. "At the first sign that a drug isn't working, the doctor should switch the patient to a plan that may be more effective in keeping the disease at bay for as long as possible. To do that, we need an effective tool to determine when the disease is breaking through, and the traditional methods many of us use may not be enough."
Nevertheless, most physicians still rely on traditional scans, for a number of reasons. They may not be aware of the potential of the new imaging techniques and/or may not have access to newer technology such as molecular imaging combined with PET and CT, which is not yet widely available.
It will take time before the majority of radiologists understand the newer imaging technologies and feel confident in using them, Dr. Koh said.
"We hope that more and more doctors will adopt these new technologies into their practice to help as many patients as possible," Dr. Koh said.
For More Information
Access the
Radiology
study, "
Imaging Diagnosis and Follow-up of Advanced Prostate Cancer: Clinical Perspectives and State of the Art
."