RSNA 2018 Annual Oration in Radiation Oncology
Radiotherapy to Convert the Tumor into an In Situ Vaccine
---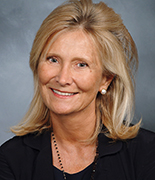 ---
Silvia C. Formenti, MD, will present the Annual Oration in Radiation Oncology on Wednesday, Nov. 28, 1:30 p.m.

In her lecture, "Radiotherapy to Convert the Tumor into an In Situ Vaccine," Dr. Formenti will discuss how the optimal delineation of the target and real-time visualization of organ movement have merged radiology and radiation oncology to achieve increasingly precise and effective delivery of cytotoxic ionizing radiation. This partnership between the two disciplines is strengthened in the era of cancer immunotherapy.

Dr. Formenti's lecture will focus on how radiotherapy has revealed an ideal adjuvant to cancer immunotherapy because of its ability to convert the irradiated tumor into an individualized in situ vaccine. When successful at immunizing, radiotherapy evokes T cell memory and induces abscopal effects or effects outside the treated field. In the setting of clinical cancer, however, abscopal effects are extremely rare because of the immune-suppressive characteristic of established solid tumors.

Strategies to exploit the pro-immunogenic effects of radiotherapy that require combination with immunotherapy will be presented. Experiments in several syngeneic mouse models that mimic the setting of advanced cancer have demonstrated the promise of combining radiation with immune checkpoint blockade. Currently, multiple clinical trials are exploring optimal regimes of radiotherapy and immunotherapy, with some initial success.

Dr. Formenti is the Sandra and Edward Meyer Professor of Cancer Research and chair of radiation oncology at Weill Cornell Medical College, radiation oncologist-in-chief at New York-Presbyterian Hospital and the associate director of the Meyer Cancer Institute, all in New York.

Dr. Formenti received her medical degree from the University of Milan, where she attained board certification in medical oncology, radiology and radiation oncology. She completed her residency in internal medicine and medical oncology at San Carlo Borromeo Hospital, Milan, and in radiation oncology at the University of Southern California (USC), Los Angeles, where she received a grant from the Italian National Research Council to study human monoclonal antibodies against colorectal cancer. She also performed AIDS and lymphoma research at USC through the Audrey Meyers Mars International Fellowship in Clinical Oncology awarded by the American Cancer Society.

She has been the principal investigator on many grants funded by the National Institutes of Health, the Department of Defense Breast Cancer Research Program and the Breast Cancer Research Foundation. She is currently chair of the Integration Panel of Congressionally Directed Medical Research Program for the Department of Defense Breast Cancer Research Program.

A past president of the Society of Chairs of Academic Radiation Oncology Programs, Dr. Formenti has published more than 230 scholarly papers.