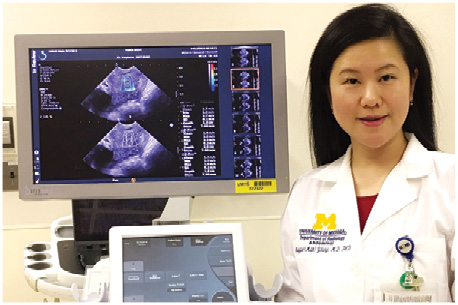 Value of Sheer Wave Elastography to Assess Cervical Stiffness During Preterm Labor and Labor Induction
The cervix plays a critical role in maintain pregnancy, as it withstands the growing uterine contents and increasing pressure until ripening occurs prior to deliver. Current methods for assessment of cervical ripening include Bishop score and pelvic ultrasound. Cervical consistency during gestation may be intrinsically different in patients with high-risk pregnancies compared to those with normal pregnancies – it may be softer in preterm patients or persist with delayed ripening in post-date patients who need medical induction.
2019 RSNA Research Scholar Grant recipient, Maggie (Man) Zhang, MD, PhD, assistant professor of radiology at the University of Michigan in Ann Arbor, is investigating the predictive value of transvaginal shear wave elastography (SWE) as a novel and objective imaging tool for preterm birth and successful labor induction.
In this prospective study, Dr. Zhang and her research team recruited pregnant women at 14-35 weeks of gestation who have low risk or high risk of preterm labor and who are post due date and scheduled for labor induction. Cervical stiffness was measured by SWE and cervical length recorded on gray-scale ultrasound.
"This study will fulfill the critical need for research toward the consensus on reliable imaging for cervical stiffness assessment during pregnancies," Dr. Zhang said. "If successful, it will become a safe, cost-effective and easy-to-use clinical tool to predict and monitor high-risk pregnancies, which will lead to better pregnancy management, largely reducing adverse events and ultimately improving clinical care of high-risk pregnancies."