The following are highlights from the current issues of RSNA's peer-reviewed journals.

Three-year Survival Rate after Radiofrequency Ablation for Surgically Resectable Colorectal Lung Metstases: A Prospective Multicenter Study
Colorectal cancer (CRC) is one of the most common malignancies in the world, with metastases to the lungs in approximately 10%–20% of patients. Surgery is performed when both the primary tumor and the lung metastases are completely resectable, with a three-year over-all survival (OS) rate of 53%–82% after lung metastasectomy. Systemic chemotherapy is administered for patients who are not candidates for surgery, but its 3-year OS rate is less than 50%. Radiofrequency ablation (RFA) is a minimally invasive local-regional treatment for malignant lung neoplasms. It has been considered a reasonable alternative to stereotactic radiation therapy, with the advantages of requiring only one treatment procedure, with less cost and the feasibility of repeat RFA for residual or recurrent tumor.
In an online article in Radiology, Takaaki Hasegawa, MD, Aichi Cancer Center, Aichi, Japan, and colleagues evaluated the comparable survival outcomes for RFA to surgery in the management of resectable CRC pulmonary metastasis and the prognosis after RFA for resectable CRC lung metastases. Of the 70 CRC patients evaluated, the three-year OS rate was 84% (59 of 70 participants). In multivariable analysis, factors associated with worse OS rates included rectal rather than colon location, positive carcinoembryonic antigen and absence of previous chemotherapy. Local tumor progression was found in six of the 70 participants (9%). A Grade 5 adverse event was seen in one of the 88 RFA sessions (1%), and Grade 2 adverse events were seen in 18 (20%). "Lung radiofrequency ablation can provide a three-year favorable outcome of 84% for resectable colorectal cancer lung metastases measuring 3 cm or smaller, although the procedure has a potential risk for life-threating complications," the authors conclude.

Deep Radiogenomics of Lower-Grade Gliomas: Convolutional Neural Networks Predict Tumor Genomic Subtypes Using MR Images
Lower-grade gliomas (LGGs) are a diverse group of brain tumors classified as grade II and III using the World Health Organization grading system. Radiogenomics aims to identify relationships between tumor genomic characteristics and imaging phenotypes. In addition to extending the understanding of the disease in general, radiogenomics might provide actionable information if the genomic characteristics of tumors can be predicted prior to invasive tissue examination or in cases when resection is risky or impossible.
A new study in Radiology: Artificial Intelligence tested whether a deep learning (DL) model with transfer learning from GBM MRI, instead of natural images, can improve performance over a model trained from scratch for predicting CoC molecular subtype based on MRI of LGG.
Mateusz Buda, MSc, Duke University School of Medicine, Durham, NC, and colleagues used imaging data from The Cancer Imaging Archive and genomic data from The Cancer Genome Atlas from 110 patients from five institutions with lower-grade gliomas. A convolutional neural network was trained to predict tumor genomic subtype based on the MRI of the tumor. Two DL learning approaches were tested: training from random initialization and transfer learning. Deep learning models were pretrained on glioblastoma MRI, instead of natural images, to determine if performance was improved for the detection of LGGs.
"We were able to demonstrate that deep learning algorithms, especially those that utilize transfer learning, are able to find the association between imaging and genomics of LGGs. While the developed tool cannot yet serve as a direct replacement for genomic testing, it shows promise in aiding clinical decisions and science of lower grade gliomas," the authors conclude.
To read the full article, go to RSNA.org/AI.

Small Bowel Crohn Disease at CT and MR Enterography: Imaging Atlas and Glossary of Terms
Consensus recommendations for standardized nomenclature for the interpretation and reporting of CT enterographic and MR enterographic findings of small bowel Crohn disease were recently reported by representatives from the Society of Abdominal Radiology Crohn's Disease–Focused Panel, the Society for Pediatric Radiology, the American Gastroenterological Association and other international experts. For radiologists interpreting these images, it is important to recognize the key imaging findings in Crohn disease and understand how to synthesize these imaging findings to generate standardized, clear and clinically useful radiology reports.
In an article published online in RadioGraphics, Flavius F. Guglielmo, MD, Thomas Jefferson University Hospital, Philadelphia, and colleagues authored a pictorial article with consensus recommendations including CT enterography and MR enterographic bowel wall findings that area associated with Crohn disease, findings that occur with penetrating Crohn disease and changes that occur in the mesentery related to Crohn disease. The article also included recommended radiology report impression statements that summarize the findings of small bowel Crohn disease at CT enterography and MR enterography.
"This article illustrates the imaging findings and recommended radiology report impression statements with examples of CT enterographic and MR enterographic images. Additional interpretation guidelines for reporting CT enterographic and MR enterographic examinations are also presented. The recommended standardized nomenclature can be used to generate radiology report dictations that will help guide medical and surgical management for patients with small bowel Crohn disease," the authors write.
To read the full article and associated commentary, go to RSNA.org/RadioGraphics. Access the corresponding RadReport at radreport.org/home.
Access RSNA RadioGraphics On-Call Preparation Article Index
RSNA's on-call index of RadioGraphics articles and RadioGraphics Fundamental presentations is a resource for radiology residents beginning their on-call experience.
Created with the input of the RSNA Resident and Fellow Subcommittee for RadioGraphics, the index is regularly updated with new materials. Access the RadioGraphics On-Call Preparation Article Index at RSNA.org/RadioGraphics.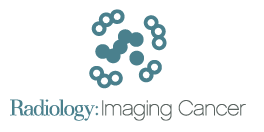 Assessing Extraprostatic Extension with Multiparametric MRI of the Prostate: Mehralivand Extraprostatic Extension Grade or Extraprostatic Extension Likert Scale?
Prostate cancer is the most common noncutaneous malignancy among men in Northern America and Europe. For intermediate- and high-risk disease, the recommended treatment is external beam radiation therapy or radical prostatectomy. It is important to distinguish patients with organ confined prostate cancer from patients with non–organ-confined prostate cancer, which includes patients with extraprostatic extension (EPE). Traditionally, EPE is measured on a Likert score based on subjective overall assessment of a combination of multiparametric MRI criteria by an experienced radiologist. In a recent study, Mehralivand et al proposed a new grading system for EPE ("EPEgrade") based on a set of potentially less observer-dependent criteria: curvilinear contact length, irregularity, and bulging.
A new study in Radiology: Imaging Cancer evaluated the diagnostic performance of Mehralivand EPE grade against Likert scoring of EPE by two radiologists.
Lars A. R. Reisæter, MD, Haukeland University Hospital, Bergen, Norway, and colleagues studied 310 consecutive patients who underwent multiparametric MRI before radical prostatectomy was performed by using the same 1.5-T MRI unit at a single institution between 2010 and 2012. Two radiologists blinded to clinical information assessed EPE according to standardized criteria. On the basis of the readings performed until 2017, the diagnostic performance of EPE Likert and Mehralivand EPE score were compared using receiver operating characteristics and decision curve methodology against histologic EPE as standard of reference.
"The present study validated the recently proposed Mehralivand EPE grading system against an independent institutional cohort using histopathologic findings and biochemical recurrence-free survival as primary and secondary reference standard," the authors write.
To read the full article, go to RSNA.org/ImagingCancer.