The following are highlights from the current issues of RSNA's peer-reviewed journals.

BRCA Mutation Carriers: Breast and Ovarian Cancer Screening Guidelines and Imaging Considerations
Breast cancer is the most common cancer in women, and is the second leading cause of cancer deaths. Ovarian cancer is the fifth most common cancer in women and the fifth leading cause of cancer deaths. Approximately 5% to 10% of all breast cancers and up to 15% of all ovarian cancers are associated with an inheritable genetic mutation. The most common genetic mutations implicated in hereditary breast and ovarian cancers have been mapped to the BRCA1 (chromosome 17q21) and BRCA2 (chromosome 13q12.3) genes.
In an article published online in Radiology, Mai Elezaby, MD, University of Wisconsin School of Medicine and Public Health, Madison, WI, and colleagues reviewed the current screening guidelines for breast and ovarian cancers in patients who test positive for BRCA mutation and the imaging features that are suspicious for early breast and ovarian cancers.
"Women with or suspected of having BRCA genetic mutations have a unique set of clinical challenges throughout their lifetime. Because many of these patients are at a higher risk of developing cancers, especially at an early age, radiologists should be familiar with the key clinical scenarios in which screening may be used in this patient population, recognize the limitations of the various imaging modalities and help to ensure that patients are undergoing appropriate screening tests," the authors write.
For more details of the review, go to RSNA.org/Radiology.
Abbreviated MRI Protocols for the Abdomen
Abbreviated MRI protocols represent an opportunity to improve the MRI workflow, are faster and provide a lower-cost alternative to the standard MRI protocols. The reported results have shown similar performance for the abbreviated MRI protocol and the standard MRI protocol to detect and characterize lesions in the abdomen and pelvis.
In an article published online in RadioGraphics, Rodrigo Canellas, MD, Massachusetts General Hospital, Boston, and colleagues described successful applications of abbreviated MRI protocols, demonstrated how they can help in improving the MRI workflow, and explored potential future directions.
"Identifying possible inefficiencies and implementing change can cause substantial improvement in patient centricity and workflow efficiency in MRI departments. Additional applications in the body present further opportunities for exploring abbreviated MRI protocols. However, prospective studies in larger cohorts are necessary to validate and confirm the robustness of such protocols, as well as to establish real cost savings, before their more widespread adoption in clinical practice," the authors conclude. To read the full article, go to RSNA.org/RadioGraphics.


Listen to Radiology Editor David A. Bluemke, MD, PhD, discuss this month's research you need to know. Podcasts summarize the importance and context of selected recent articles. Subscribe today at RSNA.org/Radiology-Podcasts and never miss a single episode.
Articles include:
"Management of Unruptured Intracranial Aneurysms in Older Adults: A Cost-effectiveness Analysis," Malhotra A, Wu X, Forman HP, et al.

"Accuracy of Unenhanced MRI in the Detection of New Brain Lesions in Multiple Sclerosis," Eichinger P, Schön S, Pongratz V, et al.

"Virtual Unenhanced Images at Dual-Energy CT: Influence on Renal Lesion Characterization," Meyer M, Nelson RC, Vernuccio F, et al.


Listen to RadioGraphics Editor Jeffrey S. Klein, MD, and authors discuss the following articles from recent issues of RadioGraphics at RSNA.org/RG-Podcasts.
"Four-dimensional Flow MRI: Principles and Cardiovascular Applications," Azarine et al.
Audio summary podcasts (also available on iTunes and Google Play) include these studies:
"Primary and Secondary Breast Lymphoma: Clinical, Pathologic, and Multimodality Imaging Review," Raj et al.

"Multidetector CT of Laryngeal Injuries: Principles of Injury Recognition," Shi et al.

"Ligaments and Lymphatic Pathways in Gastric Adenocarcinoma," Young et al.

"Imaging Spectrum of Cavernous Sinus Lesions with Histopathologic Correlation," Mahalingam et al.

"Advanced CT Techniques for Decreasing Radiation Dose, Reducing Sedation Requirements, and Optimizing Image Quality in Children," Gottumukkala et al.

"Multimodality Imaging of Focal and Diffuse Fibrosing Mediastinitis," Garrana et al.
Deep Learning for Automated Segmentation of Liver Lesions at CT in Patients with Colorectal Cancer Liver Metastases
Colorectal cancer is the third most commonly diagnosed cancer worldwide. More than half of patients with colorectal cancer develop liver metastases (CLM) at the time of diagnosis or later during the progression of their disease. Preoperative images of the liver, often obtained with CT, can help determine the number and size of CLMs to inform prognosis and the location of CLMs with respect to vascular structures to evaluate resectability.
However, uni- or bidimensional diameter measurement of liver metastases may not accurately reflect tumor size and growth because tumors often have an irregular shape. Tumor segmentation could more accurately capture the tumor volume, growth, and shape. Among deep learning techniques, fully convolutional networks (FCNs), consisting of multilayer neural networks, have become the preferred approach for analysis of medical images.
In an article published online in Radiology: Artificial Intelligence, Eugene Vorontsov, BASc Eng Sci, Centre Hospitalier de l'Université de Montréal, Quebec, Canada, and colleagues studied the performance, agreement, and efficiency of an FCN architecture for lesion detection and segmentation on CT images in patients with CLM.
"A deep learning method shows promise for facilitating detection and segmentation of CLMs, thus augmenting the work of radiologists while improving efficiency and providing similar variability. User correction of automated segmentations can generally resolve deficiencies of fully automated segmentation for small metastases and is faster than manual segmentation," the authors conclude.
For results of this study, go to RSNA.org/AI.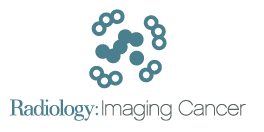 Prepare Submissions for Radiology: Imaging Cancer
Submissions are currently being accepted for Radiology: Imaging Cancer, which will launch in September. The journal is seeking submissions that cover the best clinical and translational cancer imaging studies across organ systems and modalities, including leading-edge technological developments.
To submit a manuscript for Radiology: Imaging Cancer, visit RSNA.org/Imaging-Cancer.