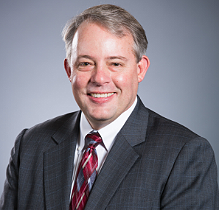 Mark G. Watson has served as RSNA Executive Director since 2009. With over 28 years experience working in various capacities at RSNA, Mark has a deep knowledge of its operations, financial goals and organizational mission.
After graduating from Western Illinois University with a bachelor's degree in business and accounting, Mark began his career in 1986 at the KPMG Peat Marwick accounting firm. In 1990, he was hired as the RSNA director of finance and within a few years was promoted to assistant executive director of finance and administration. During that time, he was responsible for all membership, financial and accounting activities. His work involved developing long-term financial forecasting to help move the board's strategic plans and decisions forward. In 2005, after working closely with a variety of governing boards and committees of radiological societies, Mark was appointed director of the RSNA R&E Foundation. And, in 2008, he served as RSNA's interim executive director.
As RSNA executive director, Mark increased membership to over 54,000 professionals and elevated the RSNA annual meeting to more than 50,000 attendees and exhibitors.
Mark was born in Iowa and has lived in the Chicago area since 1988. He and his wife, Annamarie, have been married for over 30 years and have two children, Bella and Matt.