RSNA's Prestigious Journals Continue to Lead the Field
Three New Online-Only Journals Moving Forward
Two of RSNA's new online-only journals are seeking submissions. Radiology: Artificial Intelligence is currently accepting submissions and Radiology: Cardiothoracic Imaging will accept submissions beginning Oct. 1. Submissions for RSNA's third new online journal, Radiology: Imaging Cancer, will be accepted in early 2019.
Radiology: Artificial Intelligence is seeking manuscripts that show the impact of AI to diagnose and manage patients, extract information, streamline radiology workflow or improve health care outcomes.
Radiology:Cardiothoracic Imaging is seeking manuscripts that emphasize research advances and technical developments in medical imaging that drive cardiothoracic medicine.
The three new online-only journals will publish in 2019.
For more information on RSNA's new online journals, go to RSNA.org/Journals.
RSNA Journals in the Spotlight at RSNA 2018
RSNA 2018 attendees will have a number of opportunities to connect with editors of RSNA's prestigious, peer-reviewed journals, Radiology and RadioGraphics.
RSNA Journals Sessions at RSNA 2018
Radiology editor, David A. Bluemke, MD, PhD, will present "The Best of Radiology in 2018" during a Sunday, Nov. 25, session. Dr. Bluemke will review new research that could impact your practice. Invited speakers will discuss published research, innovations and upcoming developments in cardiothoracic imaging, breast imaging and neuro imaging.
RadioGraphics editor, Jeffrey S Klein, MD, will host a Thursday, Nov. 29, session, "RadioGraphics' Publication Information for Potential Authors," providing details about submitting for print versus interactive online presentations and the criteria used to render decisions on peer-reviewed papers.
Drs. Bluemke and Klein will present the session, "How to Turn Your Abstract into an Award-winning Publication: Tips from the Editors of the RSNA Journals," on Wednesday, Nov. 28. The editors will discuss the publishing process and how to develop a manuscript for potential consideration in RSNA journals.
For more information on these and all RSNA 2018 sessions, go to Meeting.RSNA.org.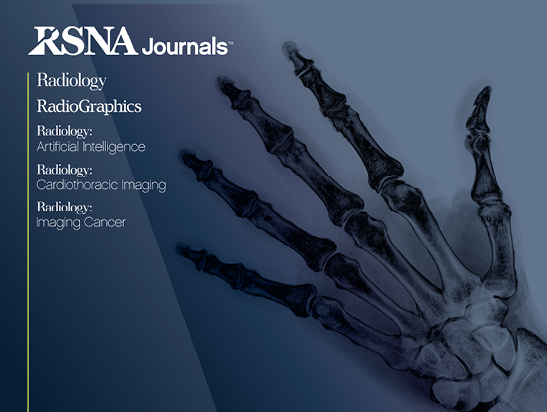 Explore Publisher's Row at RSNA 2018
RSNA 2018 attendees can meet RSNA journals editors and staff in the RSNA Publications Booth in Publisher's Row in the Technical Exhibits Hall.
Staff can answer questions about the submission process for any of the Radiology suite of journals or for RadioGraphics and also about subscriptions, advertising or permissions.
Visit the RSNA Publications at Booth 1011 in the South Technical Exhibits Hall.
Learn About RSNA's New Online Radiology Journals in the Discovery Theater
Join the managing editors of Radiology: Artificial Intelligence, Radiology: Cardiothoracic Imaging and Radiology: Imaging Cancer in the Discovery Theater at RSNA 2018 for an update on the scope, vision and timing of RSNA's three new online-only journals. A brief question and answer session will follow the presentation.
"RSNA is Publishing More! Three New Journals Launching in 2019," will take place in the Discovery Theater on Monday, Nov. 26 at 9 a.m.