Quantitative Imaging Biomarkers Alliance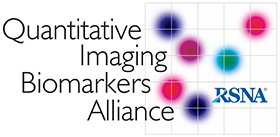 We are committed to transforming patient care by making radiology a more quantitative science.
In 2007, RSNA organized the Quantitative Imaging Biomarkers Alliance® (QIBA) to unite researchers, healthcare professionals and industry to advance quantitative imaging and the use of imaging biomarkers in clinical trials and clinical practice.
The initiative includes:
Collaboration to identify needs, barriers and solutions

to create consistent, reliable, valid and achievable quantitative imaging results across imaging platforms, clinical sites, and time.

Accelerating development and adoption of hardware and software standards

to achieve accurate and reproducible quantitative results from imaging methods.
QIBA projects and activities have been funded in whole or in part with Federal funds from the National Institute of Biomedical Imaging and Bioengineering, National Institutes of Health, Department of Health and Human Services, under Contract Nos. HHSN268201000050C, HHSN268201300071C and HHSN268201500021C.
What is quantitative imaging?
Quantitative imaging is the extraction of quantifiable features from medical images for the assessment of normal or the severity, degree of change, or status of a disease, injury, or chronic condition relative to normal.
Quantitative imaging develops, standardizes and optimizes:
Anatomical, functional and molecular imaging acquisition protocols
Data analyses
Display methods
Reporting structures
These features permit the validation of accurately and precisely obtained image-derived metrics with anatomically and physiologically relevant parameters, including treatment response and outcome, and the use of such metrics in research and patient care.
QIBA mission
QIBA seeks to improve the value and practicality of quantitative imaging biomarkers by reducing variability across devices, sites, patients and time.
QIBA organization
QIBA has advanced through the generous commitment of volunteer committee members from academia, medical device, pharmaceutical and other business sectors and government.
There are four modality-based Coordinating Committees, including Q-CT, Q-MR, Q-NM and Q-US. Nineteen Biomarker Committees include:
CT

CT Angiography
CT Volumetry
Lung Density
Small Lung Nodule

MR

Arterial Spin Labeling (ASL)
Dynamic Contrast-Enhanced (DCE) MRI
Dynamic Susceptibility Contrast (DSC) MRI
Diffusion Weighted Imaging (DWI) MRI
Functional Magnetic Resonance Imaging (fMRI)
Magnetic Resonance Elastography (MRE)
Proton Density Fat Fraction (PDFF)
Musculoskeletal (MSK)

NM

FDG-PET/CT
Quantifying Dopamine Transporters with 123Iodine Labeled Ioflupane in Neurodegenerative Diseases (I-123)
PET-Amyloid
Technetium-99m for body, oncology and immunology (TC99m)

US

Contrast Enhanced Ultrasound (CEUS)
Ultrasound Shear Wave Speed (SWS)
Ultrasound Volume Blood Flow (VBF)
Each committee has specific responsibilities for its respective modalities or disease-based approach, and is open to interested persons.
View the QIBA organizational chart.
QIBA collaborations
QIBA works closely with the European Imaging Biomarkers Alliance (EIBALL), whose mission statement is "to facilitate imaging biomarker development and standardization, and promote their use in clinical trials and in clinical practice by collaboration with specialist societies, international standards agencies, and trials organizations to develop a network of excellence."
EIBALL established a Biomarkers Inventory to raise awareness of existing biomarkers and promote appropriate use by researchers and trialists.
QIBA also works with Japan-QIBA, whose goal is to facilitate imaging biomarker development, standardization and promote their use in clinical trials and in clinical practice.
Contact us
If you have any questions, please contact our staff at
qiba@rsna.org
.