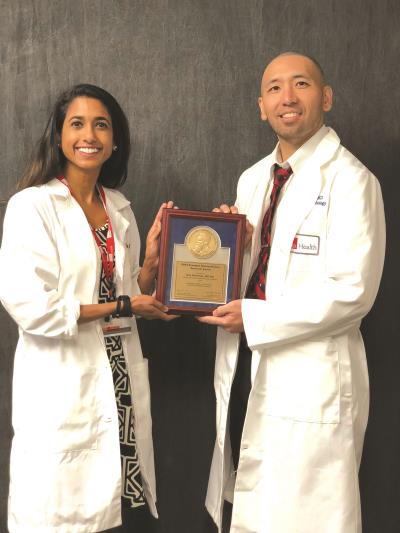 Roentgen Nominations Open
Nominations are now being accepted for the RSNA Roengten Resident/Fellow Research Award. The award recognizes residents and fellows who have made significant contributions to their departments' research efforts as evidenced by scientific paper presentations and publications, research grants earned or other contributions.
Nominations are limited to one resident or fellow per program in radiology, radiation oncology or nuclear medicine per year. The program director or department chair selects the nominee for each program.
The RSNA Research & Education (R&E) Foundation provides an award plaque for the department to display and a personalized award to present to the selected resident or fellow.
The deadline for nominations is April 1. Learn about the nomination process and see a list of past recipients at RSNA.org/Roentgen-Award.
Time to Renew Your Image Wisely® Pledge
Continue your commitment to safe imaging by renewing your Image Wisely® pledge or make a first-time promise to demonstrate your awareness about adult radiation protection.
Each year, those who renew their pledge at ImageWisely.org receive a dated certificate validating their commitment to the campaign. Facilities with current pledges can download the Image Wisely logo to promote their participation in the campaign.
The Image Wisely website provides updated news on radiation safety, regulations and standards. Users also can access free radiation safety cases to assess understanding of radiation safety concepts and earn continuing education credits.
The Image Wisely campaign is a joint partnership of RSNA, the American College of Radiology, the American Society of Radiologic Technologists and the American Association of Physicists in Medicine.
For more information and to take the Image Wisely pledge, visit ImageWisely.org.

RSNA Members Earn Advanced Quality Certificates
Six physicians received Advanced Level Quality Certificates from RSNA in 2018, bringing the total number of recipients to 26 since the first certificates were awarded in 2014.
Earning the certificate requires successful completion of Quality Essentials Certificate Courses in four domains: Quality Improvement in your Practice, Staff and Patient Safety, Customer Satisfaction and Radiologist Performance Improvements; as well as exhibition of a Quality Improvement Report at an RSNA annual meeting.
To learn more about the RSNA Quality Improvement Certificate Program, including the Advanced Level Quality Certificate program, visit RSNA.org/Education/Professionalism-and-Quality-Care/Quality-Improvement-Certificate-Program.
Alaa A. Al-Taie, MBChB, Hamad Medical Corporation
Trainee-Driven Quality Improvement Initiatives in the Musculoskeletal Imaging Section of a Tertiary Hospital
Shadi F. Azar, MBBS, University of Michigan/VA Ann Arbor Healthcare System
Improving Vetarans Access to Ultrasound Clinic in VA Ann Arbor Healthcare System Within 30 Days of Order Date
Amilcare Gentili, MD, University of California, San Diego
Reduction of Outpatient MRI Wait Time at a Hospital Setting
Shyam Sunder Koteyar, MBBS, FRCR, North Manchester General Hospital Northern Care Alliance
Developing a Comprehensive Prostate Imaging Service: Getting it Right and How to Achieve Quality in a Public Section DGHS (District General Hospital Service) Group of Hospitals
Manohar Roda, MD, University of Mississippi
MRI Quality Assurance and Improvement Project in the Department of Radiology at a Large Academic Medical Center
Eric A. Walker, MD, Penn State/Milton S. Hershey Medical Center
Increasing Access to Musculoskeletal Ultrasound to Improve Patient and Provider Satisfaction
Registration Open for First U.S.-Based Spotlight Course on AI
The first RSNA Spotlight Course to be held in the U.S., "Radiology in the Age of AI," will take place May 31-June 1 in San Francisco, CA.
Registration is open for this artificial intelligence (AI)-focused course that will provide a one-of-a-kind opportunity to talk to the top minds in AI and learn what this rapidly advancing technology will mean for you and your clinical practice. The course will also explore the latest progress in clinically useful AI systems, as well as basic AI tools and techniques non-computer scientists can use to better understand AI research.
Space is limited. For information and to register, visit RSNA.org/Spotlight/AI-San-Francisco.
Registration is also open for two upcoming RSNA Spotlight Courses:
Registration will open in early May for the Spotlight Course, "Tópicos no Imageamento do Câncer," which will be held Sept. 27-28 in São Paulo, Brazil. This Portuguese-language course will focus on advances and tools in cancer imaging.
For more information and to register, visit RSNA.org.Spotlight.
Host and Professor Applications for the 2020 IVP Program Now Available
Nomination Deadline
March 1
Applications are available for the 2020 RSNA International Visiting Professor (IVP) Program. The IVP Program provides small teams of visiting professors who teach at select hospitals with radiology residency training programs in low resource countries.
Host country applications are available for national, regional or local radiology societies, universities and hospitals in qualifying countries. The host institution will select and organize visits to local hospitals with active radiology training programs that have a need for educational enrichment from an IVP team.
Applications are also available for visiting professors interested in volunteering to provide radiologic education in selected host countries. Visiting professor applicants should have an interest in radiologic education and be an expert in their subspecialty of radiology.
To learn more and to apply, visit, RSNA.org/IVP.
Apply for RSNA 2019 International Travel Stipend Program
RSNA members have the power to vastly improve local health care through the knowledge and experience gained at the RSNA annual meeting. In recognition of the financial costs associated with travel to the annual meeting, RSNA offers an International Travel Stipend Program to support attendees from low-resource nations.
The program aids eligible members in partially defraying travel expenses related to attending the RSNA annual meeting. Up to 25 awards of $1,000 and complimentary registration to the annual meeting will be available for eligible candidates.
The application is open and is due April 26. For more information and to apply, visit RSNA.org.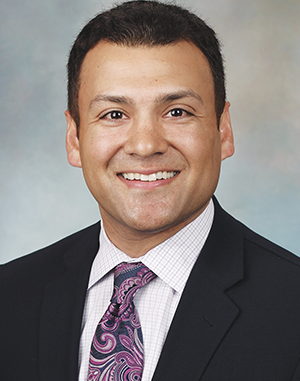 Gupta Named Director of Imaging at Duke Cancer Institute
Rajan T. Gupta, MD, associate professor of radiology, assistant professor of surgery and director of the Duke Abdominal Imaging Fellowship program, has been named the director of imaging for the newly created Duke Cancer Institute Center for Prostate & Urologic Cancers in Durham, NC.
Specializing in abdominal and prostate imaging, Dr. Gupta will oversee and support emerging imaging modalities and techniques that assist in furthering research and clinical care for prostate and urologic cancers.
Dr. Gupta is a member of the RSNA Gastrointestinal Radiology Scientific Program Committee and has served as faculty and moderator at several RSNA annual meetings.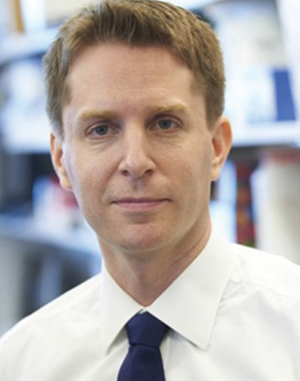 Kircher Named Chair at Dana-Farber Cancer Institute
Moritz F. Kircher, MD, PhD, has been named chair of the Dana-Farber Cancer Institute Department of Imaging and Radiology in Boston. Dr. Kircher will also serve as chief of the Oncoradiology Division of the Brigham and Women's Radiology Department, also in Boston.
Specializing in radiology of the abdomen and pelvis and molecular imaging research, Dr. Kircher will be responsible for the clinical, research and educational activities in the Institute's Department of Imaging and Radiology.
Dr. Kircher was awarded an RSNA Research Resident Grant and a Research Scholar Grant.
RadioGraphics Seeks New Editor
RSNA is accepting applications for the position of
RadioGraphics
editor, which has been held by Jeffrey S. Klein, MD, since 2012. Dr. Klein, the third editor of the RSNA education journal published since 1981 and currently a member of RSNA's Board of Directors, will step down at the end of 2020. RSNA plans to select the new
RadioGraphics
editor in September 2019. That person will become the editor-designate on July 1, 2020, and editor in January 2021.
The
RadioGraphics
editor is responsible for:
Developing the overall educational mission and editorial policies for the journal.
Soliciting high-quality educational manuscripts.
Developing policies and processes for and conducting peer review.
Releasing manuscripts on a timely basis for publication.
Cooperating with the RSNA Board of Directors and staff in maintaining fiscal responsibility
The editor is expected to spend a maximum of 60 percent of his or her time on RadioGraphics. The full job description can be found at RSNA.org/RadioGraphics-editor.
A search committee chaired by Matthew A. Mauro, MD, Board liaison for education, is assisting the RSNA Board of Directors in its search. Interested physicians are invited to email their curricula vitae, cover letters, and vision statements to Dr. Mauro at editorsearch@rsna.org.
Apply Now for RSNA Editorial Fellowships
Applications are being accepted for the RSNA William R. Eyler Editorial Fellowship and the RSNA William W. Olmsted Editorial Fellowship for Trainees.
Both fellowships offer the opportunity to work with Radiology Editor David A. Bleumke, MD, PhD, in Madison, WI, and RadioGraphics Editor Jeffrey S. Klein, MD, in Burlington, VT. The Eyler fellowship lasts three weeks and the Olmsted fellowship lasts one week. Each fellow will also visit the Publications Department at RSNA Headquarters in Oak Brook, IL. The Eyler Fellow will work with the RadioGraphics editorial team at RSNA 2019.
Apply by May 1 to be considered for the William R. Eyler Editorial Fellowship and April 1 for the William W. Olmsted Editorial Fellowship for Trainees.
To learn more and to apply, visit RSNA.org/Journals/Editorial-Fellowships.