RSNA R&E Foundation Grant Applications Open

Applications are being accepted for 2019 RSNA Research & Education (R&E) Foundation grants.
The online application is open for several research, medical student and education grants.
Education Grants
Deadline: Jan. 10
RSNA/AUR/APDR/SCARD Radiology Education Research Development Grant
Derek Hardwood-Nash Education Scholar Grant
Research Grants
Deadline: Jan. 15
Research Scholar Grant
Research Resident/Fellow Grant
Research Seed Grant
Research Medical Student Grant
Deadline: Feb. 1
For more information, go to RSNA.org/donate or contact Rebecca Murray at 1-630-590-7702 or rmurray@rsna.org.
RSNA Online Course for Residents Focuses on Imaging Informatics
U.S.-based radiology residency programs looking to supplement their students understanding of imaging informatics can register for the National Imaging Informatics Curriculum and Course (NIIC), to be held Jan. 14-18, 2019. RSNA is partnering with the Society for Imaging Informatics in Medicine to sponsor the online course.
Participants will learn about radiology informatics standards, computers and networking, PACS, and security through a series of live and recorded lectures and small group discussions. Participants complete pre- and post-course tests to measure their baseline knowledge and progress. Homework assignments and reading materials are required.
RSNA will provide a registration code and instructions upon activating the course.
For more information, contact 1-630-571-7873 or customerservice@rsna.org. The registration fee is $500 per residency program, per week-long course.
RSNA 2019 Spotlight Courses
RSNA will host a series of Spotlight Courses in 2019 that provide quality education on important medical imaging issues in different regions of the world. Dates will be finalized early next year. Topics and locations for 2019 Spotlight Courses:
April 11-12: Chest Imaging, Santiago, Chile
May 3-4: Artificial Intelligence (AI), Paris, France
May 31-June 1: AI, San Francisco, U.S.
September: Cancer Imaging, São Paulo, Brazil
Information on Spotlight Courses will be posted here. For questions, contact customerservice@rsna.org.
In Memoriam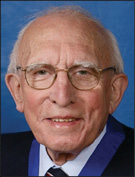 A pioneer in the use of CT and MRI in medicine and one of the founders of diagnostic radiology, Ian Isherwood, MD, died on Sept. 3, in Manchester, England. He was 87.
Dr. Isherwood served as the chair of diagnostic radiology at the University of Manchester from 1975 until his retirement in 1993. Always at the forefront of advances in the teaching and applications of radiology, he was instrumental in the installation of the world's first commercial CT head scanner in 1972 at Manchester Royal Infirmary, affiliated with the University of Manchester. As chair, he installed the first whole-body scanner in Europe in the university's Department of Diagnostic Radiology in 1975 and its first MRI in 1983. The University of Manchester recognized his contributions by opening the Ian Isherwood MRI Centre in 1997.
Dr. Isherwood was a former president of the European Association of Radiology (now the European Society of Radiology), the British Institute of Radiology, the radiological section of the U.K. Royal Society of Medicine, the British Society of Neuroradiologists and the Manchester Medical Society. He was a founding member and chairman of the Radiology History and Heritage Charitable Trust (now the British Society for the History of Radiology).
He received the British Institute of Radiology's Barclay Prize, the International Society of Radiology's Béclère Medal and the Gold Medal of the Royal College of Radiologists. He was awarded the Commander of the Most Excellent Order of the British Empire for services to radiology. He was an honorary member of RSNA and the American College of Radiology.