2019 Chairman of the Board report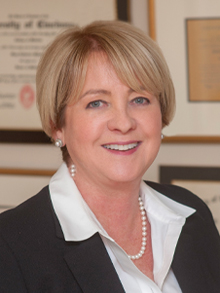 We are in a profession that is constantly evolving, requiring us to stay in step with the progress. RSNA leadership continues to seek inventive ways to provide its members valuable resources to advance their careers and to keep radiology a leading-edge specialty in an ever-shifting health care climate. In 2019, the Board adopted a new five-year Strategic Plan outlining major goals and objectives for the organization. The four goals of the plan focus RSNA's efforts on leading innovation and providing our members with the necessary resources to remain at the forefront of radiologic science.
RSNA 2019
RSNA's 105th Scientific Assembly and Annual Meeting featured an exciting program for attendees to experience the vision, opportunities and collaboration RSNA continues to provide its members and attendees. RSNA 2019 offered attendees many occasions to "See Possibilities Together," including through plenary lectures by distinguished presenters such as Abraham Verghese, MD, a New York Times bestselling author whose focus on the human relationship between doctor and patient has earned worldwide recognition. The annual meeting program was dedicated to the memory of former Radiology editor William R. Eyler, MD, in recognition of his significant contributions to radiology and to RSNA's scientific journal.
As the premier forum for presenting medical imaging science, RSNA 2019 hit an all-time high of 13,419 abstract submissions, of which 4,534 of the very best across every subspecialty were selected to present. Attendees enjoyed access to the latest in radiologic education, research and technologic innovation from luminaries with perspectives from within and outside of the field.
The popular Fast 5 session returned to Arie Crown this year, featuring speakers giving 5-minute talks about hot topics in radiology. The 2019 Country Presents program featured India and Egypt with sessions showcasing unique aspects of radiology from each country.
A hot topic session on e-cigarette, or vaping, associated lung injury (EVALI) was an important and timely late addition to the program as the U.S. radiology and general medical communities continued to deal with new cases and deaths due to EVALI.
With engagement in the Virtual Meeting increasing each year, the Board approved the continued expansion of this important annual meeting feature to 400 courses available streaming live and on-demand through April 2020.
New this year, the Innovation Theater highlighted the industry's latest product launches with live presentations. The Technical Exhibits featured special areas for Start-up Companies and Advanced Visualization/3D Printing.
Artificial Intelligence Initiatives Abound
As AI is rapidly becoming an integral part of radiology practice, RSNA is leading the field in machine learning (ML) and AI research and education with expanded opportunities planned over the coming months and into the future.
RSNA 2019 offered over 200 AI-related courses, education exhibits, scientific sessions and hands-on workshops. The AI Showcase was expanded for RSNA 2019 highlighting innovations from industry leaders, with AI in action presented at the AI Showcase Theater and hands-on AI solutions offered in the RSNA Deep Learning Lab.
The R&E Foundation funded $450,000 in grants for AI research and education. RSNA launched the online AI Community to provide a central point for networking, Q&A, insight sharing and collaboration throughout the year.
The first new addition to RSNA's family of journals, Radiology: Artificial Intelligence, was launched in January to highlight the emerging applications of ML and AI in the field of imaging across multiple disciplines. Key points from the 2018 RSNA Summit on AI in Radiology were summarized in an article in a subsequent issue of the journal.
We continue our commitment to AI education with more online and in-person courses, including the first Spotlight course in the U.S., held in San Francisco, Calif. Following a highly successful 2018 AI Spotlight course in Paris, France, another AI course took place this May in Paris.
RSNA's third AI Challenge focused on the detection and classification of cerebral hemorrhages. Nearly 1,400 teams and 1,800 competitors participated in the challenge, with more than 22,000 entries and $25,000 in prizes awarded by Kaggle, Inc.
Along with a commitment to innovation comes a level of responsibility for thoughtful exploration of the implications of adopting new technologies. After reviewing a draft European and North American Multisociety Statement on Ethics of AI in Radiology, the Board authorized support and recommended a few edits to the statement, which contends that ethical use of AI in radiology should promote well-being, minimize harm, and ensure transparency and accountability.
Journals
Journal impact factors for both Radiology (7.608) and RadioGraphics (3.923) increased over the previous year. Cooky Menias, MD, was selected to succeed Jeffrey Klein, MD, as the next RadioGraphics editor beginning in 2021.
With the addition of our new AI journal, RSNA launched Radiology: Cardiothoracic Imaging in April and Radiology: Imaging Cancer in September. The Radiology suite of journals provides readers a wide array of high-quality imaging science.
Far-Reaching Programs for the Radiology Community
The new, interactive RSNA Value of Imaging through Comparative Effectiveness (VOICE) Program provides imaging scientists tools to conduct comparative effectiveness research to demonstrate the value of imaging. The first workshop was held at RSNA headquarters this past September; the second half of the workshop will be held in February 2020.
The Quantitative Imaging Biomarkers Alliance (QIBA) has been testing the feasibility of a certification program for conformance to the Small Lung Nodule QIBA profile. The program aligns with QIBA's goal to provide standardized, quantifiable markers that will ultimately improve patient care. The Board approved funding to assist in publishing the findings of the pilot program. The funds will be matched by Accumetra.
Reaching all radiology professionals and helping them achieve their professional goals is important to RSNA. The RSNA Committee on Diversity and Inclusion (CDI) has been working on initial recommendations and priorities for RSNA staff and volunteers. The CDI is developing plans to raise RSNA members' awareness of diversity, equity and inclusion issues; identify educational gaps; and advise on RSNA policies regarding diversity and inclusion.
Recognizing that radiologists at various stages of their careers have diverse needs, RSNA created the Early Career Physician Engagement Task Force. The Task Force has begun assessing the needs of radiologists in their first ten years post training and will develop recommendations for RSNA to best support radiologists at this early career state.
RSNA's 3D Printing Special Interest Group (SIG) has grown to nearly 500 members. A new course in 2020, the RSNA Medical 3D Printing Meeting, will include didactic lectures, scientific posters and hands-on workshops.
RSNA and the American College of Radiology (ACR) are launching a new medical 3D printing clinical data registry to collect 3D printing data at the point of clinical care. The RSNA 3D Printing SIG proposed the collaboration in order to collect data in support of the appropriate use and value of the technology in clinical decision making.
Expanding Education for All Radiologists
In addition to our growing family of Radiology journals, the RSNA Case Collection will launch in Spring 2020 to provide a robust point-of-care solution for radiologists as well as a powerful education tool. Mariam Moshiri, MD, was appointed as editor, and submission of cases for consideration in the collection will open in January 2020.
As we seek to expand radiology education opportunities around the world in a meaningful way, this year RSNA introduced the Global Learning Centers (GLC) program. We will partner with a selected host institution to improve its department through education, including hands-on training, virtual and onsite didactic lectures, conferences and other tactics. The program aims to create an effective, sustainable way to share knowledge and tools in countries with limited resources.
In April, RSNA hosted a sold-out Spotlight course in Santiago, Chile, and another in São Paulo, Brazil in September. Expansion continues in 2020 with courses planned in Italy, U.K., Argentina, Singapore, the U.S., and more to come.
RSNA's International Travel Grants program provides a $1,000 stipend and complimentary Annual Meeting registration to partially defray costs to eligible candidates from countries included in the RSNA Discounted Dues Countries program. In 2019, 24 grants were awarded to members from 13 countries.
R&E Foundation
This year, the R&E Foundation awarded $5 million for research and education grant projects to over 100 recipients from 48 different institutions. This represents a 30% funding rate of the grant applications received.
Radiology in the Public Eye
RSNA is advancing public understanding of radiology, and the role of the radiologist in health care. Highlights include:
Over 25 million annual visits to RadiologyInfo.org, the RSNA-ACR patient education website, available in both English and Spanish.
Work with U.S. Centers for Disease Control and Prevention to investigate and share information on e-cigarette, or vaping, associated lung injury (EVALI).
Membership
I am pleased to report that RSNA membership continues to grow its global representation, with more than 53,000 members worldwide. Close to 30% of these members are from outside North America.
Leadership
At the close of RSNA 2018, the Society was pleased to welcome Jeffrey S. Klein, MD, as the newest member of the RSNA Board of Directors. Dr. Klein assumed the role of Board Liaison for Publications and Communications.
Volunteers
The Board of Directors approved appointments of numerous members to leadership positions throughout the organization as well as RSNA members to represent the Society in groups hosted by other radiology and medical societies. I, and the entire Board, truly appreciate the time and energy that volunteer members contribute to creating the best experiences for all members. We are in this together, ultimately to benefit our patients.
Mary C. Mahoney, MD
Chair
RSNA Board of Directors.