2018 Chairman of the Board report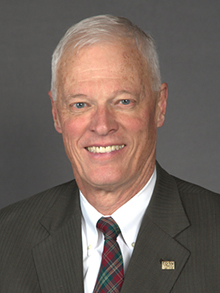 RSNA remains committed to promoting excellence in patient care and health care delivery through education, research and technological innovation. With the strength of its members, volunteers and staff, the Society continues to successfully achieve its strategic goals to advance the radiological sciences, foster the development of new technologies, offer education in a variety of media, facilitate informatics strategies to improve the efficiency and effectiveness of healthcare, and serve as a worldwide leader in radiology. The Board approved a refreshed RSNA Strategic Plan for 2018-2023 at its retreat in January, reflecting new initiatives and progress on existing ones, ensuring continued focus on future success.
RSNA 2018
RSNA's 104th Scientific Assembly and Annual Meeting highlighted the many opportunities for radiology professionals to lead research and innovation in healthcare and significantly impact patient care. RSNA 2018 challenged attendees to embody the meeting's theme "Tomorrow's Radiology Today," with a strong focus on radiologists' opportunities to embrace new technologies to become more patient-centered. The annual meeting program was dedicated to the memory of William G. Bradley, MD, PhD, and Alexander R. Margulis, MD, both of whom made significant contributions to radiology, to the R&E Foundation and to RSNA.
Plenary lectures included distinguished presenters Dr. Donald Berwick, formerly of the U.S. Centers for Medicare and Medicaid Services, who discussed the radical redesign of systems needed to improve health care, and Fei-Fei Li, PhD, renowned AI scientist and inventor of ImageNet, who spoke on endowing health care spaces with ambient intelligence.
The popular Fast 5 session returned to Arie Crown this year, featuring speakers giving 5 minute talks about hot topics in radiology.
RSNA 2018 Technical Exhibits featured special areas for Machine Learning, Start-up Companies, and Advanced Visualization/3D Printing.
The Society continued its "Country Presents" program at RSNA 2018, spotlighting Australia and New Zealand and the Nordic Countries with sessions showcasing unique aspects of radiology from each region.
The popular Discovery Theater, launched in 2016, featured entertainment, information on RSNA programs, and another special head-to-head Diagnosis Live competition for residents.
The RSNA 2018 Virtual Meeting was expanded to include over 200 courses available streaming live and on-demand. As a result of feedback from past years, access to the Virtual Meeting will be extended through April 2019.
RSNA Journals
Radiology retains its status as the premier scientific journal for radiology, increasing its impact factor to 7.469 in 2018. RadioGraphics continues to be the top journal for education with over 51,000 hours of CME credit awarded this year.
Dr. David Bluemke from University of Wisconsin became editor of Radiology in 2018. The Society appointed editors for its three new journals to be launched in 2019. Dr. Charles E. Kahn, Jr. is editor of Radiology: Artificial Intelligence; Dr. Suhny Abbara is editor of Radiology: Cardiothoracic Imaging; and Dr. Gary Luker is editor of Radiology: Imaging Cancer.
Artificial Intelligence/Machine Learning
RSNA is leading the way with education and research on all aspects of artificial intelligence and its impact on the practice of radiology. Current initiatives include:
Machine Learning Showcase (RSNA 2018) – Nearly 80 companies participated in this dedicated area in the Technical Exhibits to share the latest tools and software through exhibits and live presentations.

AI Learning Community (RSNA 2018) – Posters and exhibits were available for self-study, while the RSNA Deep Learning Classroom provided in-depth hands-on technical training.

ML Pneumonia Detection Challenge – Over 1,400 teams participated in a challenge to develop an algorithm that can identify and localize pneumonia on chest x-rays. The R&E Foundation is funding 14 AI and ML research and education grants.

Building on the success of the September 2018 Spotlight Course, "Practical Applications in AI" in Paris, RSNA is planning additional Spotlight Courses on AI in Paris and San Francisco in Spring 2019.

A new webinar series taking place October through February is providing lectures, panel discussions and live Q&A with leading AI experts.

RSNA held an AI Summit with leaders in the field at its headquarters in October.

Outcomes of the event will be developed into a white paper on directions for research and education in AI in medical imaging.



RSNA.org Redesigned
The Society's website, RSNA.org, took on a whole new, fresh look and contemporary navigation in 2018. With insights from members, user experience experts and web designers, the site is now organized to better suit the information and resource needs of RSNA members.
3-D Printing Special Interest Group
Introduced in 2017, RSNA's 3-D Printing Special Interest Group (SIG) has grown to nearly 400 members. In addition to education and guideline development, SIG members were successful in getting AMA approval for a Category III CPT code for medical modeling.
International Education Programs
RSNA continues to expand education outside of the United States with its Spotlight Courses. In 2018, courses were held in Buenos Aires, Argentina and Paris, France. Plans are underway for 2019 courses in Santiago, Chile, Paris, France, and Sao Paulo, Brazil. In 2018, RSNA sponsored teams of visiting professors to teach in Mexico, Indonesia, Guatemala, Uganda, Bosnia, and Tanzania, and awarded fellowships to radiologists from South Africa, Turkey, Myanmar, and Uganda to study in the U.S. and Canada.
Patient-Centered Care Curriculum
RSNA launched a new curriculum of 13 interactive patient-centered care learning modules for educating trainees in diagnostic radiology, radiation oncology and integrated interventional radiology residencies. The modules were designed to assist program directors in fulfilling Accreditation Council for Graduate Medical Education (ACGME)-mandated instruction in patient-centered care.
Collaborations
In partnership with Accumetra, the Quantitative Imaging Biomarkers Alliance (QIBA) is offering a new conformance testing service to help clinical sites demonstrate that they can achieve high-quality quantitative imaging results.
Radiology residents from 74 programs in the U.S. and around the world participated in the RSNA- Society for Imaging Informatics in Medicine (SIIM) online imaging informatics course in 2018. The week-long courses held in January and October consist of live and recorded lectures along with small group discussions.
RadiologyInfo.org, the public information website sponsored by RSNA and ACR, saw more than 19 million visits over the past 12 months – an average of nearly 1.6 million visits per month. Most recently, more than 2 million visits were made to the site in October 2018.
RSNA Diagnosis Live™
RSNA Diagnosis Live™, the Society's popular audience response software is now being used throughout the RSNA Annual Meeting. There are over 144 residency programs using Diagnosis Live in 26 countries. Complimentary licenses are available for resident education purposes. The software has also been used at a variety of international and subspecialty radiology meetings.
Informatics
The Common Data Element (CDE) Project, a joint RSNA-ACR initiative, kicked off in August.
Several new sets of CDEs from Neuro Subcommittee (joint ACR-ASNR-RSNA) have been published to RadElement.org site.
The Logical Observation Identifiers Names and Codes (LOINC)/RSNA Radiology Playbook has been released. The Playbook provides a single authoritative source for radiology procedure names that can be used to standardize imaging workflows and to facilitate quality improvement efforts. The project was completed through a five-year partnership with the Regenstrief Institute and funded by a contract with the National Institute of Biomedical Imaging and Bioengineering and the U.S. Department of Defense.
R&E Foundation
This year, the Foundation will support $4 million in research and education grant projects. This represents a 35% funding rate of the grant applications received. The Foundation launched new education grants including an Innovation Grant of up to $525,000.
Membership
I am pleased to report that RSNA membership continues to grow its global representation, with over 54,000 members worldwide. Close to 30% of these members are from outside North America.
Leadership Changes
At the close of RSNA 2017, the Society was pleased to welcome Umar Mahmood, MD, PhD, as the newest member of the RSNA Board of Directors. Dr. Mahmood assumed the role of Board Liaison for International Affairs.
Volunteers
The Board of Directors approved appointments of numerous members to leadership positions throughout the organization as well as RSNA members to represent the Society in groups hosted by other radiology and medical societies. Volunteers generously give of their time to further the mission of RSNA, and, on behalf of the Board, we are incredibly grateful for their dedication.
I greatly appreciate the thoughtful work of the RSNA Board members, staff and volunteers who continually evaluate and enhance RSNA's programs to bring innovation and value to our members and meeting attendees. The ultimate beneficiaries of RSNA's education and research programs are our patients.
James P. Borgstede, MD
Chair
RSNA Board of Directors