2017 Chairman of the Board report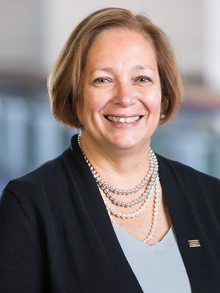 RSNA continues to successfully pursue its mission, remaining committed to excellence in patient care and healthcare delivery through education, research and technological innovation. The Society also continues to successfully achieve its strategic goals to advance the radiological sciences, foster the development of new technologies, offer education in a variety of media, facilitate informatics strategies to improve the efficiency and effectiveness of healthcare, and serve as a worldwide leader in radiology. The Board approved a refreshed RSNA Strategic Plan for 2017-2022 at its retreat in January, reflecting new initiatives and progress on existing ones, ensuring continued focus on future success.

RSNA 2017
RSNA's 103rd Scientific Assembly and Annual Meeting highlighted the many opportunities for radiology professionals to lead research and innovation in healthcare and significantly impact patient care. RSNA 2017 challenged attendees to embody the meeting's theme to "Explore, Invent and Transform" the profession. The annual meeting program was dedicated to the memory of immediate Past-President Richard L. Baron, MD, and in recognition of his significant contributions to radiology, Dr. Baron was also awarded a posthumous Gold Medal.
Special Interest Session topics at the meeting included dementia, the radiology experience from the patient's perspective, translating quantitative imaging research to clinical practice, radiofrequency ablation in combination with immunotherapy, and the use of contract-enhanced ultrasound. Plenary speakers included distinguished lecturers from the NIBIB and NIH, as well as theoretical physicist Dr. Michio Kaku who spoke on the future of science and technology.
Throughout the week in the Learning Center there were several live demonstrations of medical 3D printing, as well as a Machine Learning Community with posters and an RSNA Deep Learning Classroom.
A new Fast 5 session in Arie Crown featured speakers giving 5 minute talks about how they Explore, Invent and Transform in their communities. Also new to RSNA 2017 were special areas for Machine Learning and Start-up Companies in the Technical Exhibits halls.
The Society continued its "Country Presents" program at RSNA 2017, spotlighting Colombia and Israel with sessions showcasing unique aspects of radiology from each country.
The popular Discovery Theater, launched in 2016, featured entertainment, information on RSNA programs, and a special head-to-head Diagnosis Live competition for residents.
The NCI Perception Lab continued its research in the Learning Center at RSNA 2017. Additionally, the NCI's Cancer Imaging Archive conducted a new crowdsourcing image annotation activity at the annual meeting.
Additionally, the RSNA 2017 Virtual Meeting was expanded to include over 130 sessions, with CME availability for live sessions. The Virtual Meeting will be available on demand through February 2018, with CME available for select on-demand sessions.
In an ongoing effort to provide highest quality content at a good value, the Board established new Premium and Executive registration packages, enabling attendees to customize their experiences.
More than 400 Travel Awards were available to young investigators attending RSNA 2017. The program, introduced in 2016, awards $500 to eligible presenters to help defray costs of attending the RSNA annual meeting. Eligibility requirements are available with the 2018 call for abstracts.
RSNA journals
Dr. Herbert Kressel concluded his term as editor of Radiology at the end of 2017. The incoming editor is Dr. David Bluemke from University of Wisconsin. RSNA recently announced that it will launch three new journals in cancer imaging, cardiothoracic imaging and machine learning/artificial intelligence in 2019. The search for editors of the online-only journals was underway at the time of this report with applications due December 29, 2017. Manuscript submissions will be accepted beginning in 2018.
Machine learning
RSNA is leading the way with education and research on machine learning and its impact on the practice of radiology. In recognition of the growth of interest in machine learning applications for radiology, the Board updated the Society's strategic plan to include a strategy to develop initiatives addressing the relevance of machine learning in radiology. Additionally, the topic was the focus of the RSNA/AAPM Symposium, "Machine Learning in Radiology: Why and How?" at RSNA 2017.
Other machine learning initiatives this year included:
Machine Learning Showcase at RSNA 2017 – 45 companies took part in this dedicated area in the Technical Exhibit Halls to share the latest tools and software through exhibits and live presentations.
Machine Learning Community at RSNA 2017 – Posters and exhibits were available for self-study, while the RSNA Deep Learning Classroom will provide in-depth hands-on technical training.
Over 100 educational courses, scientific sessions and educational exhibits were in the RSNA 2017 Meeting Program, searchable online or in the meeting app.
Bone Age Machine Learning Challenge – 37 teams participated in RSNA's first challenge to develop an ML algorithm that can accurately detect skeletal age on a validation set of radiographs. Awards were announced at RSNA 2017.
The R&E Foundation funded seven research grants on machine learning topics.
RSNA announced it will launch a new online journal on machine learning to highlight emerging applications in the field of imaging across multiple disciplines.
RSNA launches 3D Printing Special Interest Group
In response to breakthroughs in 3D printing technology and its implications for radiology, RSNA introduced a 3D Printing Special Interest Group (SIG) to promote the highest quality 3D printing for medical applications via education, research and collaboration. The group, chaired by Jonathan M. Morris, MD, has grown to 150 members since its formation in December 2016. RSNA members in good standing may add 3D Printing SIG participation to their membership for a fee of $40 per year by contacting the RSNA Membership department.
RSNA around the globe
RSNA continues to expand education outside of the United States with its Spanish-language Spotlight Course. In 2017, a course was held in Bogota, Colombia, and in 2018 a course on abdominal imaging will be held in Buenos Aires, Argentina. In 2017, RSNA sponsored teams of visiting professors to teach in Indonesia, Latvia, Malaysia, Mexico, Peru and Sri Lanka, and awarded fellowships to radiologists from Egypt, India and South Africa to study in the U.S. and Canada.
RSNA and the American College of Radiology presented an "ESR Meets the U.S.A." program at the European Congress of Radiology in 2017. The program highlighted both societies' initiatives to further radiology research, clinical applications and patient care.
In November, the Society was pleased to coordinate with the European Society of Radiology and the American College of Radiology to sponsor the sixth International Day of Radiology (IDoR), with an emergency radiology theme this year.
RSNA's President, Board, speakers and staff represented the Society at 24 radiology society meetings around the world.
RSNA will conduct a joint symposium on head and neck with the Asian Oceanian Society of Radiology in conjunction with the 2018 Asian Oceanian Congress of Radiology and RSNA 2018.
The Board also approved an annual international travel award for up to 50 qualifying individuals from low-resource countries. The $500 award is intended to defray travel expenses to the RSNA annual meeting, beginning in 2018.
Collaborations
The Quantitative Imaging Biomarkers Alliance (QIBA) has collaborated with Accumetra to pilot a conformance certification program focusing on QIBA's CT Small Nodule Volumetry Profile. The pilot establishes a program to test and validate CT scanner and acquisition protocols for clinical sites and equipment manufacturers.
RSNA and the Society for Imaging Informatics in Medicine (SIIM) are jointly sponsoring a new online informatics course for radiology residents. The first course took place in October with 199 residents from 37 programs and the next course is scheduled for January 8-12, 2018. The week-long course consists of live and recorded lectures along with small group discussions.
RadiologyInfo.org, the public information website sponsored by RSNA and ACR, saw more than 15.9 million visits over the past 12 months – an average of more than 1.3 million visits per month. Most recently, more than 1.5 million visits were made to the site in October 2017.
Education
RSNA will launch educational webinars in 2018, with live lectures and interactive question and answer sessions.
RSNA Diagnosis Live™, the Society's popular audience response software is now being used in 90 sessions throughout the RSNA Annual Meeting. There are over 110 residency programs using Diagnosis Live in 20 countries. Complimentary licenses are available for resident education purposes. The software has also been used at a variety of international and subspecialty radiology meetings.
Informatics
RSNA has released RadLex Playbook v2.4, integrated with the new release of LOINC terminology. This single comprehensive standard set of radiology procedure names can be used for both clinical and research applications. The Playbook has been incorporated into Epic's Radiant radiology information system.
R&E Foundation
This year, the Foundation will support $4 million in research and education grant projects. This represents a 30% funding rate of the grant applications received. The Foundation is close to completing its $17.5 million Inspire-Innovate-Invest Campaign at the end of the year.
Membership
I am pleased to report that RSNA membership continues to grow its global representation, with over 54,000 members worldwide. Close to 30% of these members are from outside North America. RSNA has extended membership eligibility to international medical students, North American and international graduate students, and patient advocates.
Thank you
The Board of Directors approved appointments of numerous members to leadership positions throughout the organization as well as RSNA members to represent the Society in groups hosted by other radiology and medical societies. Volunteers generously give of their time to further the mission of RSNA, and, on behalf of the Board, we are incredibly grateful for their dedication.
I, personally, greatly appreciate the thoughtful work of the RSNA Board members, staff and volunteers who are continually evaluating and enhancing RSNA's programs to bring innovation and value to our members and meeting attendees. The ultimate beneficiaries of RSNA's education and research programs are our patients.
Valerie P. Jackson, MD
Chair
RSNA Board of Directors