QIBA Newsletter June 2023 • Volume 15, Number 2:
PET Amyloid QIBA Profile Writing: Experience and Lessons Learned
In This Issue:
IN MY OPINION
QIBA EDUCATION
QIBA and QI/Imaging Biomarkers in the Literature
QIBA MISSION
Improve the value and practicality of quantitative imaging biomarkers by reducing variability across devices, sites, patients and time.
QIBA CONNECTIONS
QIBA Wiki
QIBA CONTACT
Contact Us
Timothy J. Hall, PhD
QIBA Chair
---
In My Opinion
PET Amyloid QIBA Profile Writing: Experience and Lessons Learned
By Dawn C. Matthews, MS, MBA and Anne M. Smith, PhD
The PET Amyloid QIBA Profile Biomarker Committee (BC) is coming to completion with just one milestone remaining (see Table 1 below). As co-chairs of this BC, we wanted to share our experiences and lessons learned throughout the Profile writing journey.
Table 1. Timeline of the major milestones achieved by the PET Amyloid BC.
| Milestones | Date |
| --- | --- |
| Inaugural Meeting | Jan. 10, 2014 |
| BC Approved by Steering Committee | January 2015 |
| Test-retest Meta Analysis Complete | March 2016 |
| Quantifying Effect of Subjection Motion | September 2016 |
| Impact of PET Reconstruction Algorithm | January 2017 |
| Public Comment Stage 1 Completed | July 1, 2018 |
| Consensus Stage 2 Completed | November 2018 |
| Completion of Digital Reference Object | August 2021 |
| Technically Confirmed Stage 3 Completed | May 20, 2022 |
| Journal of Nuclear Medicine Publication | September 2022 |
| Checklist streamlined for industry adoption | In process |
Focus Profile work on biomarkers that have a clinical need for quantification.

The impact of quantification in clinical practice needs to be clear, as well as why standardizing the workflow and analysis by writing a Profile will fulfill this need. A question has been asked as to whether Profiles are intended for clinical use or for clinical trials. We targeted the Amyloid Profile for both. Quantitation plays a critical role in many clinical trials and although PET tracers such as amyloid and tau have been approved by the FDA using a visual read method, quantitation is used to support clinical confidence and adds value to detect longitudinal change.

Determine if enough groundwork research has been done and published.

Is the physiological basis of the biomarker well understood, and how do the quantitative measures reflect the physiologic and pathologic processes? Have there been several carefully controlled test-retest studies done and published, such that a Claim can be formed for later validation? When the Amyloid Profile effort was initiated, technical factors impacting within subject variance were not well understood and published studies reflected wide variability. Several studies were published over the next two years that quantified the impact of reference region. In addition, we performed two groundwork studies through QIBA that quantified the effects of subject head motion and PET reconstruction algorithm. Had we not incorporated these findings into our work, the Profile Claim would be less relevant today.

Make sure the timing is optimal for Profile development.

Ideally, the Profile should be developed or based upon the clinical research and clinical trial phase of the biomarker, so it builds evidence and use as it moves towards the clinic. If the Profile misses this stage, it may never make the leap into clinical practice and pharmaceutical clinical trials.

Build on relevant previous Profile and Consortium work.

We were fortunate that we could build from the FDG-PET/CT as an Imaging Biomarker Measuring Response to Cancer Therapy Profile. We were able to use much of the scanner quality control, personnel certification and scanner performance metrics from this Profile. The Alzheimer's Disease Neuroimaging Initiative (ADNI), with their large database of PET scans complete with standardized protocols and associated publications, was also an invaluable resource in Profile development.

Partner with like-minded organizations and coordinate with parallel efforts.

In addition to ADNI members, we communicated with brain PET amyloid organizations in other countries and attended PET amyloid clinical trial group meetings. In the case of amyloid, and now with tau, there were parallel efforts in progress to establish methods to reconcile quantitative measures across different tracers for the same biomarker. It is important to coordinate with these efforts, incorporate relevant information, and communicate the way in which these efforts and the QIBA Profile are complementary.

Identify Profile goals and target Claims early in the process, and orient content toward a readily assessed and followed Checklist.

It is helpful to identify target Claims and their intended use early on, as they form the essence of the Profile and keep work focused (see point 11 below for guidance documents to help frame this discussion). During the Amyloid Profile development, and arising from FDG PET Profile experience, QIBA emphasis evolved toward a Checklist that contains all important steps to achieve Claims. Focusing on this "nuts and bolts" checklist development can expedite this, allow focus on key points prior to the additional time required to reconcile writing style or to flesh out text descriptions, and provide an efficient guide for the descriptive text. That said, drafting descriptive text can help the committee to agree upon key required checklist elements.

Involve early representatives from the Metrology Working Group from QIBA.

We can't stress and give thanks enough for the effort and time from Nancy Obuchowski, PhD and the Metrology Working Group in helping us to understand the complex statistical concepts needed to develop a tailored Claim for our biomarker. Without their work and input, we don't think we could have completed our Profile, as we'd likely still be working on the wording of the Claim…

Break the Profile writing into smaller parts and form sub-committees to achieve goals.

This is especially important at the start, because writing an entire Profile is daunting. We had physics, Claim, software analysis and patient handling sub-committees. Although we did not use one, a "Profilathon" (where the BC members set aside a block of time strictly focused on profile writing) can be an effective tool for making efficient progress.

Ensure the BC members are enthusiastic and have a diverse background to cover needs of Profile development.

Since QIBA Profile writing is a volunteer activity and has multiple stages (see Table 1), the members need to be passionate about their belief that writing a Profile will positively impact the clinic and patients. The collective members need to have all of the bases covered by having representatives from the major fields involved in biomarker use, including physics, manufacturers (including non-scanner peripheral equipment), the pharmaceutical industry, clinical practitioners, clinical researchers, and analysis software tool developers. One of the most valuable and gratifying aspects of Profile development is the interaction of the people who participate in it, bringing different expertise and perspectives.

Keep the momentum going.

Have regular meetings, meet in person at relevant conferences and communicate regularly. The RSNA QIBA staff is especially helpful on this point. They schedule the meetings, attend, write summaries and manage considerable communications. Since member participation is either volunteer or a contribution by respective employers or academic institutions, a balance has been sought in time required. However, the contributory nature of this, and meeting only monthly, can allow the work to elongate unless a clear timeline objective is agreed upon and focus maintained on the endpoint.

Keep up to date with and use the QIBA Procedures and Templates.

The QIBA wiki has a Process Section that supplies all templates and guidance needed from the start of the BC to Claim Guidance and all the way through to Stage 4 (Claim Confirmed) and Profile Maintenance. Perhaps the most helpful discussion and focusing tools for new BCs are the Claim Guidance and Vetting Requirements documents.

Plan for the future: ongoing use and potential retirement of the Profile.

Once again, the Process Section has helpful guidance for evaluating the ongoing status of the Profile (see Retirement Process). We plan to meet after two years from the publication of our Profile (i.e., September 2024) and discuss the Proposed Profile Evaluation Form as listed on this site. The topics it covers are: i) how much has the Profile been adopted, ii) can more marketing help its adoption, iii) does it need to be revised and iv) should it be retired.

Although from start to finish, the Profile took over eight years to achieve the Technically Confirmed stage, the journey was interesting, educational and fulfilling. Due to the recent approval of Alzheimer treatments where a positive PET amyloid scan adds value in selecting appropriate patients for these new (and expensive) treatments, the Profile is more relevant than ever, especially since quantification can more objectively determine if the treatment is decreasing the patient's amyloid burden. Finally, the opportunity to network with like-minded colleagues in the field was priceless!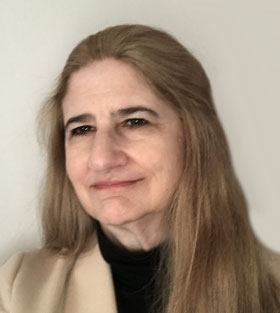 Dawn Matthews, MS, MBA, is Chief Executive Officer of ADM Diagnostics, Inc., which provides advanced image analysis products and services to accelerate the diagnosis and treatment of central nervous system disorders.
As part of her work, she has led the development of machine learning classifiers for dementia diagnosis, stratification, and treatment detection; quality control methods to minimize variability in PET and MRI measurement and diagnostic reports for clinical and clinical trial use.
She is co-chair of the QIBA Amyloid PET and Tau PET Profile committees.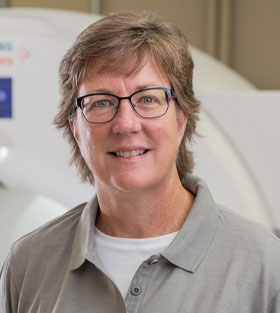 Anne Smith, PhD, works for Siemens Molecular Imaging in Knoxville, TN as a Senior Staff Systems Engineer. She has worked in the medical imaging field for 30 years and has a passion for commercializing mature scientific discoveries for broad clinical use. Her scientific interests focus on PET image quality, image analysis and translational imaging of new biomarkers. She is very active in QIBA and in addition to her role as a PET-Amyloid Biomarker Committee co-chair, is a co-chair of the QIBA Communications Committee and a member of the Nuclear Medicine Coordinating Committee.
---
---
QIBA Acknowledgments Page
QIBA gratefully acknowledges all volunteers who have helped advance quantitative imaging throughout the medical community. We recognize those that have made significant contributions over the past year, especially in areas of Profile development, implementation, metrology and various advisory roles. Click to view award recipients. Thank you for your contributions!
QIBA Activities
QIBA Biomarker Committees are open to all interested persons. Meeting summaries, the QIBA Newsletter and other documents are available at RSNA.org/QIBA and QIBA wiki.

QIBA Resources:
Please contact qiba@rsna.org for more information. We welcome your participation.
Please note that the list of references has been migrated to EndNote.
To obtain access to the RSNA EndNote citations, please send an email request to: qiba@rsna.org.
The list of references showcases articles that mention QIBA, quantitative imaging, or quantitative imaging biomarkers. In most cases, these are articles published by QIBA members or relate to a research project undertaken by QIBA members that may have received special recognition.
New submissions are welcome and may be directed to qiba@rsna.org.

For more information: RSNA.org/Annual-Meeting