Learn practical skills and clinical applications of medical 3D printing from experts in the field when you attend RSNA Medical 3D Printing in Practice.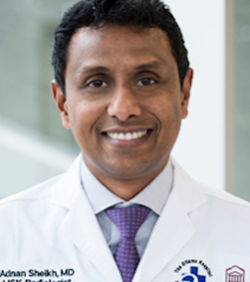 Adnan Sheikh, MD
Adnan Sheikh, MD, is an associate professor of radiology and vice chair of innovation and technology at the University of Ottawa, Canada. Dr. Sheikh is also the medical director of 3D printing in the Department of Medical Imaging, director of advanced musculoskeletal inventions, and section head and fellowship director of emergency radiology at The Ottawa Hospital. He is also the radiology lead for the MARROW study on astronauts at the International Space Station, sponsored by the Canada Space Agency and NASA.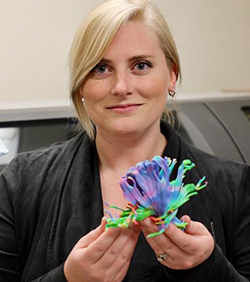 Amy Alexander, MS
Amy Alexander, MS, is a senior biomedical engineer in the Mayo Clinic department of radiology's anatomic modeling lab in Rochester, Minn. In her role, she uses advanced medical software to convert 2D radiological imaging data into 3D printed models. Amy's focus is working directly with surgical teams to digitally plan a patient's reconstructive surgery and then design and print surgical cutting guides precisely aligned to that individual's case. These life-size, patient-specific models and guides help surgeons from all specialties within the hospital prepare for and perform complex procedures.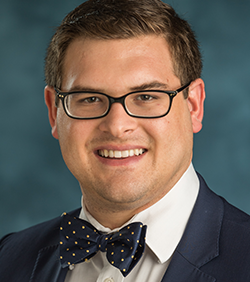 Jason Battaglia
Jason Battaglia works in the radiology department at Michigan Medicine, where he is responsible for managing the expansion of the radiology department's services across statewide and local markets through professional services agreements, practice quality initiatives, physician workforce planning and other specialized collaborations. Additionally, Jason supports business planning initiatives for new services, including clinical 3D printing at Michigan Medicine.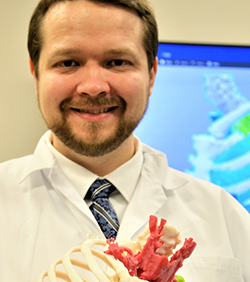 Leonid Chepelev, MD
Leonid Chepelev, MD, is a member of The Ottawa Hospital 3D Printing Laboratory with a special interest in cardiothoracic modeling. He has given numerous hands-on workshops and didactic lectures on 3D printing, including several at RSNA annual meetings. He draws on experience in all facets of 3D printed model creation, such as optimization of patient imaging, image segmentation, model creation, model visualization in 3D and VR, physical printing and postprocessing, and computer-aided design of personalized tools. Dr. Chepelev's current work focuses on AI-based medical image quality improvement and practical assessment of its impact on AI-based automated 3D model segmentation.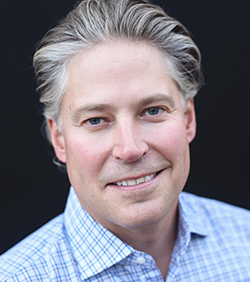 Andy Christensen
Andy Christensen's career has focused on developing and expanding the medical applications of 3D printing/additive manufacturing. From 2000-2014 he was the founder and president of Medical Modeling Inc., a medical device-focused 3D printing service bureau based in Golden, Colo. Today Andy holds an adjunct professorship in the radiology department at the University of Ottawa in Ontario, Canada. In November 2018, he was elected to the RSNA Executive Committee of the 3D Printing Special Interest Group (SIG). Andy is an associate editor for the clinical journal 3D Printing in Medicine.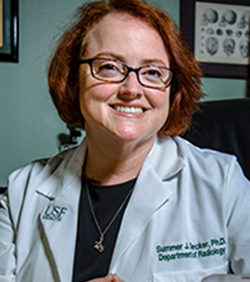 Summer J. Decker, PhD
Summer J. Decker, PhD, is the research vice chair and 3D clinical applications director in the radiology department at the University of South Florida Morsani College of Medicine. She holds a PhD in medicine with a specialization in imaging and 3D printing of anatomy. As an associate professor, she has published extensively in 3D modeling and printing, and regularly presents nationally and internationally on the clinical and forensic applications of the technology. Her team has won several national awards for 3D printing and the impact on patient care.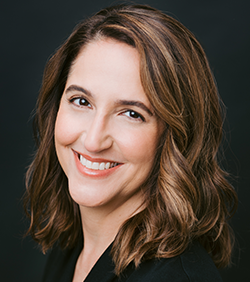 Elsa M. Arrribas, MD
Elsa M. Arribas, MD, is an associate professor of diagnostic radiology and director of the diagnostic imaging division's medical 3D printing laboratory at the University of Texas MD Anderson Cancer Center. Dr. Arribas' work in 3D printing has been featured in award-winning exhibits at annual meetings for RSNA and the Association of University Radiologists. She was lead breast imaging author for the RSNA SIG's guidelines on medical 3D printing. Dr. Arribas is a graduate of the University of Puerto Rico Medical school and completed her residency and fellowship at the University of Texas, Houston.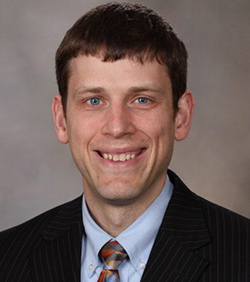 Thomas A. Foley, MD
Thomas A. Foley, MD, has been a member of the radiology staff at Mayo Clinic in Rochester, Minn., since 2011, where he has a joint appointment with the cardiovascular disease department. His clinical focus is on cardiac CT, cardiac MR, echocardiography, vascular ultrasound and nuclear cardiology. Other interests include anatomic modeling and 3D printing for cardiovascular disease and advanced image post processing.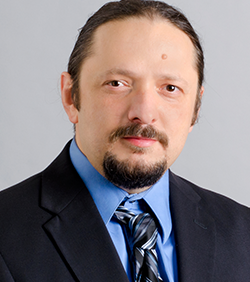 Ciprian N. Ionita, MD
Ciprian N. Ionita, MD, is an expert on medical 3D imaging and its use of neuroimaging to diagnose, model and treat neurological and endovascular disease. He is director of the endovascular devices and imaging lab in the Canon Stroke and Vascular Research Center at the University at Buffalo, where he also holds positions in the radiology and neurosurgery departments. Dr. Ionita has used 3D printing to create personalized models of the brain's vascular system using real brain scans from patients. These models enable surgeons to test medical devices such as stents on an individual patient's anatomy before implantation.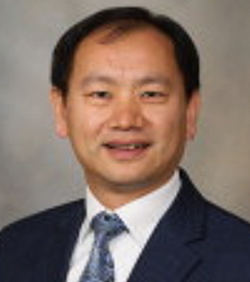 Shuai Leng, PhD
Shuai Leng, PhD, is a professor of medical physics and associate director of the residency program. Dr. Leng's research interests are technical development and clinical applications of CT and 3D printing. He is particularly interested in 3D printing quality assurance and the development of imaging phantoms using 3D printing. Dr. Leng is actively involved in professional societies, such as the American Association of Physicists in Medicine (AAPM) where he is a fellow, RSNA, and Digital Imaging and Communications in Medicine (DICOM) and serves as either chair or member of 10 task groups and committees. Dr. Leng has published over 150 peer-reviewed journal articles, 180 abstracts and proceedings, and given 20+ invited talks.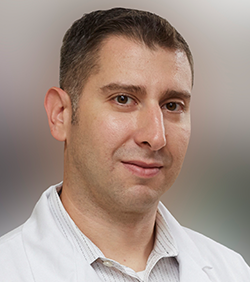 Peter Liacouras, PhD
Peter Liacouras, PhD, is the director of services for the 3D Medical Applications Center (3D MAC) at the Walter Reed National Military Medical Center in Bethesda, Md. 3D MAC is an additive manufacturing (3D printing) facility within the radiology department, which focuses on digital support and fabrication of 3D medical models for our Armed Forces and veterans. Since 2006, Dr. Liacouras has applied additive manufacturing techniques, such as vat photopolymerization, material jetting, binder jetting, and powder bed fusion, to medical applications and implant designs. He routinely designs and supervises the creation of custom implants, surgical guides, and personalized prosthetic attachments for the US Department of Defense. At 3D MAC, he supports 3D image capturing and scanning, as well as actively participating in numerous research projects.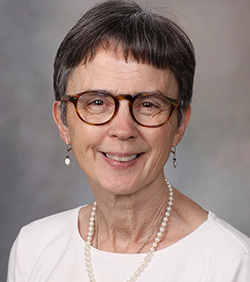 Jane Matsumoto, MD
Jane Matsumoto, MD, is a pediatric radiologist and a director of the innovation and anatomic modeling lab at Mayo Clinic in Rochester, Minn. Dr. Matsumoto has been working in 3D printing of anatomic models for over a decade at Mayo Clinic. She established a dedicated 3D printing anatomic modeling lab within the radiology department at Mayo Clinic and was co-director of the rapidly expanding lab over the past five years. She has now transitioned into director of innovation of the lab. Dr. Matsumoto is a national leader in the field of medical 3D printing and works to help other medical centers develop this impactful clinical practice.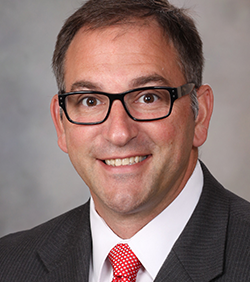 Jonathan M. Morris, MD
Jonathan M. Morris, MD, is a consultant in the radiology department at the Mayo Clinic. He received his medical degree at Howard University College of Medicine, completed an internship at Washington Hospital Center, a research fellowship at National Institutes of Health, and his radiology and neuroradiology fellowships at the Mayo Clinic. He's a board-certified radiologist, CAQ neuroradiologist, and a director of the 3D printing anatomic modeling lab at the Mayo Clinic. Dr. Morris' special interests include the use of 3D printing for preoperative planning and custom surgical guides. Clinically, he focuses on minimally invasive thermal ablation of tumors in the neuroaxis.
Edward P. Quigley III, MD, PhD
Edward P. Quigley III, MD, PhD, centers his research on improving detection, characterization, and the treatment of neurologic and neurosurgical diseases through advanced imaging. Disease processes studied by Dr. Quigley include multiple sclerosis, stroke, neoplasm, epilepsy imaging, dementia and aging brain, vascular anomalies and aneurysm. As a national innovator in medical 3D printing and advanced visualization, Dr. Quigley applies novel methods of anatomic modeling, 3D printed device design, augmented and virtual reality to improve patient care and education.
Beth Ripley, MD, PhD
Beth Ripley MD, PhD is a staff radiologist at the VA Puget Sound Healthcare System and an assistant professor of radiology at the University of Washington School of Medicine. Dr. Ripley specializes in translating medical imaging into virtual and 3D-printed models with the goal of changing the way doctors and patients understand and treat disease. She collaborates across multiple disciplines and has a passion for innovation and human-centered design. She additionally serves as the senior innovation specialist for the Veterans Health Administration Innovations Ecosystem and is the chair of the VHA 3D Printing Advisory Committee.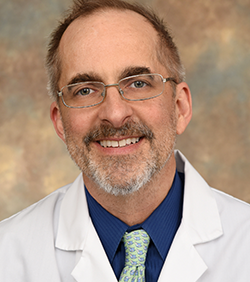 Frank Rybicki, MD, PhD
Frank Rybicki, MD, PhD is vice chair of operations/quality at the University of Cincinnati. He is the Director of Medical Affairs at Imagia. Dr. Rybicki founded and served as the first chair of the RSNA 3D Printing SIG. Dr. Rybicki created/delivered the first CME program in 3D printing (RSNA 2014) and he created/delivered the first "hands-on" 3D printing program (RSNA 2015). He is the Editor-in-Chief of 3D Printing in Medicine, co-editor of 3D Printing in Medicine: A Practical Guide for Medical Professionals and has published 3D printing data and position statements in The New England Journal of Medicine, Lancet and other multidisciplinary journals. In conjunction with colleagues from the American College of Radiology (ACR), Dr. Rybicki established Category III CPT codes (July 2019) for anatomic models/surgical guides. His mentees have won numerous awards and honors in3D printing and virtual reality and are now poised to shepherd these collective technologies into hospital-based practice.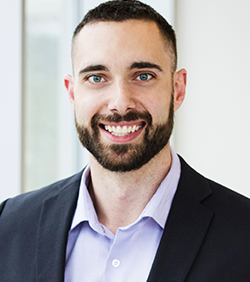 Justin Sutherland, PhD, MCCPM
Justin Sutherland, PhD, MCCPM, assistant professor of radiology at the University of Ottawa and a medical physicist at The Ottawa Hospital, is also the founder of realizeLAB, a medical virtual reality research lab based at The Ottawa Hospital. The lab focuses on exploring unique and creative ways virtual and augmented reality (VR/AR) can be used to facilitate the jobs of medical professionals, particularly in the domain of medical image interaction. Justin's innovations include the development of a comprehensive framework for using modern virtual and augmented reality technologies in the clinical setting.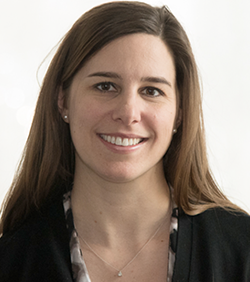 Nicole Wake, PhD
Nicole Wake, PhD, is the director of 3D imaging at Montefiore Medical Center and an assistant professor of radiology at the Albert Einstein College of Medicine. Dr. Wake specializes in creating 3D images from radiological imaging data. Specifically, she has coupled MR data with a range of 3D printing, augmented reality and virtual reality technologies to create individualized, anatomically precise, anatomic models for preoperative planning. She is using these models to guide patient management and is investigating the added value of 3D modeling in personalized medical care. Dr. Wake is the author of numerous high-impact publications evaluating 3D printing in medicine and is an associate editor for 3D Printing in Medicine.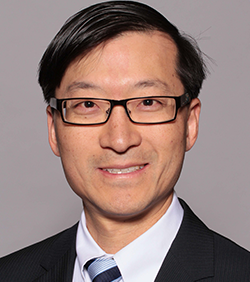 Kenneth C. Wang, MD, PhD
Kenneth C. Wang, MD, PhD, is the MRI section chief at the Baltimore VA Medical Center and an adjunct assistant professor at the University of Maryland. He is a member of the RSNA Radiology Informatics Committee, where he serves as the chair of the RadLex subcommittee, and the liaison to the 3D Printing SIG. Dr. Wang earned his bachelor's, master's and doctorate degrees in electrical engineering from Stanford University, and his medical degree from the University of California, San Francisco. He completed his radiology residency and musculoskeletal fellowship at Johns Hopkins University and an informatics fellowship at the University of Maryland.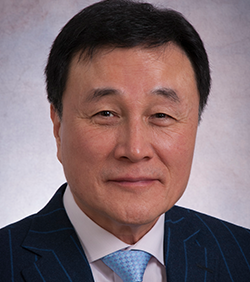 Shi-Joon Yoo, MD
Shi-Joon Yoo, MD is the section head of cardiac imaging, department of diagnostic imaging and the clinical director of the 3D printing program at the Hospital for Sick Children in Toronto, Canada. He has devoted himself to MR, CT, fetal ultrasound and 3D printing applications in pediatric cardiology and surgery. He has published over 260 scientific papers and authored or coauthored 5 books and 22 chapters. He has given over 570 lectures as a visiting professor or an invited speaker at various hospitals, universities, scientific meetings and courses.