2017 Secretary-Treasurer report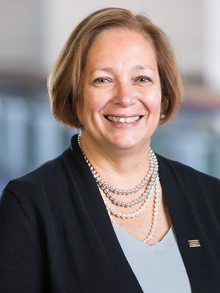 I am pleased to report that RSNA membership continues to maintain a high level in line with previous years. In FY 2017-2018, the Society accepted 5,681 new members.
We annually promote membership in our Society to new radiology residents and medical students. Through this year's promotional efforts 4,088 radiology residents and medical students joined the RSNA (1,337 new Members-in-training, 1,960 new Corresponding Members-in-training, 152 Fellows, and 639 Medical Students).
We are pleased to see our specialty's future leaders taking advantage of the great opportunities offered to them through RSNA membership. Members-in-training and medical students do not pay dues, have free access to RSNA benefits like Online Education, are allowed free admission to the RSNA Scientific Assembly and Annual Meeting, and receive access to the journals Radiology and RadioGraphics or subscribe to the printed versions of the journals at a highly subsidized rate.
RSNA Record of Membership
Active
Assoc

Med Stu

MIT

Cor.-MIT

Retired
Honorary
Corresp

Totals

FY

17-18

18,859

1,829

2,197

10,672

8,264

5,961

68
6,387

54,237

FY

16-17

19,154

1,830

1,997

10,729

8,588

5,743

69

6,503

54,613
Deceased RSNA Members from 11/1/17 - 10/31/18  
David F. Adcock, MD, Batesburg, SC (R72)
Edgardo J. Angtuaco, MD, Little Rock, AR (M78)
John A. Anziulewicz, MD, Moneta, VA (R78)
Stewart R. Bakst, MD, Lake Mary, FL (M73)
Murray G. Baron, MD, Atlanta, GA (R73)
Michael C. Beachley, MD, Bakerstown, PA (R73)
Michael F. Berry, MD, Bentonville, AR (M06)
Thomas R. Blackburn, MD, Shelby, NC (R72)
John F. Boardman, MD, South Newfane, VT (M09)
William G. Bradley Jr, MD, PhD, San Diego, CA (M82)
Luther W. Brady Jr, MD, Philadelphia, PA (RP57)
Nestor R. Canoy, MD, Columbia, MO (R76)
Calvin R. Cassady, MD, Van Buren, AR (R72)
Robert W. Counts, MD, Rochester, MI (R60)
James D. Cox, MD, Houston, TX (M72)
Joseph J. Darlak II, MD, New Orleans, LA (R76)
Thomas J. DeWind, MD, Saint Joseph, MI (M91)
Andrew J. Dwyer, MD, Bethesda, MD (M08)
Merlyn E. Eckelberg, MD, Lakeland, FL (R82)
Daniel A. Finelli, MD, Akron, OH (M85)
Jack P. Fink, MD, Lincolnwood, IL (R56)
James H. Freeman, MD, Redding, CA (R64)
Rasiklal B. Ganatra, MD, Terre Haute, IN (R88)
D. J. Gosch-Barker, MD, Middletown, RI (R82)
Charles N. Griffin Jr, MD, Mount Pleasant, SC (R68)
David J. Harvey, FRCR, Swansea, United Kingdom (M02)
H. Peter Higer, MD, Giessen, Germany (R91)
James C. Hunt, MD, Washington, IL (R62)
Lawrence R. Irish, MD, Reno, NV (R60)
Robert H. Jaros, MD, Shelburne, MA (R82)
Virginia Kanick, MD, New York, NY (R66)
Troy W. Kerby, MD, Dallas, TX (M02)
Nettie G. King, MD, Louisville, KY (R81)
Lee A. Krystosek, MD, Clearwater, FL (R60)
Theodore S. Larson Jr, MD, Montoursville, PA (R82)
Claude Leger, MD, Quebec, Canada (M81)
Herbert M. Loyd, MD, Abilene, TX (R69)
Michael L. Manco-Johnson, MD, Greenwood Village, CO (R74)
Alexander R. Margulis, MD, New York, NY (R60)
William R. Massey, MD, Gallatin, TN (R67)
Gilbert S. Melnick, MD, Caldwell, NJ (R68)
John A. Michal III, MD, Montecito, CA (R75)
William C. Miller Jr, MD, Fayetteville, NC (R70)
Pui Meng Mok, MBBS, Auckland, New Zealand (R96)
Paul A. Mori, MD, Jacksonville, FL (R58)
Richard W. Naufal, MD, Dallas, TX (R84)
Carl L. Neufeld, DO, Columbus, OH (R77)
Heather F. Penney, MD, Alberta, Canada (R83)
Leslie Preger, MD, San Francisco, CA (R83)
Russell V. Radcliffe, MD, Auburn, ME (R73)
Alain Rahmouni, MD, Nogent Sur Marne, France (M00)
Robert Robbins, MD, Redding, CA (R53)
Bruce C. Salo, MD, Stratford, WI (R84)
Emanuel Salzman, MD, Denver, CO (R59)
Douglas E. Sanders, MD, Ontario, Canada (R68)
Jeffrey A. Scrugham, MD, Memphis, TN (M06)
Thomas L. Slovis, MD, Bloomfield Hills, MI (R74)
William P. Stallworth, MD, Knoxville, TN (R80)
Bernard A. Tansman, MD, Los Angeles, CA (M14)
Louis M. Teresi, MD, Irvine, CA (M93)
Thomas A. Thomas, MD, Stockton, CA (R83)
Fridon Todua, MD, Tbilisi, Georgia (M05)
Anthony Vasilas, MD, Manhasset, NY (R59)
Mark D. Wellens, MD, Acworth, NH (R98)
Juergen K. Willmann, MD, Stanford, CA (M08)
Affan S. Yenal, MD, Merritt Island, FL (R66)
Financial Statements
The financial statements for the fiscal year ended June 30, 2018, reflect positive earnings for the Society.
The Society continues to experience financial growth. This is a result of maintaining its revenue sources and at the same time controlling its expenses. The return on investments is especially important for the Society's Research and Education Foundation, as its ability to fund grants is directly impacted by investment earnings.
BKD LLP completed its annual audit of the Society's financial statements issuing an unmodified opinion, indicating that BKD LLP found no material differences to the financial information presented in the Society's year-end financial statements. In addition BKD LLP indicated to the Audit Committee that it did not find any material weaknesses in the Society's internal accounting procedures.
The following Balance Sheet and Statement of Activities have been condensed from the year-end audit report prepared by BKD LLP, as of June 30, 2018. The detailed audited report is kept on file at the RSNA's headquarters: Radiological Society of North America, 820 Jorie Boulevard Suite 200, Oak Brook, IL 60523. It is available for review there by members of the RSNA.
Valerie P. Jackson, MD
Secretary-Treasurer
Statement of Financial Position

June 30, 2018
| | |
| --- | --- |
| Assets | |
| Cash and Short-Term Investments | |
| Receivables and Other Current Assets | 8,073,615 |
| Long-Term Investments | |
| Property, Furniture and Equipment | 22,901,787 |
| Total Assets | $174,301,165 |
| | |
| --- | --- |
| Liabilities and Net Assets | |
| Accounts Payable and Short-Term Debt | |
| | |
| Long-Term Debt and Other Long-Term Liabilities | 197,129 |
| | |
| | |
| | |
| Designated-Research and Education Foundation | 53,721,902 |
| Restricted | |
| Temporarily restricted | 2,391,628 |
| Permanently restricted | 23,714,976 |
| Total net assets | 143,120,851 |
| Total Liabilities and Net Assets | $174,301,165 |
Statement of Activities

Year ending June 30, 2018
| | |
| --- | --- |
| Revenue | |
| | |
| Publications and Educational Materials | |
| Annual Scientific Assembly | |
| | |
| | 2,257,610 |
| | |
| | |
| --- | --- |
| | |
| | |
| Publications and Educational Materials | |
| Annual Scientific Assembly | |
| Research and Education Foundation | 5,351,754 |
| | 1,601,071 |
| | |
| | |
| --- | --- |
| Excess of operating revenue over operating expenses | $4,462,769 |
| Federal and state income tax expense | |
| | |
| Increase in net assets before unrealized gain (loss) on investments | |
| Unrealized gain (loss) on valuation of investments and interest rate swap | |
| | |
| --- | --- |
| | |
| Net Assets at beginning of year | |
| Net Assets at end of year | |