RSNA International COVID-19 Open Radiology Database (RICORD)
Radiology organizations around the world have responded to RSNA's call to build a COVID-19 imaging data resource. The RSNA International COVID-19 Open Radiology Database (RICORD) will provide imaging data with annotations and supporting clinical information for use in education and research.
RICORD data collection
RSNA has established key partnerships and assembled an international task force of scientists and radiologists to launch RICORD.
RSNA has also developed data sharing agreements and tools to organize, de-identify and transfer data. The RICORD data collection pathway will enable radiology organizations to contribute data to RICORD safely and conveniently.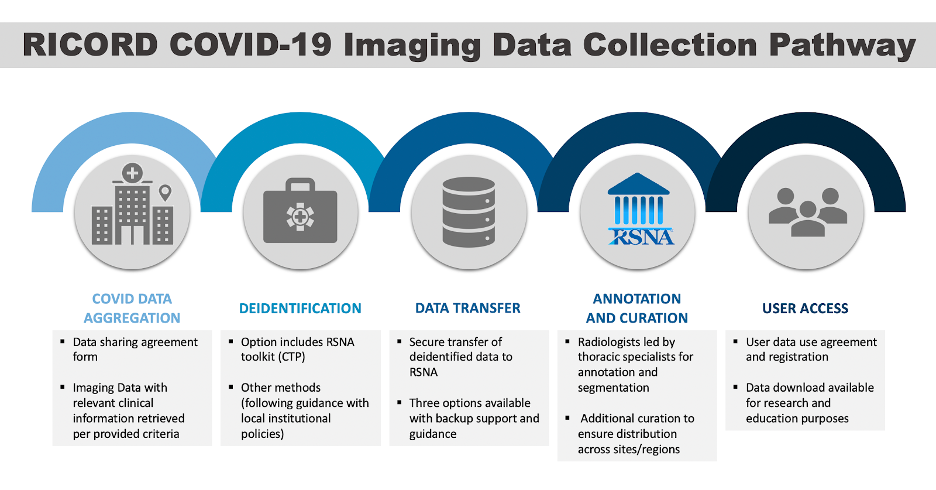 Substantial datasets have already been contributed to RICORD and are being used for education and research projects, including one that will develop a detailed annotation schema for COVID-19 imaging. The repository will build on collections of imaging data that RSNA has already assembled to support imaging research — such as the substantial set of chest X-rays annotated for the presence of other community-acquired pneumonias assembled during the 2018 Pneumonia Detection Challenge.
What's next?
Organizations interested in sharing data should review our agreements, tools and instructions on how to submit data in accordance with regulations and best practices, as well as patient security and privacy concerns. Is your organization interested in joining the initiative? Complete the data sharing survey.
Contact us
We welcome your questions and suggestions, which can be sent to informatics@rsna.org.