International Day of Radiology
November 8, 2018 – the 123rd anniversary of the discovery of the x-ray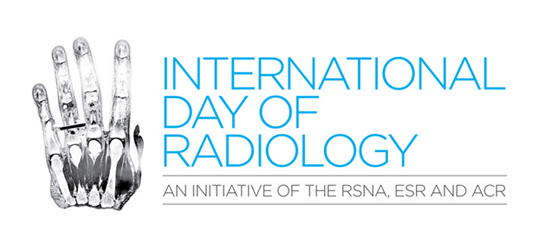 The International Day of Radiology (IDoR) is building greater awareness of the value that radiology research, diagnosis and treatment contribute to safe patient care, and better understanding of the vital role radiologists perform in healthcare delivery.
As a member of the radiology community, you and your local radiology organizations and institutions can help support this important recognition of the contributions radiology has made to patient healthcare delivery and safety.
IDoR logo
Use as provided or customize.
IDoR news releases
Ready to use material for promoting IDoR to media and colleagues.
IDor promotional materials
Resources
RSNA provides the education you need to stay informed. Be sure to check out the broad array of materials available to you as you prepare for IDoR.
ESR publications
Volumes 1-6 of the Story of Radiology booklets about oncologic imaging (2012), thoracic imaging (2013), brain imaging (2014), pediatric imaging (2015), breast imaging (2016), emergency radiology (2017) and additional information about IDoR can be found at the official International Day of Radiology website.
Social media
Tweet about IDoR – Ideas
Retweet from RSNA/ACR
Official IDoR Facebook page